On season 9 of "The Masked Singer," one of our favorite contestants is dressed as the Gargoyle. When he performed for the first time on March 8, he sang Charlie Puth's "One Call Away" in a lively way that wowed the crowd. He then beat Squirrel in the Battle Royale with his version of 3 Doors Down's "Kryptonite."
It was clear right away that this contestant, who looked like a skilled athlete, could also sing well. We didn't get a lot of information about the famous face hiding behind this mask, but we think we saw and heard enough to know his real name.
Continue reading to find out all the spoilers for "The Masked Singer," including the question, "Who is Gargoyle"?.
Who is Gargoyle On Masked Singer?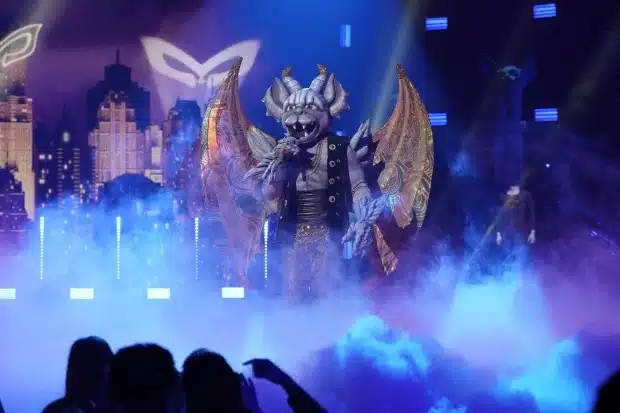 The gargoyle's face is full of smiles, far from stone-faced. He wears a gray muscular suit with a sleeveless gold jacket and matching pants. As golden as his garb, he hopes that his vocal range equals his wingspan.
According to the judges, the individuals listed below are potential candidates for the person wearing the Gargoyle costume. Robin Thicke speculated that it could be Antonio Gates, Ken Jeong suggested The Weeknd, Nicole Scherzinger guessed Mario, and Jenny McCarthy proposed Odell Beckham Jr.
On Twitter, there were differing opinions among fans regarding the identity of the person behind the Gargoyle costume. Some fans speculated that the individual was an athlete due to their size, while others believed it could be a pop singer. Various guesses were made on the social media platform, including Nick Jonas, Jason Derulo, and Ne-Yo. Additionally, another commonly suggested name on Twitter was Keenan Allen, the wide receiver for the Los Angeles Chargers.
What Were Gargoyle's Clues?
During DC Superhero Night on "The Masked Singer," Jenny was the first to comment on Gargoyle's appearance, stating that he appeared to be an athlete. Gargoyle then shared his first set of clues, revealing that when he was six years old, he knew he wanted to be a superhero but always felt like he was stuck on the sidelines while his peers were able to fly. A jukebox that read "I <3 LA" was also seen in the camera frame.
Gargoyle's dad, who was shown wearing sunglasses, Maleficent horns, and a shirt that read "World's Greatest Dad," advised him to never let anyone tell him he couldn't achieve his goals. Later, Gargoyle was shown playing video games, which triggered his superhero alter ego into action. He revealed that when the opportunity presented itself, he put on his cape and shocked millions with his impressive skills, which was followed by lightning covering the screen.
In a scene with some of the men in black, one was shown holding up a bottle of hot sauce, while another was wearing a blonde braided wig and breathing flames after taking a bite out of a taco. Gargoyle claimed that he went from being passed over to being a key player when the stakes were high. One of the men in black handed him a "Masked Express Charge Card" with three money signs.
Finally, Zachary Levi and Dame Helen Mirren, two stars of "Shazam," came onto the stage to provide one more clue, which was "RECORD MAKER!" Gargoyle then explained that he enjoys making waves in his field and being a part of history is the best bonus he could ask for.
Who's On This Season Of The Masked Singer Season 9?
Mantis
Medusa
Moose
Mustang
Night Owl
Polar Bear
Rock Lobster
Squirrel
Wolf
Doll
Fairy
French Hen
Gargoyle
Gnome
Jackalope
Macaw
Axolotl
California Roll
Dandelion
Read More: 
Be Entertained and informed with the latest news at thetecheducation.com! From the hottest trends to the most breaking news. And Also, Follow us on social media: Facebook, Pinterest, Twitter, and Linkedin. And be part of the movement! Share your thoughts, ideas, and opinions with us.