Suzume's international release will start later this spring, with audio tracks in both Japanese and English. The Suzume movie is set to come out in the US on April 14. In partnership with Sony Pictures Entertainment, Wild Bunch International, and Eurozoom. The English dub cast for Makoto Shinkai's Suzume no Tojimari movie was just announced by Crunchyroll on Tuesday, March 21.
Nichole Sakura will play the main character, which is very exciting because she played Haru in "The Village Bride" for Star Wars: Visions, her first job in the anime industry. Josh Keaton from The Spectacular Spider-Man will play Souta Munakata.
Even though it's interesting that the main character, Suzume, is voiced by a relatively unknown actress, there must be something about Sakura's performance that Crunchyroll liked. Fans are happy that the English dub cast for the movie has finally been announced and that the movie's release date has also been set.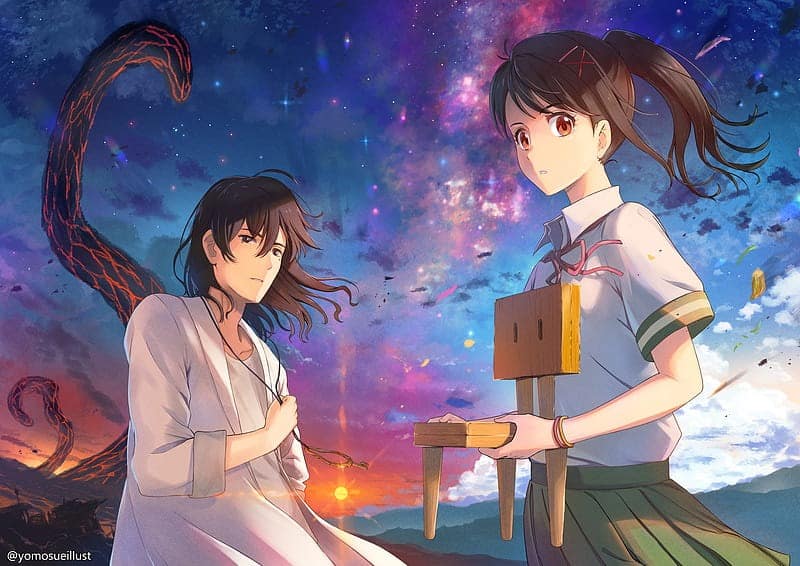 Suzume English Dub Cast List
On Wednesday, the entire English dub cast for the Suzume movie came out on Crunchyroll. Fans are talking about how surprised they are that Nichole Sakura will play the title character, but the rest of the cast was also announced at the same time.
Are you ready to watch #Suzume? Introducing the English dub cast ✨

Suzume – @NicholeSakura
Souta – @joshkeaton

🚪 READ MORE: https://t.co/SLuUsMgdah pic.twitter.com/Jhi0EBClrA

— Crunchyroll (@Crunchyroll) March 21, 2023
The rest of the cast for the English dub is as follows:
Jennifer Sun Bell as Tamaki Iwato
Joe Zieja as Tomoya Serizawa
Lena Josephien Marano as Daijin
Bennet Hetrick as Suzume (young)
Rosalie Chiang as Chika Amabe
Roger Craig Smith as Minoru Okabe
Amanda C. Miller as Rumi Ninomiya
Mela Lee as Miki
Cam Clarke as Hitsujiro Munakata
Allegra Clark as Tsubame Iwato
Abby Trott as Aya
Jennie Kwan as Mami
Jake Eberle as Shige
At Bang Zoom! Studios, Bill Millsap, is in charge of the English dub. Eric P. Sherman is producing the dub with Mami Okada and Mio Moroe. Okada is also in order of casting. The production manager is Jessica Peace, and the production coordinators are Kana Ozaki, April Garner, and Yna Vergara. Patrick Rodman is in charge of the sound for The Dub.
Ben Harring is in charge of mixing the re-recording, and Krystal Holmes, Jonathan Brannen, and Kenneth Thompson are also recording engineers. Matt Wollenman and Brent Branner are both dialogue editors. Ismael Yanez is in charge of sound operations. The assistant engineers are Christopher March and Samuel Carrilo, and the video technician is Megumi M. Tsuji.
The US release date for Suzume is currently set for April 14. It was written and directed by Makoto Shinkai for Comix Wave Films, and the title, "On the Other Side of the Door, Was Time in Its Entirety," is a teaser for the movie. 17-year-old In a quiet town in Kyushu, Suzume meets a young man who tells her,
"I'm looking for a door." This is the start of her journey. Suzume finds a single, weathered door standing straight in the wreckage as if it had been protected from whatever disaster had happened. Seemingly mesmerized by its power, Suzume reaches for the knob… Doors start to open one after the other all over Japan, releasing destruction on anyone close by. To avoid further disaster, Suzume must close these portals.
Similar Movie Like : Suzume
"Your Name" (2016) – Produced by the same studio as "Suzume," this movie is a romantic fantasy story that also involves the concept of time and space.
"Weathering With You" (2019) – Another movie by the same director as "Your Name," this movie features supernatural elements and a focus on weather.
"Princess Mononoke" (1997) – A classic animated film from Studio Ghibli, this movie explores themes of nature, humanity, and the relationship between the two.
"Spirited Away" (2001) – Another Studio Ghibli film, this movie is a coming-of-age story that involves magical elements and themes of courage and friendship.
"The Tale of Princess Kaguya" (2013) – Produced by Studio Ghibli, this movie is based on a traditional Japanese folk tale and features beautiful animation and themes of self-discovery and the beauty of nature.
Read More
Be Entertained and informed with the latest news at techeducation.com! From the hottest trends to the most breaking news. And Also, Follow us on social media: Facebook, Pinterest, Twitter, and Linkedin. And be part of the movement! Share your thoughts, ideas, and opinions with us.