When Aaron McGruder began writing 'The Boondocks' comic strip for Hitlist.com, he probably had no idea how far this basic endeavor would go or how pivotal it would be for his career.
The strip gradually gained popularity and exposure, first through publication in The Source and subsequently through the Universal Press Syndicate.
McGruder eventually decided to adapt it into an adult animated series, and after a few false starts, the project landed with Adult Swim. The series started on November 6, 2005, and lasted a decade, spanning four seasons.
The first three seasons gained widespread acclaim from critics and audiences alike. It never shied away from exploiting the country's then-current state to tell a compelling story.
From R. Kelly and Tyler Perry to the Obama administration, numerous celebrities have been its subject. It was recognized for its outstanding work with a Peabody Award in 2006, among other honors.
However, all of this goodwill took a significant knock when Aaron McGruder could not return for the fourth season.
He was someone that 'The Boondocks' was unable to replace, which resulted in a reduction in the quality of its content, which eventually stained its reputation. The fourth season was universally derided, resulting in the show's demise.
Must check:
Season 5 of The Boondocks: Renewed or Cancelled?
Season 4 of 'The Boondocks' began on Adult Swim on April 21, 2014, and concluded on June 23, 2014. Known for its biting criticism on political, social, and cultural concerns, it has earned a reputation as one of the genre's best shows, which is why its abrupt cancellation surprised many.
Indeed, they petitioned for the series to be picked up by another network. However, for a long period, no one paid notice.
Some time ago, whispers began to circulate about the possibility of a rebirth, with some suggesting that production had already begun.
However, the story was not confirmed until John Witherspoon spilled the beans on The Joe Rogan Podcast. The time appears to be right for the series to make its long-awaited return.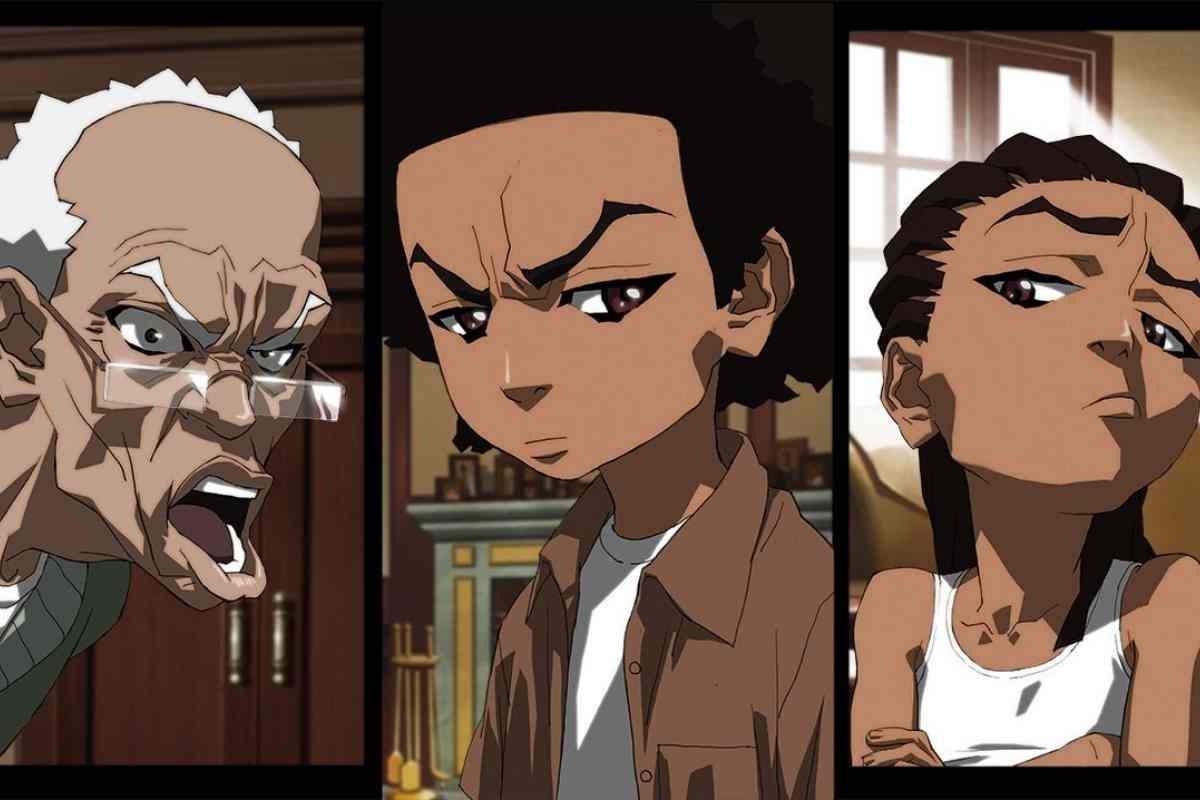 "A once-in-a-lifetime opportunity exists to rediscover the world of the Boondocks and redo it for today. It's incredible how different our circumstances are now – politically and culturally – more than a decade after the initial television series and two decades after the original newspaper comic.
There's a lot to say, and it should be enjoyable," McGruder said in announcing the revival of the show.
We can expect Season 5 of 'The Boondocks' is slated to premiere on HBO Max in February 2023. A two-season order was placed for a total of 24 episodes, as well as a 55-minute special. McGruder also returns as executive producer and primary showrunner.
This news has enthused fans, especially with McGruder's return. American culture's current, explosive character lends itself to a wealth of promising material, and with the program back on track, we expect nothing less than outstanding.
Who Is in The Boondocks Cast?
The Freeman boys, Huey and Riley, and their grandfather, Robert, are the show's core protagonists. Huey, 10, is the intelligent one, well-versed in politics and culture, while Riley, 8, is the naughty one. Both are voiced by Regina King, an Academy Award-winning actress.
Robert Freeman, a former civil rights activist, is a cranky grandfather who adores his grandsons but is obliged to rein in their beliefs and escapades. John Witherspoon provides the voice for him.
Uncle Ruckus, voiced by Gary Anthony Williams, becomes their adversary. Celebrities such as Charlie Murphy, Samuel L. Jackson, Snoop Dogg, Busta Rhymes, and Quincy Jones have lent their voices to numerous characters throughout the series' history.
Must read:
What Is the New Show's Storyline?
Boondocks Season 5 will follow a similar storyline to Season 4. In Maryland's pleasant and largely white suburbs, where Uncle Ruckus is in charge of community government, the Freemans will be the ones to watch.
They take up weapons against Ruckus' tyranny amid a daily struggle for survival. As of right now, the relaunch series features an engaging storyline. We have great aspirations to be as successful as last for the upcoming season.
Trailer for The Boondocks Season 5
There is no trailer for the fifth season available at the moment. This section will be updated as soon as it becomes available.
All prior episodes of 'The Boondocks' are accessible on Hulu and will soon be available on HBO Max. Take a glance at the fourth season trailer to refresh your memory of the show.