One of the main themes of the fantasy show "Shadow and Bone" on Netflix is romance. The show is based on Leigh Bardugo's "Shadow and Bone" trilogy and "Six of Crows" duology. It was created by Eric Heisserer, and it's about an orphan named Alina Starkov who works as a cartographer for the Royal Corps of Surveyors in the First Army of the Kingdom of Ravka and finds out she has the rare ability to create and control light. In the world of "Shadow and Bone," she is a "Grisha," and her skills make her a "sun summoner."
Nina Zenik (Danielle Galligan) and Matthias Helvar (Calahan Skogman) aren't the main characters in the series, but their relationship adds another layer to the story and gives the writers a chance to learn more about the Grishaverse. If you want to know if Nina and Matthias get together at the end of "Shadow and Bone," we have the answer.
*Warning Spoilers Ahead*
Do Nina And Matthias End Up Together In Shadow And Bone Season 2?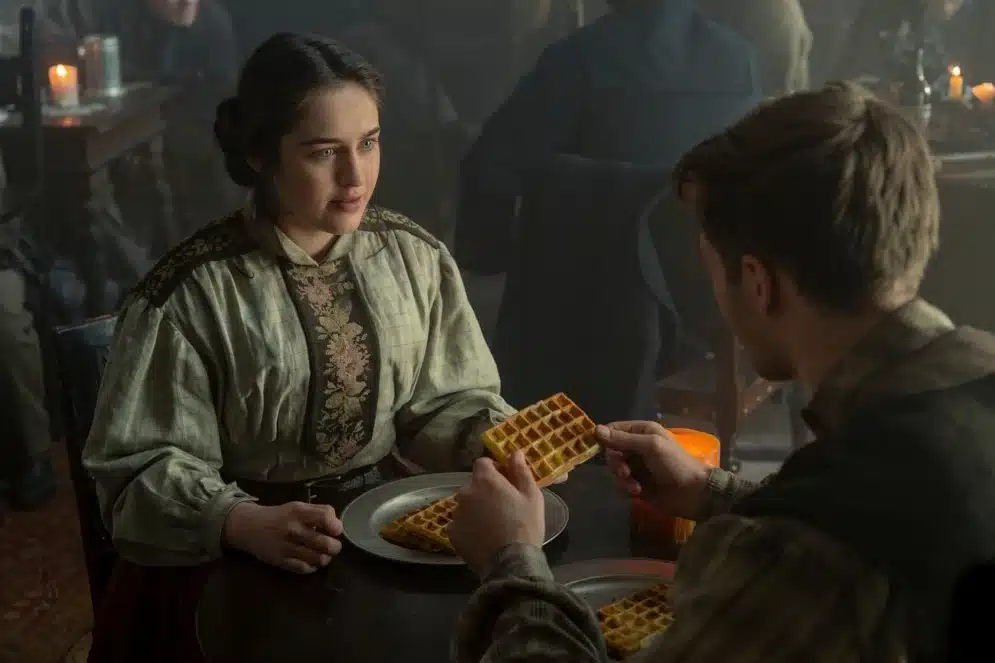 At the end of Shadow and Bone season 2, Nina and Matthias are still not together. But it's not because the Heartrender didn't try! The trouble is that Matthias is taken away and put in a high-security prison outside of Ketterdam called Hellgate while he waits for his trial. And the name sounds just as bad as the thing is.
So while Matthias is there, Nina spends the whole season trying to find a legal or not-so-legal way to get him out. This brings her to the Crows, and she joins the team for good. Kaz knows a guard who can at least tell Matthias that he has a message. Basically, they don't see each other in any of the eight shows. They only talk to each other twice, both times when Matthias is fighting at the jail.
In episode 3, Nina goes to Hellgate to give Matthias the letter she had written for him. She sees that he is pushed into the ring to fight while she is there. Over the cheering and groaning of the crowd watching and making bets, she calls out his name over and over again until he finally sees her. But the drüskelle just looks angry at his Grisha girl and walks away. Don't worry, though. Nina isn't going to give up!
In the last episode of season 2, the couple reunites after Nina secures a pardon from the King of Ravka, also known as Nikolai, resulting in Matthias' release from Hellgate. However, upon arriving at the prison, Nina discovers that Matthias is about to engage in another fight. This time, Rollins tricks Matthias into confronting a pack of wolves instead of a fellow prisoner. Fortunately, Matthias is able to calm the wolves without any altercation taking place.
When the guards see that Matthias won't take part, they start to hit him. Nina tries to use her Heartrender skills to help, but in doing so, she drops the forgiveness letter on the floor. Rollins tells the guards to take her out of Hellgate when he sees her. As Nina and Matthias are both being dragged away, they look at each other, and Matthias's face isn't angry this time. But surprise. He might not have expected Nina to come back for him. If only he knew how much she wanted to see him again!
The second season of Shadow and Bone is now on Netflix.
Read More:
Be Entertained and informed with the latest news at techeducation.com! From the hottest trends to the most breaking news. And Also, Follow us on social media: Facebook, Pinterest, Twitter, and Linkedin. And be part of the movement! Share your thoughts, ideas, and opinions with us.