When Sarah Snook showed off her baby bump at the opening of HBO's fantastic show about bad people, Succession, many fans couldn't help but wonder if her character Shiv was pregnant in season 4.
Succession, which started in June 2018 and is new to those who don't know it, is about the wealthy Roy family, who own a global entertainment and media company called Waystar RoyCo. When Succession starts, the future of their company is uncertain because Logan Roy, the founder of the family business and an old man, is having health problems that make owners wonder if he is still fit to lead.
His four adult children, Kendall, Roman, Shiv, and Connor, don't waste any time telling him who they think should run the company after he dies. Shiv's relationship with her husband, Tom Wambsgans (Matthew Macfadyen), worsens as the comic drama continues, and they've even had trouble getting pregnant. Shiv and Tom's marriage is officially over as season four begins, but a sudden pregnancy would definitely throw a wrench in things, especially for Shiv's career goals.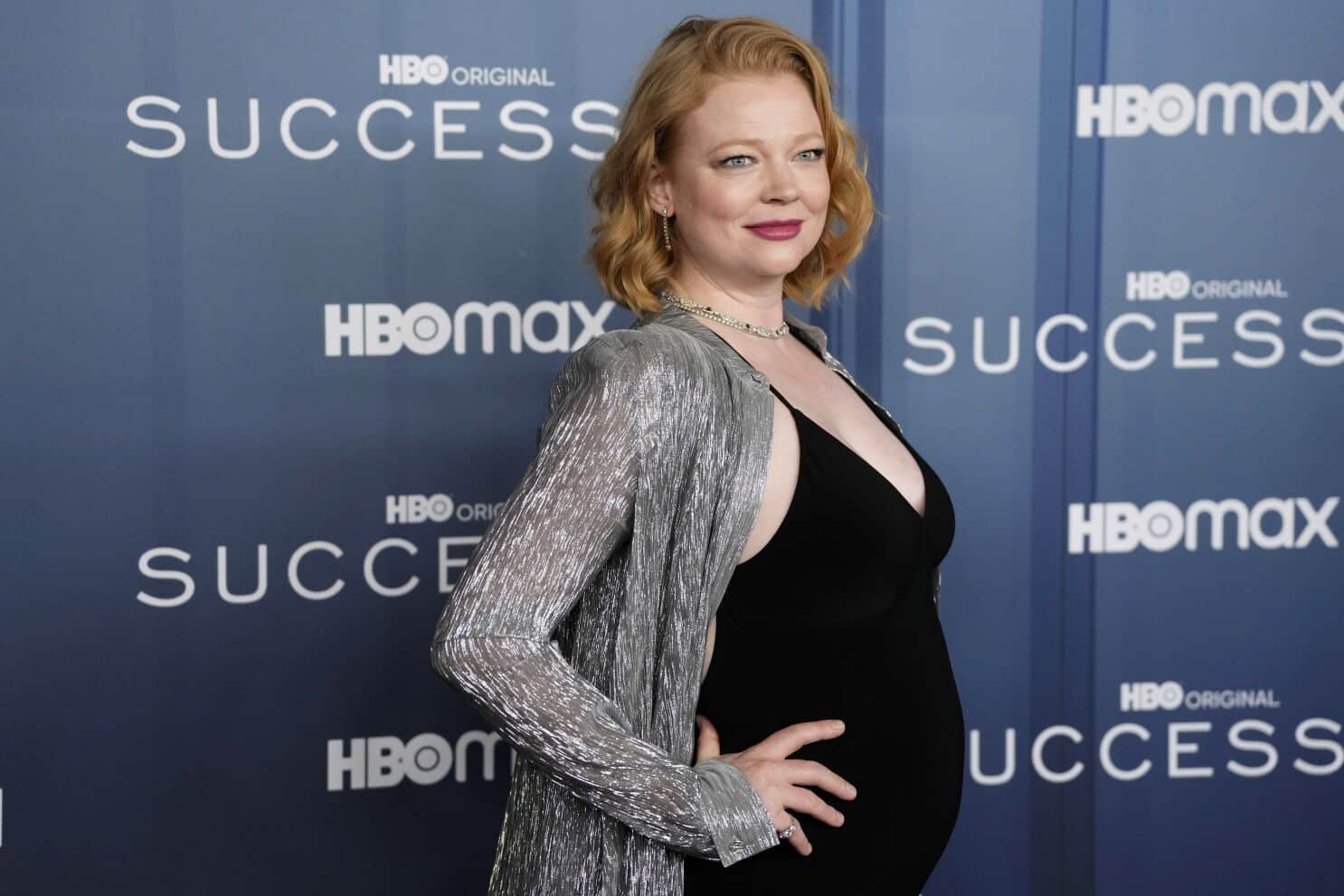 Is Shiv Really pregnant In Succession?
Is Shiv pregnant in Succession? Yes, it was revealed in the first scene of season four, episode four, "The Honeymoon States," which aired on April 16, 2023. The day after her father Logan's shocking death, which shook the Roy family and their company WayStar RoyCo to the core, a sad Shiv gets a call from her doctor while lying in her luxurious bed.
The test results look good, she hasn't had any spotting or bleeding, and her "next scan" is in 20 weeks, so it seems like she's still very early in her pregnancy. She doesn't seem too happy about it either, but she may still be in shock over the quick death of her father and in grief.
During season four, there were times when fans wondered if she was. In episode two, "Rehearsal," they have a practice dinner the night before Connor and Willa's wedding. The Roy brothers celebrate by going to karaoke, but they need a little Dutch courage. Shiv jokes about getting a 'house red, do I dare?' when the kids order drinks at a bar. Instead, he gets a 'club soda with a sealed lid, nothing from that tainted nozzle.'
calling my shot here: I think Shiv is pregnant. yes this is partly bc I saw a theory but mostly it's my woman's intuition #Succesion

— Kayleigh 💗💜💙 (@Kay_Padfoot) March 27, 2023
One way to tell if you're pregnant is if you turn down an offer of alcohol. Shiv seemed to have a lot on her mind; we can't help but think there are no mistakes in Hollywood. Fans have thought about Roy-Wambsgans' children before, but this isn't the first time they've done so.
In the two-part season three ending, Shiv's mother, Caroline Collingwood, gave her daughter the impression that she would be a bad mother. This made Shiv's daughter go home and have s*x with her husband out of spite. The following day, the couple discusses their plans to have children and what they will do with Shiv's frozen eggs. In the last episode of season three, when Tom crosses Shiv by telling Logan what is happening, she puts her hand on her stomach.
Check out the posts given below if you're interested in reading more about the release date of other series:
Who Is The Father Of Her Baby?
Who is Shiv's child's father? We think Tom, but that could mean anything. Later in the "Honeymoon States" episode, Shiv falls down the stairs of her late father's fancy Upper East Side townhouse while the family, well-wishers, and WayStar executives try to figure out who will take Logan's spot. When you're in your first pregnancy, it's even more important. She doesn't want her strange husband, Tom, to help her get up, but now that they have a baby, it's unclear how long she'll keep saying no to him. We think so, at least. Even though everyone thinks Tom is the father, she might have slept with someone else while they were apart.
As was already said, Tom and Shiv had talked about having kids. In season 3, episode 5, Tom admits that he gets "most horny" when Shiv is "most fertile," even though he could go to jail for the crimes WayStar RoyCo has done. She asks him how he could possibly know where she is in her cycle, and let's be honest. She doesn't seem too interested in having a kid. "Are you keeping a log of your shadows? "Watching the moon to figure out when I'm most likely to get pregnant?" she asks in a serious tone. "No, I just counted the days on my iCal," he says. "It's not creepy. I've got six more ovulation windows until all sex is prison s*x," he says, adding that a baby would "keep you company" while he was in jail.
Shiv still loves Tom, though, says the character Sarah Snook, and her feelings about him have become clearer as the show continues. "I think they're better now. She loves Tom, but she doesn't know how to show it. "She doesn't know how to be vulnerable in a relationship that builds community," Snook told Rolling Stone in a story published on April 9, 2023. "She has such bad plans, so many walls and defenses, and it's hard for her to be herself around others. And maybe that's what this episode is about, that real little-girl side of Shiv that we don't see much of, where she's this weak. During this season, her feelings for Tom change; in some ways, they get stronger and harder.
Shiv touches her belly after the Tom betrayal and Sarah Snook is pregnant in real life…………….. pic.twitter.com/DWwhTDEoSr

— Ashtyn Butuso (@lil_buts) March 25, 2023
On March 20, 2023, at the start of the fourth season of Succession, Snook told the world that she was pregnant. "It's very exciting!" Snook told Entertainment Tonight about her growing baby bump as she touched it. "I feel great." Succession may not be affected by the fact that Snook is pregnant in real life. Many actresses have been pregnant during shows, but costume artists have always found a way to hide it.
In 2002, when S*x and the City was filmed, Sarah Jessica Parker was expecting her first child. This may be the most well-known fact about her. Since Carrie Bradshaw is known for being single, this wouldn't work, so Patricia Fields had to get clever and hide what she could. But things didn't always go as planned, especially when it came to a striped skirt with many different colors. Parker told People's The Jess Gagle Interview in 2018 about what it was like to film while pregnant. "The skirt kept blowing up," she said. "I was so afraid that you would see. No one at work knew I was pregnant, and paparazzi were everywhere."
Let's be honest: it would be a pretty exciting way to end Succession since Shiv, Kendall, and Roman all want their dad's business. Nicholas Braun, who plays Cousin Greg, told Entertainment Tonight at the last table read of the series, "We were expecting it while we were making the show, but you don't believe it until [creator] Jesse [Armstrong] says it." He said, "I was as sad as hell on my last day," talking about how it felt to finish making the last shows. "I finished two weeks ago, and saying goodbye to everyone was a tough day. It's been the most rewarding job I've ever had. So, it's hard to say goodbye to these people."
Fans React To That Shiv Roy Pregnancy Reveal:
shiv roy may have just found out she's pregnant but she's already been a mother to many #succession #successionhbopic.twitter.com/y7CgTFuOM5

— lauren (@populaurculture) April 17, 2023
Being on shiv roy's position is one of the worst nightmare a woman can experience tbh. Being rejected, having to stand on the sidelines while ur brothers r in front, being pregnant while on a failed marriage & having to fall down in front of a bunch of men as you spiral inwardly- pic.twitter.com/Igu98h3arQ

— AL💋| succ s4 spoilers 🫶🏻 (@jodiesevermore) April 17, 2023
shiv knowing that she is pregnant with tom's baby during these moments makes me want to burn down a village pic.twitter.com/OuOnCQbH9T

— shiv roy's earlobes 🍒 (@leylanocontext) April 17, 2023
shiv saying that if they hadn't forced him on the plane that he might have been around to see his grandkids???? because she's pregnant and now her kid will never meet their grandad???? AND SHE FEELS RESPONSIBLE!??! PASS ME THE SHOTGUN NOW #succession pic.twitter.com/MWDPRnREta

— shauna (@wednesdaysadums) April 17, 2023
shiv roy was at her lowest… cut out from the exec board, falling down stairs AND pregnant. career in shambles. pic.twitter.com/UaTaJcEeQS

— wiLL (@willfulchaos) April 17, 2023
Is Sarah Snook Pregnant In Real Life?
We now know that Shiv is pregnant, and Sarah Snook, who plays Roy's daughter, showed off her real-life baby bump on the red carpet at the Succession season 4 premiere on Monday, March 20, at Jazz at Lincoln Centre in New York City. The new season starts on April 1.
The Australian actress, who is 35 years old and having her first child with her husband, Australian comedian Dave Lawson, told reporters at the premiere that she was 32 weeks pregnant and the baby would be born in about two months. That means the artist was pregnant when the fourth season was filmed.
"It's very exciting!" Rachel Smith from Entertainment Tonight heard the news from Snook. "I feel great."
So, it remains to be seen if Shiv and Tom will have a baby during their divorce, but Snook's real-life pregnancy means that the Succession family will soon have a new member. Congratulations to the couple!
For more updates, bookmark our site, thetecheducation.com.