Timothée Chalamet has taken his proper place as Muad'Dib, the prophet of the Fremen, in the first trailer for 'Dune: Part Two.'
"Paul Atredis is a student in the first movie…At CinemaCon on Tuesday, Chalamet teased a first look at the sci-fi epic by saying, "We really see Paul Atreides become a leader here."
With this new power comes the thrill of riding the vast sandworms that live on the faraway planet where "Dune" takes place, something the new footage beautifully brings to life.
Baron Vladimir Harkonnen had betrayed Paul Atreides and his mother, Lady Jessica (Rebecca Ferguson), so they had to run away into the desert of Arrakis. Paul is now a full member of the resistance. This is because the Fremen, the native people of the planet, took him in and raised him. As a sign of how much has changed, Paul's eyes are now icy blue, just like the rest of the Fremen's. This is because they have been taking too much spice, a psychoactive drug that makes people more aware. Fans of the book by Frank Herbert know that Paul can see the future, which gives him a lot of power.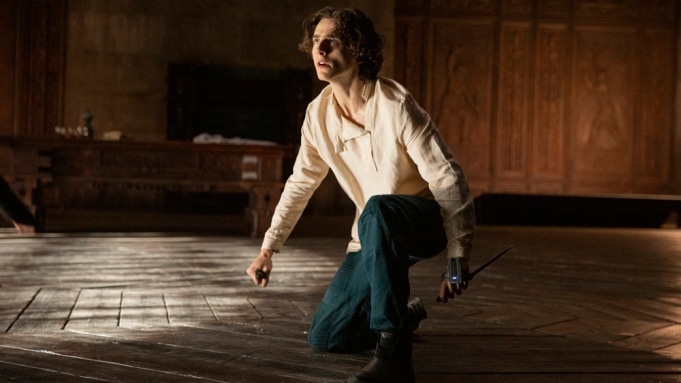 Not only have those things changed, but Zendaya's character Chani, who played a minor role in the first movie, is now ready for war and has a much more significant part. Ferguson has given up her royal ways and now has tattoos all over her face, which makes her look tougher. Zendaya says that the movie will show how Paul and Chani get closer to each other. "These are still just two young people who are trying to grow up, fall in love, and live," she told the crowd at CinemaCon.
You can also check out another movie trailer we have provided you below:
Denis Villeneuve is back to direct "Dune: Part Two," which features Josh Brolin, Dave Bautista, and Javier Bardem. New roles are played by Austin Butler (with chalky makeup) and Florence Pugh, who looks like a queen. The whole movie was shot with IMAX cameras by Villeneuve. He also said he had made new sets "to avoid repetition."
"We went to all new locations…everything is new in the film," Villeneuve promised.
Legendary and Warner Bros. are making "Dune: Part Two," which will come out on November 3, 2023. Warner Bros. showed the footage to theatre owners during a meeting with them. It also showed clips and ads from "Barbie," "The Flash," "Aquaman," and "The Nun" sequels.
If you wanted to check out more latest movies trailer or other details then you can join us on our Twitter account.