Thor, the God of Thunder, has begun to work on himself and "find inner peace" following the epic battle between the Avengers and Thanos in "Avengers: Endgame." Unfortunately for Thor, he must return to battle Gorr the God Butcher (Bale), who is attempting to kill all the gods. Thor enlists the help of Valkyrie (Thompson), Korg (Waititi), and Jane Foster (Portman) to stop Gorr.
Despite the fact that "Thor: Love and Thunder" will be released after "Doctor Strange in the Multiverse of Madness," the Marvel films that will prepare you for Thor's fourth installment are the first three "Thor" installments
Thor: Love And Thunder Streaming Release Date Update
Although Disney+ has not yet confirmed the streaming release date for Thor: Love and Thunder, it's highly likely that the film will be available on Disney Plus as early as August if Disney follows a similar release schedule for the film.
Doctor Strange in the Multiverse of Madness was released 46 days after its predecessor.
If the same timetable is followed for Thor: Love and Thunder, the release date will be Tuesday, August 23. However, given that Disney typically releases new titles on Wednesdays, it appears likely that Disney will delay the film's return by a day, resulting in the release of Thor: Love and Thunder on Wednesday, August 24, 2022. Of course, we'll have to wait until Disney confirms the film's official release date, but Thor: Love and Thunder are expected to arrive in late August.
Read more: Joker 2 Release Date: Joker 2 in Work, Cast, Plot and Many More
Who's In The Thor: Love And Thunder Cast?
Chris Hemsworth will return as Thor, with Tessa Thompson as Valkyrie, Taika Waititi as Korg, and Jaimie Alexander as Sif. Natalie Portman has returned to the Marvel Cinematic Universe as Thor's ex-girlfriend Jane Foster, who now wields Mjolnir as Mighty Thor.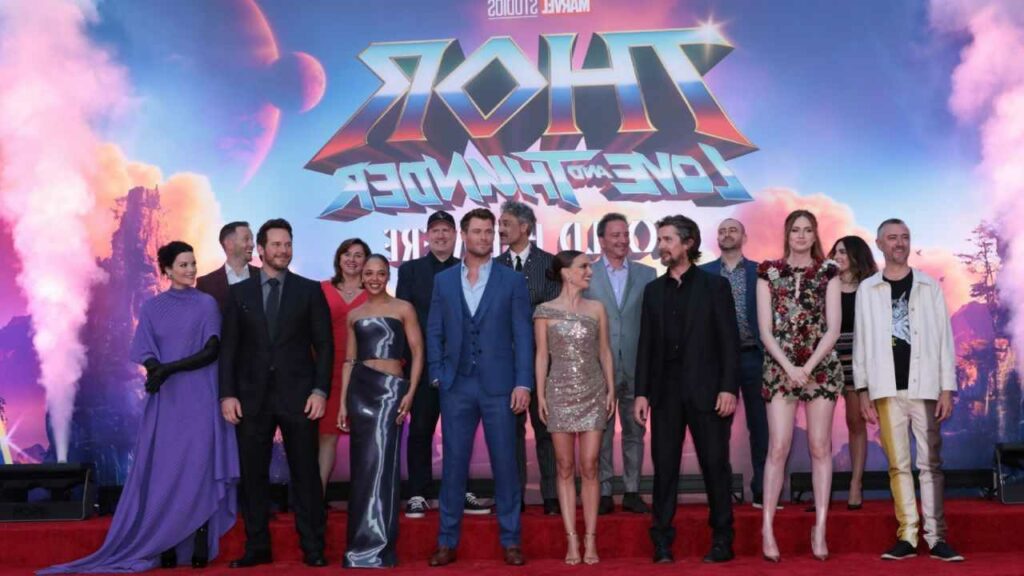 Christian Bale as Gorr the God Butcher and Russell Crowe as Zeus are two new characters. Some familiar faces include Matt Damon as Loki, Sam Neill as Odin, and Luke Hemsworth as Thor, as well as an introduction to a new Asgardian actor, Melissa McCarthy as an actress playing Hela. The Guardians of the Galaxy — Chris Pratt, Pom Klementieff, Dave Bautista, Karen Gillan, Vin Diesel, and Bradley Cooper — will also appear in the film, which picks up where "Avengers: Endgame" left off.
Read more: Avatar 2 Release Date confirmed: Official Title, Cast, And How To Catch Up
Read more: Shang-Chi 2: Possible Confirmed Release Date, Renewal Status & Updates!
 Advice Before Watching Thor: Love and Thunder
Thor 4, according to director Taika Waititi, is as if "ten-year-olds told us what should be in a movie, and we said yes to everything." "If you wrote down all the elements of this film, it shouldn't make sense," he added.
Essentially, this section serves as an extra primer for what to expect from Thor: Love and Thunder as a film (capital "F"). Don't watch Thor: Ragnarok, the popular third Thor film, before the most recent. Allow your expectations to be free of the influence of previous great films.
To get you ready, here's another Waititi quote (via Empire): "It's almost as if it shouldn't exist. If you entered a room and said, 'I want this, this, and this.' Who's involved? These individuals. What do you intend to call it? Thunder And Love You'd never work again, I mean. Perhaps not after this."
Read more: Is National Treasure 3 Finally Renewed! Possible Release Date & Spoilers Here!
Watch the Thor: Love and Thunder Trailer