When does the John Wick 4 release date take place? What are the characters in the movie and who is playing them? Check out this article for all the details you need to know!
No one has been able to kill John Wick yet, even though many have tried. That doesn't mean they won't try in John Wick: Chapter 4, the next movie in the action series led by Keanu Reeves.
What started out as a small action movie has turned into one of Reeves' most popular and well-known films. With each movie, the world of assassins that John Wick lives in has grown, and the fight scenes have reached new heights. Chapter 4 is one of the most anticipated new movies of 2023, so fans can't wait to see how it continues the story.
John Wick 4: Release Date Details
The original release date for John Wick: Chapter 4 was May 21, 2021. However, because of the COVID-19 pandemic and Keanu Reeves' scheduling conflicts with The Matrix: Resurrections, the release date was moved back a year to May 27, 2022. Since then, it's been moved again to March 24, 2023.
He's ready to get out. #JohnWick4 – 03/24 pic.twitter.com/mqxHHeY7QY

— John Wick: Chapter 4 (@JohnWickMovie) December 19, 2022
John Wick 4: Cast Details
Keanu Reeves is back as the most feared killer in the world, John Wick, also known as Baba Yaga. The role of John Wick has given Reeves a new lease on life. The actor hadn't stopped working, but this brought him back to the level he was at when movies like Speed and The Matrix trilogy were out: a true A-list actor who can bring fans to the theatre.
Laurence Fishburne (The Matrix) is back as Bowery King, Lance Reddick (Bosch) is back as Charon, and Ian McShane (Deadwood) is back as Winston, all of whom were in the first John Wick movie. Halle Berry has said that she won't be in John Wick: Chapter 4, but the teaser trailer (which you can watch below) shows a few shots of Belgian Malinois, the dogs that her character had in John Wick: Chapter 3, which makes people wonder.
Bill Skarsgrd (from "IT"), Hiroyuki Sanada (from "Bullet Train"), Shamir Anderson (from "Invasion"), pop star Rina Sawayama, Scott Adkins (from "Day Shift"), Natalia Tena (from "Harry Potter and the Order of the Phoenix"), Marko Zaror (from "Alita: Battle Angel"), Clancy Brown (from "The Shawshank Redemption"), and Donnie Y.
John Wick 4: Plot Details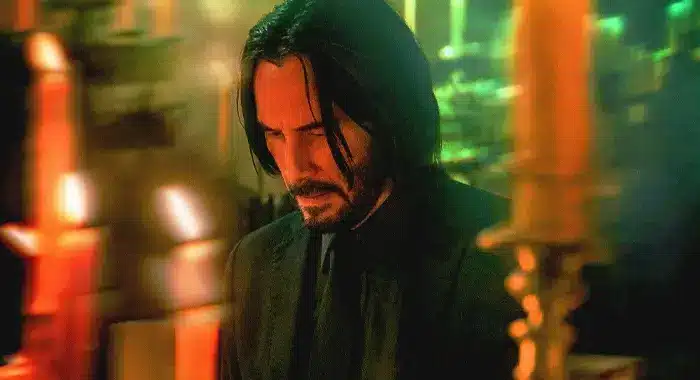 Although an official plot synopsis for John Wick: Chapter 4 has not been released yet, a wealth of information is available about what we can anticipate. The story will continue where John Wick 3 left off, with John being completely separated from The High Table, the organization of assassins. Despite Winston shooting him off the roof of a building, John has survived and is receiving care from The Bowery King. In an interview with Collider, Fishburne disclosed that the forthcoming movie will delve further into the mythology and lore of this world, as has been the case with every previous installment.
"I read the script. It's really, really cool. As much as it's the same world as the other three films, it's just deeper. It's much deeper in terms of the code of the assassin and the relationship that he has with one character in particular…is really the heart and soul of it."
Stahelski told IndieWire in a recent interview that John Wick: Chapter 4 will not have a happy ending, no matter where it goes.
"John may survive all this shit, but at the end of it, there's no happy ending. He's got nowhere to go. Honestly, I challenge you right now, here's a question to you: How do you fucking want me to end it? Do you think he's going to ride off into the fucking sunset? He's killed 300 fucking people and he's just going to [walk away]; everything's okay? He's just going to fall in love with a love interest? If you're this fucking guy, if this guy really exists [ed], how is this guy's day going to end? He's fucked for the rest of his life. It's just a matter of time."
When and Where Is John Wick: Chapter 4 Filming?
In June 2021, subscribers were sent a text message to tell them that John Wick: Chapter 4 had begun filming. "It's started. Think of this as a business courtesy. Chapter 4 of John Wick is now being made, "read the text. With a picture from the set, Shamier Anderson confirmed that the show would start later that day.
Collider has learned exclusively that most of the action in John Wick: Chapter 4 will take place outside of New York City. Most of the filming will be in Berlin and Paris, with additional filming in Japan and New York. We also found out that Lionsgate's original plan to film John Wick 4 and John Wick 5 back-to-back had to be put on hold because of the pandemic. Only John Wick 4 will be done by the summer's end. Filming was done in November 2021.
Stahelski told Collider that a fight scene was shot inside the Louvre Museum in France, which is an interesting fact:
"I would say the greatest word would be tricky, very tricky. Obviously, we do what we can where we're at, and then we try to movie-magic our way through some of the trickier stuff. But we had an amazing location diversity on the scout from Sacré Coeur, to Arc de Triomphe, to the Louvre, to the Eiffel Tower, to some amazing places throughout. I mean we were in Aqaba, Jordan for our opening sequence. Paris, Berlin, Tokyo, Osaka. We got around on this one. So hopefully, we brought all that great imagery to screen."
How Long Will John Wick: Chapter 4 Be?
Chad Stahelski told Collider in November that the fourth movie in the series would be the longest, lasting at least 2.5 hours:
It's in that zone. I think, I'm different. The definition of runtime is that first logo to that last credit. You know what I mean? So the movie itself, I know what it runs at. I don't know the full runtime because I don't know the credit scroll, and all the other stuff that's going in. So you'd have to add on that. But it's in the zone of, yeah, it's over the 2-hour mark, but it's under a lot of the other big marks.
Collider announced on February 13 that the movie will be 2 hours and 49 minutes long, including credits. This makes it the longest movie in the franchise. For comparison, the first movie was 1 hour and 41 minutes, the second was 2 hours and 2 minutes, and the third was 2 hours and 10 minutes. This means that the action blockbuster will be about the same length as recent movies like Elvis and Black Panther: Wakanda Forever.
John Wick 4: Trailer
Here is the official trailer for John Wick: Chapter 4. It shows some killer moves and hints at some great fights between Keanu Reeves's assassin and other people. Check it out for yourself:
You Can Watch Similar Movies Like John Wick
If you enjoyed "John Wick," you might also enjoy the following action-packed movies with similar themes and styles:
The Bourne Identity 

The Raid

Atomic Blonde 

Kill Bill: Vol. 1 
Related Stories Recommended By Writer: