With the iPhone 14 and 14 Pro, you can use Emergency SOS to send a text message to emergency services via satellite when you are not on a cell phone or Wi-Fi access. You can also tell people where you are by satellite using the Find My app.
How Satellite Emergency SOS Works
In extreme situations where no other methods of contacting emergency services are available, Emergency SOS via satellite can enable you to get in touch with them. If you try to contact emergency services from an area without cellular or Wi-Fi connectivity, your iPhone will attempt to make a connection with them through satellite.
The process of transmitting and receiving messages through satellite is distinct from using a cellular network. Under perfect conditions, with a clear view of the sky and horizon, a message may be transmitted in as little as 15 seconds, but under trees with light or medium vegetation, it could take more than a minute.
You may not be able to establish a satellite connection if you are surrounded by thick foliage or other obstacles. Environment, message length, and satellite network availability can also affect how quickly you can establish a connection.
After activating an iPhone 14 or iPhone 14 Pro, you'll get two years of free access to Emergency SOS via satellite.
An automatic Crash Detection or Fall Detection notification to emergency services may be communicated by your iPhone 14 or iPhone 14 Pro using Emergency SOS via satellite if you're outside of cellular and Wi-Fi coverage and are unresponsive after a serious car crash or hard fall detected by your iPhone or Apple Watch.
Apple has included numerous security and privacy enhancements with the release of iOS 14's Satellite Feature, relieving customers of any concerns they may have earlier had.
In addition, Time Cook has tweeted specifically about the iPhone 14's privacy settings:
A new safety feature that provides customers peace of mind is now available in the US and Canada across the iPhone 14 lineup — Emergency SOS via satellite. Users can now message emergency services without Wi-Fi or cell service. 🛰️ https://t.co/jtyzayB0bV

— Tim Cook (@tim_cook) November 15, 2022
Get Ready in Case of an Emergency
If you are heading somewhere that may not have cellular or Wi-Fi coverage, here are some things you can do to prepare for the possibility.
Emergency SOS via Satellite Demo
Test out the demo to see how the satellite-based Emergency SOS system functions. You must be outside, on flat ground where you can see the sky unobstructed. The signal could be slowed by trees with thin foliage or completely blocked by those with heavy growth.
The same is true of hills, mountains, canyons, and high buildings, all of which might obstruct the signal.
Before beginning the trial for Satellite Connection, you will be required to enable Location Services if they are not already.
Open the app for Settings.
Tap the SOS button.
Tap Try Demo next to Emergency SOS via satellite, and then follow the directions on the screen.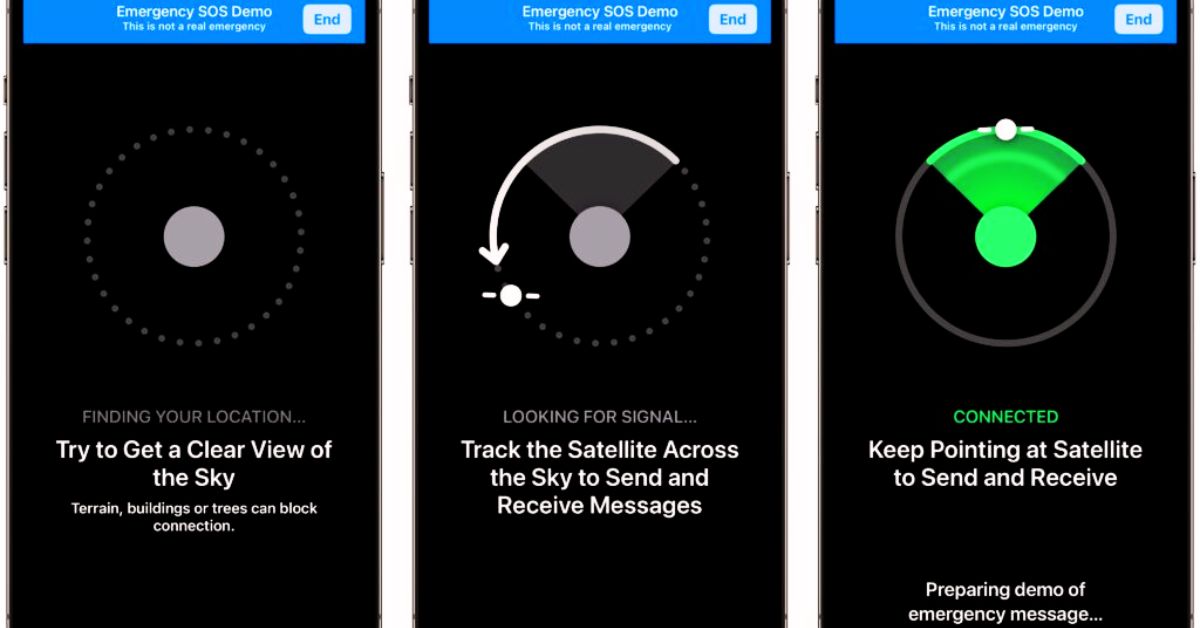 If you aren't in a country or region where Emergency SOS is accessible through satellite, you won't be able to utilize the demo. In the demonstration, the 911 system is not activated.
Set Up the Information You Want to Share
Using Emergency SOS via satellite, you may easily communicate with your emergency contacts and transmit your Medical ID. Before an unexpected event occurs, you should have these details prepared.
You must be sharing your location with the person you wish to notify via satellite in the Find My app before you leave the range of cellular and Wi-Fi networks.
Use Emergency SOS by Satellite
Even if you're in an area without cellular or Wi-Fi connectivity, you may still use your iPhone to send an SOS message via a satellite connection and reach emergency personnel.
Join a Satellite Network
Here are some suggestions for linking your iPhone to a satellite so you can make an emergency call:
Don't try to cradle your phone in your hand. You shouldn't hold your phone at shoulder height, but you also shouldn't tuck it away in a bag.
Get outside where you can see the horizon and the sky unobstructed.
Keep in mind that trees with thin leaves could impede your connection while those with thick leaves could completely block it. The same is true of hills, mountains, canyons, and high buildings, all of which might obstruct the signal.
Just follow the on-screen prompts if your iPhone advises you to turn left or right or relocate to avoid a signal blockage.
If your phone's screen is locked, the satellite connection will still work.
Text Satellite Emergency Services
To reach emergency services, dial 911 first, if possible. It's possible to make the call even if your regular cellular carrier network is down.
Satellite-based emergency messaging is available in the event that a phone call cannot be completed. iOS 16.4 is required to connect to emergency services through satellite2 when dialing certain local emergency numbers.
Tap Emergency Text via Satellite.
Tap Emergency Services in Messages to send a text message to the local emergency number.
Tap to make an urgent report.
Tap the emergency questions to provide the most detailed description of your circumstance.
You may decide to let your emergency contacts know that you have called 911, along with your current location and the nature of your emergency.
If you want to link up with a satellite, just stick to the on-screen prompts.
After you have connected, stay connected while you submit your message to the emergency services by following the on-screen instructions.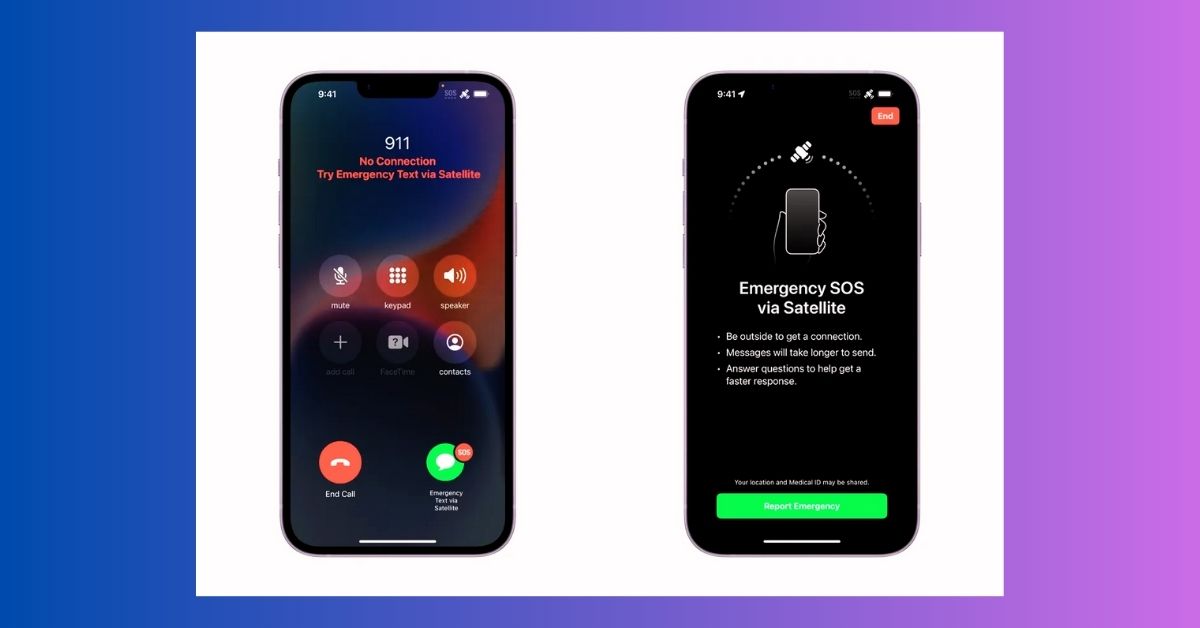 Your iPhone will begin a text conversation with emergency services once you're connected, relaying information such as your Medical ID and emergency contact information (if you've set them up), the results of the emergency questionnaire, your location (including elevation), and the amount of battery life left in your iPhone.
You could be receiving other communications that require your attention. These messages only support the use of Latin characters, which excludes languages other than English and French. Multiple languages, including English, American Spanish, Canadian French, Dutch, French, German, Italian, and Portuguese, are supported by this service.
The links below will take you to even more resources discussing the iPhone and its many applications.
Give Information to Your Emergency Contacts
When texting emergency services with Emergency SOS via satellite, you have the option of notifying and sharing information with the emergency contacts you've set up in the Health app. If you decide to include them, your emergency contacts will immediately begin receiving alerts from you.
Sharing a live transcript of your iMessage chat with emergency services is possible if both you and your emergency contact are using iOS 16.1 or later. Included in this transcript are:
The results of the urgent survey you filled out.
Location pinpointed on a map.
The information was passed back and forth with 911 operators.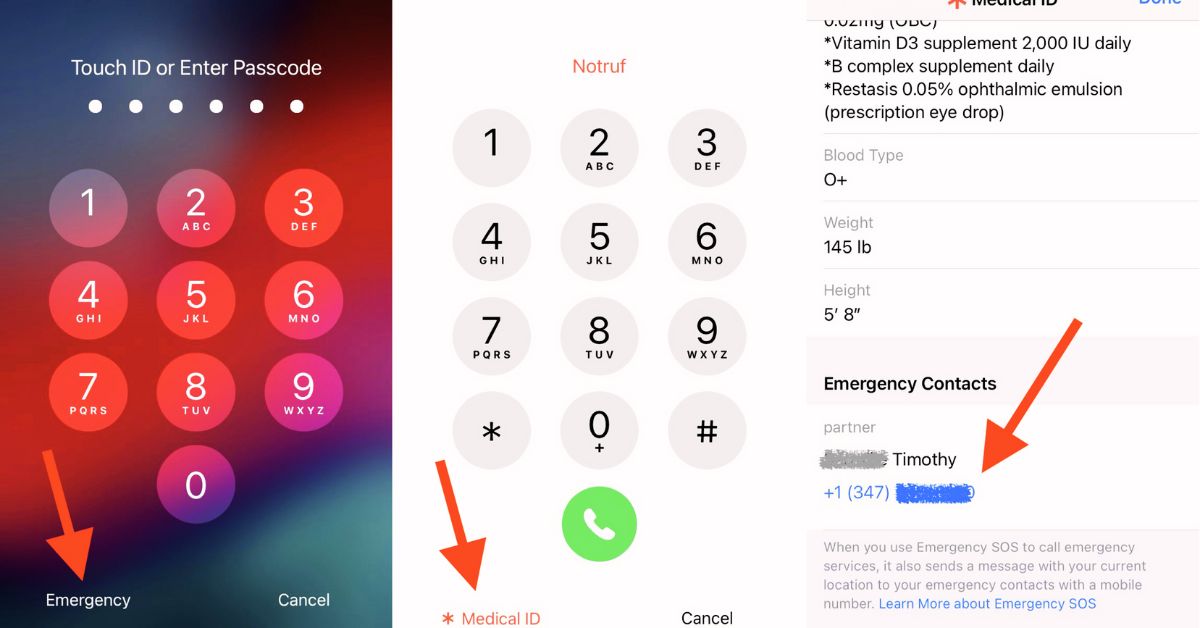 A text message is sent to your emergency contacts if they do not have an Apple device or iOS 16.1 or later. This call is coming from the number 767911 in the United States and Canada. This transmission is from the European number 767112.
It reads, "You're receiving this message because someone you know used Emergency SOS via satellite and identified you as their preferred emergency contact."
Within 48 hours of receiving the initial text message, your emergency contacts must reply "YES" to continue receiving texts. If they reply "NO" or "STOP," they will no longer receive satellite notifications regarding Emergency SOS. This includes messages about the present emergency as well as any future emergencies.
After replying "NO" or "STOP," your emergency contact can resume receiving Emergency SOS messages via satellite alerts by sending the word "RESTART" to the original phone.
Your name, the moment you called 911, your precise location, and the details of your emergency are all included in the supplementary messages.
Your emergency contacts will only be able to answer with a "YES" or "NO" to your messages. They need not call 911 because someone has already called for help with the emergency.
Available Satellite-based "SOS" Emergency Signal
To send an SOS signal or share your location via satellite with Emergency SOS, you must:
The iPhone 14 or iPhone 14 Pro is required for use with:
In North America, you need iOS version 16.1 or later.
For use in Europe, iOS version 16 or later is required.
A device running iOS 16.4 or later in any of these countries: Australia, Austria, Belgium, Italy, Luxembourg, the Netherlands, New Zealand, or Portugal
You must also be outside of any cell phone or Wi-Fi service area.
Australia, Austria, Belgium, Canada, France, Germany, Ireland, Italy, Luxembourg, the Netherlands, New Zealand, Portugal, the United Kingdom, and the United States3 all have satellite-based emergency SOS services.
Except for those who purchased their phone on the Chinese mainland, in Hong Kong, or in Macao, international tourists who visit a country or territory where Emergency SOS via satellite is available can utilize the feature while they are there. iPhones purchased in Mainland China, Hong Kong, or Macao do not include satellite-based emergency SOS.
Northern portions of Canada and Alaska, which are over 62 degrees north latitude, may not be able to get a satellite connection.
If you're interested in learning more about many topics regarding technology, check out the website thetecheducation.com.