Adventure Time: Fionna & Cake is a new animated TV show that is based on a character from the classic fantasy show Adventure Time on Cartoon Network.
The upcoming spin-off show will be the third in the brand that Pendleton Ward started. The show is about the main characters, Fionna the Human and Cake the Cat, who are different forms of Finn the Human and Jake the Dog, who were the main characters in the first series and had been in several episodes.
If you've been watching Adventure Time: Fionna & Cake, you might want to know when this new fantasy-themed animated show is coming out. Well, no more wondering!
Here is everything you need to know about Adventure Time: Fionna & Cake Episodes 5 & 6, including when, where, and how you can watch them.
Fionna and Cake Episode 5 Release Date
The eagerly awaited fifth installment in the "Adventure Time: Fionna and Cake" series has been titled "Destiny". Mark your calendars because this episode is set to premiere on Thursday, September 14, 2023. Those on the West Coast can catch it sharp at midnight (Pacific Time), while viewers on the East Coast should set their alarms for 3:00 a.m. (Eastern Time).
Episode 5 of Adventure Time: Fionna & Cake, DESTINY, written/storyboarded by Anna Syvertsson @HannaKtweet Sonja von Marensdorff & Jacob Winkler. Available September 14th on @StreamOnMax! pic.twitter.com/GHaet03RrS

— adam muto (@MrMuto) September 12, 2023
The episode will be accessible for streaming on HBO Max's platform, "Max", which is the designated host for this enchanting series. Delving deeper into what the episode holds for its audience, the official synopsis provides a tantalizing glimpse. In "Destiny", Fionna and Cake, our beloved protagonists, find themselves on the precipice of facing their preordained futures.
A cryptic figure emerges from the shadows, professing to have knowledge of what lies ahead for them. The intrigue doesn't end there. Fans of the series have another reason to rejoice as the episode promises the reappearance of Prince Gumball. For those unfamiliar, Prince Gumball is the gender-bent counterpart of Adventure Time's Princess Bubblegum.
Adding to the charm and flair of the character is the voice behind him – the talented Neil Patrick Harris. This episode is shaping up to be an unforgettable journey through the Land of Ooo, one that fans wouldn't want to miss!
Is There A Trailer For Adventure Time: Fionna & Cake?
Yes, Adventure Time: Fionna & Cake has a Trailer. You can see the original trailer on Max's website or on YouTube. The trailer shows some of the people and places Fionna and Cake will meet on their trip through different universes.
The video also shows that Madeleine Martin will play Fionna, Roz Ryan will play Cake, Tom Kenny will play Simon Petrikov, and Neil Patrick Harris will play Prince Gumball. Kheirosiphon, who is played by Alan Tudyk and is the main bad guy in the show, is also shown in the video.
The video is about two minutes long, and it has a catchy song that says "Fionna and Cake are here to stay."
Episode 6: The Prince Who Wanted Everything
Episode six of the acclaimed "Adventure Time: Fionna and Cake" series bears the intriguing title, "The Prince Who Wanted Everything". Fans should brace themselves for its arrival on Thursday, September 21, 2023. If you're tuning in from the Pacific Time zone, be ready at the stroke of midnight. However, those hailing from the Eastern Time region should prepare to embark on this adventure at 3:00 a.m.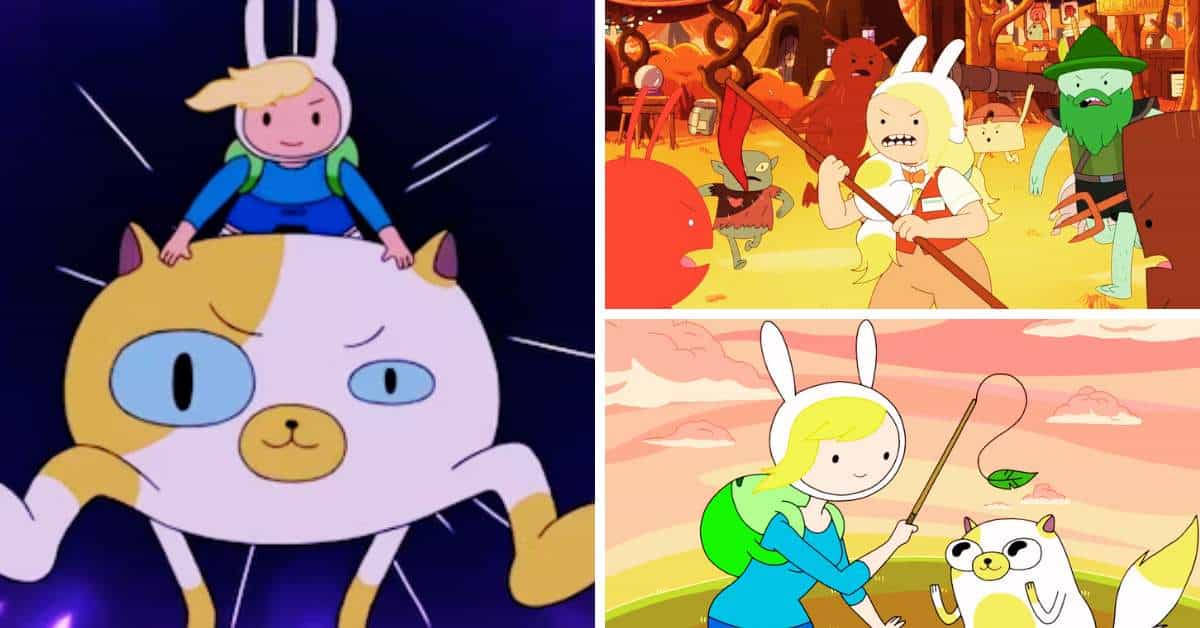 For the series aficionados who have been faithfully following each episode, HBO Max's streaming service, "Max", will once again be the go-to platform for viewing. Delving into the rich narrative of the episode, the official synopsis gives us a glimpse into Prince Gumball's evolving character arc.
With a sudden urge to break free from the confines of his regal responsibilities, Prince Gumball sets his sights on the vast multiverse, bringing along his trusted companions, Fionna and Cake. However, his journey soon brings about profound realizations. The charm and allure of a princely life, it appears, come with their own set of intricacies and challenges.
But Prince Gumball's story is not the only highlight of this episode. There's an added layer of excitement in store. The episode marks the inaugural appearance of Lumpy Space Prince. For those who've relished the quirks of Lumpy Space Princess in the original Adventure Time series, this character promises a fresh, gender-swapped perspective.
Lending his voice to this enigmatic new character is none other than the versatile Peter Serafinowicz. Given the dynamism and depth that each episode of the series has been offering, this one promises to be a whirlwind of emotions, adventure, and revelations.
Are you looking for a more exciting story? These open-world games will make you happy:
What to Expect From the Series?
Adventure Time: Fionna and Cake is a series that looks at the different versions of the characters that live in the Adventure Time world. The show also looks at identity, fate, and friendship as Fionna and Cake learn more about themselves and how they are connected to Simon.
A new bad guy named Kheirosiphon, who wants to destroy all worlds, is also introduced in the series. Kheirosiphon has something personal against Simon, who used to work with him and be his friend. Alan Tudyk gives Kheirosiphon a voice.
The show also has a lot of guest stars who play different characters from other worlds. Here are some of them:
Donald Glover as Marshall Lee, the gender-swapped version of Marceline the Vampire Queen from Adventure Time.
Kristen Schaal as Ice Queen, the gender-swapped version of Ice King from Adventure Time.
Andy Samberg as Party Pat, the leader of the Party Bears from Adventure Time. John DiMaggio as Jake Jr., one of Jake's children from Adventure Time.
Tara Strong as BMO Noir, a noir-themed version of BMO from Adventure Time. Weird Al Yankovic as Banana Man, a recurring character from Adventure Time.
Adventure Time: Fionna and Cake is a series that fans of Adventure Time are sure to like because it shows the well-known characters and world in a new and fun way. The show also pays tribute to the original show, but it also tells its own stories and has its own adventures.
Do you like what's been added to Fionna and Cake Episode 5? Do you want the service to include games that have been approved? Tell us what you think in the comments or by writing directly on our site.