The new roguelike video game Mythforce will take you back to the 1980s and 1990s. The game is based on old Saturday morning shows like ThunderCats, M.A.S.K., and SilverHawks. You can play as one of four heroes, each with their own unique skills and tools, and explore randomly generated dungeons from a first-person view.
In the co-op mode, you and your friends can work together to fight waves of enemies. Read this post to find out everything you need to know about the Mythforce Xbox release date, video, gameplay, and other things.
What is Mythforce Xbox

Release Date?

Mythforce, released in 2023, is a captivating roguelike video game that was meticulously developed by the talented team at Beamdog and subsequently published by the renowned Aspyr.

The game was officially launched on September 12, 2023, and is available across several platforms including Windows PCs, PlayStation 4, the more advanced PlayStation 5, Xbox One, the next-gen Xbox X/S, and the versatile Nintendo Switch.

MythForce – Release Date Reveal Trailer as per the given below Twitter post:
MythForce – Release Date Reveal Trailer | ID@Xbox Showcase

Adventure through crypts and castles with your friends in this First-person Melee Roguelike.

Coming to Xbox O|X|S on Sept 12thhttps://t.co/vLWCw6oR1R pic.twitter.com/HZq0wFeYq3

— Idle Sloth💙💛 (@IdleSloth84_) July 11, 2023
What sets Mythforce apart is its unique inspiration. The game draws heavily from the nostalgia of cherished Saturday morning cartoons that many grew up watching and loving. Among these classic cartoons are iconic titles like ThunderCats, M.A.S.K., and SilverHawks. As players delve into the game, they're introduced to four distinct heroes.
These characters are intricately designed based on the time-honored archetypes of swords and sorcery, echoing tales of bravery, magic, and epic battles. As players navigate through Mythforce, they are plunged into the unpredictable realms of procedurally generated dungeons. This dynamic environment, viewed from a first-person perspective, promises a fresh experience with every playthrough.
Beyond the individual experience, Mythforce encourages camaraderie with its cooperative multiplayer feature. This mode enables players to team up, supporting up to four adventurers at once, as they work together to overcome the challenges and enemies lurking in the game's mysterious dungeons.
How to play Mythforce?
In MythForce, players are immersed in a world that looks like a Sunday morning cartoon. The first-person view lets players swing their legendary swords and see how their magic spells kill monsters as they go into dungeons to look for loot and avoid traps. The game has online multi-player runs for up to four people, and players can form groups of Knights, Rogues, Mages, and Hunters, called the MythForce.
The game plays like a normal four-player co-op first-person shooter, where friends or strangers work together toward a common goal, smashing enemies and taking on hordes for loot and glory. It has a progression system with perks and artifacts to unlock that carry over between runs.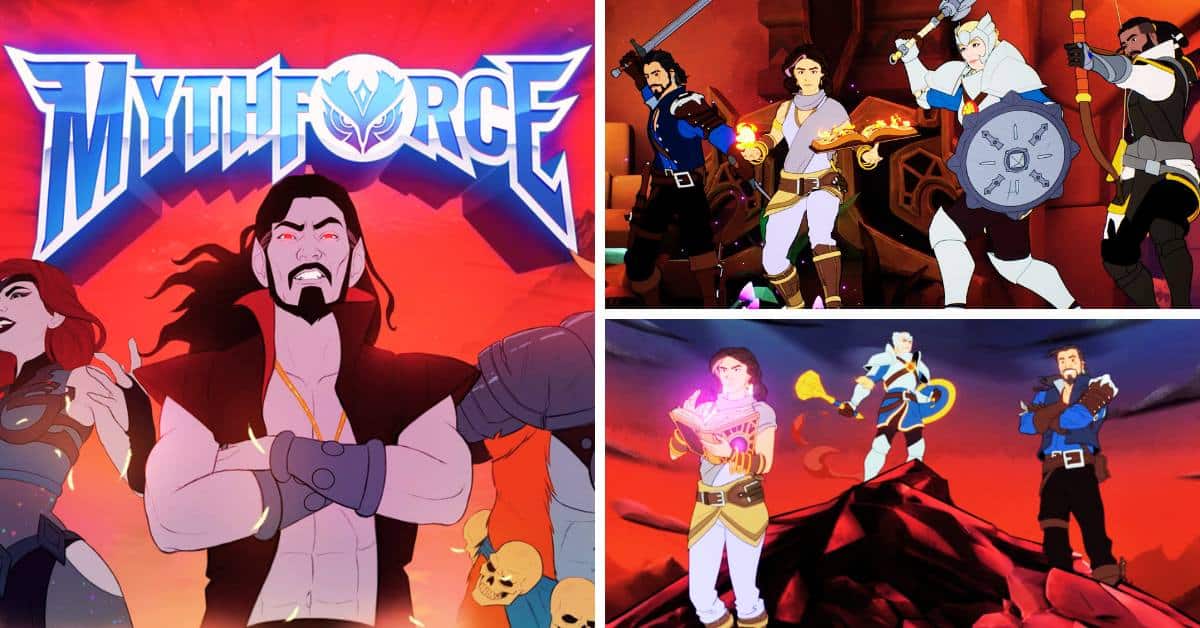 Mythforce is a dungeon crawl game with cel-shaded art. The players can choose from one of the four characters, each with their own abilities and weapons. The characters are:
A melee-oriented knight who can throw her shield
A rogue who can teleport behind enemies and backstab them
A ranger who can shoot fire arrows
A mage who casts fireballs
The players have to travel the dungeons, fight enemies, find loot, and improve their skills. Since the caves are made by chance, every run is different. The game also has a meta-progression system that lets players improve their next character by using the gold they found before they died.
What Are the Reviews of Mythforce?
Critics and players had different things to say about Mythforce. Some people liked the game's art style, humor, and co-op mode, while others didn't like how hard it was, how there wasn't much difference, and how the gameplay was always the same. Here are some of the reviews:
Rock Paper Shotgun: "Mythforce is not a game that will blow you away with its depth or innovation, but it is a game that will provide you with some mindless fun if you have some friends to join you."
PC Gamer: "Mythforce has a lot of potential, but it needs more polish and balance to make it a satisfying roguelike experience."
Eurogamer: "Mythforce is a game that tries to capture the spirit of Saturday morning cartoons, but fails to deliver on its promise of fun and adventure."
Mythforce Xbox

Story

You are a member of the MythForce, a group of brave heroes who protect the land of Eldryth from Daedalus, the vampire boss. When players go into the tunnels of Daedalus and face his evil minions, tricky traps, and sneaky plans, they will go on an adventure that can only be found in Sunday morning cartoons.

Do you know if there will be Starfield mods for Xbox? Find out more by reading the following:
Mythforce Xbox Trailer
Yes, the video for Mythforce Xbox has been released. In fact, three different videos for the Xbox game have been made available. The first is the Xbox Announce Trailer, which was shown in July 2023 at the ID@Xbox Showcase.
The second is the Trailer for the game's release date, which showed that it would come out on September 12, 2023. The third one is the launch trailer, which showed some of the game's highlights and how to play it. You can click on the links to watch the clips, or you can look for them on YouTube or other video sites.
Where to Buy Mythforce?
Mythforce can be bought for $19.99 USD from the Xbox Store. To play the game on a console, you need either Xbox Game Pass Ultimate or Xbox Live Gold, which are sold individually. There are also versions of the game for Windows, PlayStation 4 and 5, and Nintendo Switch.
Stay in touch with Thetecheducation.com to find out everything you need to know about games.