After saving the world once again, the Umbrella Academy can relax… sort of. The life of this family is never quiet for too long.
However, saving the world from the apocalypse comes with a catch since none of our superheroes have their superpowers. This isn't ideal if something else requires them.
Maybe this brave new world has a unique team of dysfunctional super-powered people watching over it? It's impossible to tell, but there's more to the story. The only thing left is to figure out when we'll see them. Here's everything you need to know about the upcoming season…
The Umbrella Academy Season 4: Release Date
Netflix declared that The Umbrella Academy had been renewed for a fourth season on August 25, 2022. But this will also be the final episode of the show.
The Umbrella Academy creator Steve Blackman expressed his excitement in a statement, saying, "I'm so pleased that the immensely dedicated fans of the show will be able to see the proper finale to the Hargreeves siblings' journey we began five years ago."
Robert Sheehan will be the co-showrunner of season 4 of The Umbrella Academy, according to current showrunner Steve Blackman pic.twitter.com/71qS0bQfyt

— best of robert sheehan (@sheehannews) October 20, 2022
But before we come to that climax, season four will have a great plot that will keep viewers on the edge of their seats until the very end.
That promise sounds just great!
Given that Ben was undoubtedly up to something in Korea during the end credits sequence, the family may also be expanding internationally.
Unlike many other Netflix shows, there doesn't appear to be a recurring trend in the release date calendar. The Umbrella Academy's first season premiered in February 2019, the second at the end of July 2020, and the third two years later (blame COVID) in mid-June 2022.
Although we estimate that the show won't debut until 2024 (sorry, but there's a lot of effort that goes into wrangling a cast of twelve and a tonne of visual effects to bring the program to life) if we're going for the rough June/July slot, that may be when we see it next. It won't be finished in a year if they don't get started filming right now.)
The cast will miss the show just as much as we will; that much is certain. Emmy Raver-Lampman, an actress who plays Allison Hargreaves, discussed hanging up her post-apocalyptic hat with PopCulture.com, saying:
"I'm already looking forward to the last day on set because I'm going to be so sorry to say goodbye to these characters. I will be in a complete mess, but I'm also quite thankful that we are aware that this is our final season.
She continued that we get to cherish our time spent together for the last time, "is highly significant.
"We get to give these characters and the show's fans an ending that they all deserve because a lot of shows don't get that opportunity, and I think we're all feeling very, very lucky to get to go back to Toronto and film one more time and to tie it off with a very dysfunctional, but pretty bow, I'm sure," said one of the cast members.
The only thing left to do is wait for its release. When that happens, we'll let you know!
Read More:
The Umbrella Academy Season 4: Plot
There is no doubt that there will be a new apocalypse for the team to deal with, but at the moment, little is known about how the world stands and what could happen.
We all know that none of them have their powers anymore, which could spell trouble if the end of the world returns. Luther is on a mission to find Sloan, who didn't appear with the rest of the gang through the elevator doors after his wedding (and then dying and coming back to life inexplicably).
Episode 1 of The Umbrella Academy season 4 has finished filming!! pic.twitter.com/3ZDnvnmmM9

— . (@user7374910) July 1, 2021
After years as badass superheroes, can Diego and Lila live an everyday life after years as badasses?
Is Allison alive or dead after being sent into a new world with his daughter Claire and husband Ray simultaneously? There's a chance she's moved on to her heaven… and if she's pulled out of that, we don't think she will take that well. This is especially true considering what a dark path she was on before.
However, the world we've seen her in isn't realistic. Although Ray and Claire exist in the same timeline, they live in different eras. Season three reveals that Claire's husband, Ray, died before she returned to the present day. As a result of her relationship with her ex-husband Steve, Claire was born… something had to give.
Viktor will also be dealing with life without Allison, the sibling he was arguably closest to before and after his transition (at least initially). As he adjusts to his new life, he may find love or a family. It won't be long before we find out.
In addition, Reginald Hargreeves has finally reunited with his late wife, making the whole idea of messing with time and space seems oddly romantic when you think about it. His attempts to get her back created a potential genocide.
Now that they're back together, what does Reginald plan to do? Can he ignore the chaos he's created and the lives he's ruined to live a somewhat quiet life?
Read More:
 The Umbrella Academy season 4: Cast?
It wouldn't be the same without… The Umbrella Academy. At least the ones who are alive.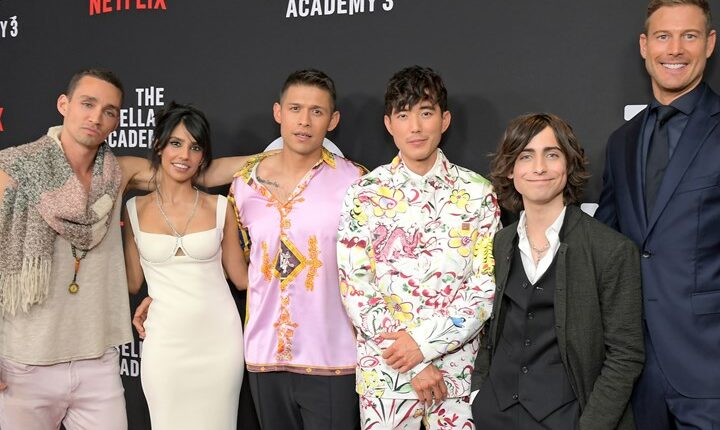 As far as we know, this is as follows:
• #1 – Luther (played by Tom Hopper)
• #2 – Diego (played by David Castañeda)
• #4 – Klaus (played by Robert Sheehan)
• #5 – Number Five (played by Aidan Gallagher)
• #7 – Viktor (played by Elliot Page)
Viktor comes out to his family and embraces his male identity in season three, following Elliot Page's transition. It has been praised by fans and Elliot alike for its simple acknowledgment rather than making it the show's focus.
It made a difference on set and displayed allyship with their friend as he adjusts to his new life, according to Ritu Arya, who will also reprise her role as Lila.
As she told Glamour, "I'm so proud of the writers and Steve Blackman for how they wrote Elliot's character this season." It was done so sensitively.
The mere fact that it is written in that way shows allyship. It offers support for the community without being preachy; it's just, 'This is a person with a story.' Showing that is all we want."
As part of the cancellation announcement, other characters will return too, including those whose fates were uncertain.
It looks like Colm Feore, who plays manipulative genius/dad/alien Reginald Hargreeves, will return, as will Justin H Min as Ben. Although her future is uncertain, Emmy Raver-Lampman, who plays Allison, has also been confirmed to return. After the season three finale, is she still alive?
'The Umbrella Academy' will end with Season 4. pic.twitter.com/wbIG5Qgc1I

— Pop Base (@PopBase) August 25, 2022
We'd like to see other characters again, but we're unsure if we will. Stanley (Euphoria's Javon Walton), Lila and Diego's fake child, vanished as part of the kugelblitz (after accidentally killing his uncle Klaus and revealing his immortality, so there are silver linings).
Luther is now trying to find his new wife, Sloane (played by Genesis Rodriguez). It is also likely that Jordan Claire Robbins, who plays Grace, the family android and de facto mother figure, will return.
We wouldn't rule out the possibility of someone turning up again at some point, even if they've been killed off (especially considering the wall between alive and dead).
In addition, extra casting will be announced in due course, and we'll keep you posted as soon as we know more.
The Umbrella Academy season 4: Trailer
It's impossible to find the trailer for season four of The Umbrella Academy as of August 2022 unless you ask Five to jump through some time-loopy apocalypse madness.
Filming hasn't even started yet, so we're a bit off, we're afraid. We'll let you know as soon as it's added to our timeline.
We'll update this as soon as we hear anything.
Where can I watch Umbrella Academy season 4?
On Netflix, you can watch The Umbrella Academy right now.