Friday, ABC News said that Amy Robach and T.J. Holmes will not be coming back to "GMA3."
"After several productive conversations with Amy Robach and T.J. Holmes about different options, we all agreed it's best for everyone that they move on from ABC News," a spokesperson for the organization told E! News. "We recognize their talent and commitment over the years and are thankful for their contributions."
Robach and Holmes have not said anything in public about their status with the show.
Before, the co-hosts of "GMA3: What You Need to Know" were put on hold while an internal investigation was done into their relationship.
Late in 2022, they caught people's attention when they were seen out together, including at dinner in New York City and on a trip to Upstate New York.
Robach and Holmes were taken off the show while the internal review was going on, but that didn't stop them from making news in the meantime. During the holidays, the anchors were seen at an Atlanta airport, where Holmes had her arm around Robach as they rolled their bags. Then, on New Year's Eve, they seemed to confirm their relationship with a steamy kiss in Miami.
Before the two left for their cross-country trip, ABC President Kim Godwin told them why they were taken off the daytime show.
"I understand that the continuing coverage can be distracting from the incredibly important work our team does here at ABC News," she wrote in December memo to staff, noting that there are a "rotation of anchors at GMA3 for the time being."
"It is my hope that we will continue to focus our energy on what we do best," Kim continued, "and I want all of you to know how immensely proud I am of your hard work and professionalism."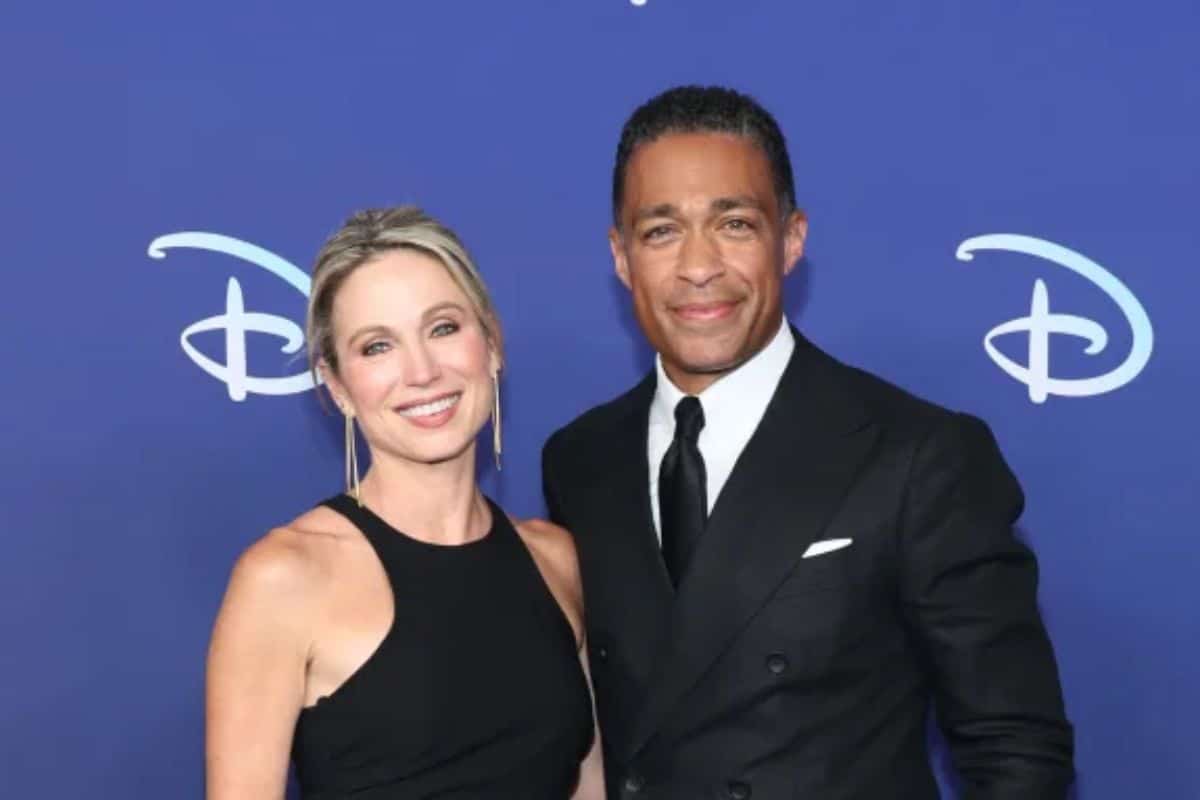 As Holmes and Robach's relationship heats up, Holmes has filed for divorce from his wife Marilee Fiebig, whom he married in 2010. In the same year, Amy married "Melrose Place" star Andrew Shue. Since then, Fiebig has criticised her husband, with whom she has a 9-year-old daughter named Sabine, for his "lack of discretion" in recent months.
In a statement obtained by E! News on January 4, Fiebig's lawyer, Stephanie Lehman, said, "During the holiday season and in light of the tough times, Fiebig's only focus has been on what is best for her 9-year-old daughter." "To that end, T.J.'s lawyer and I have been working together to move forward with their divorce in a private, quick, and friendly way."
The statement said that "Marilee has been touched by the outpouring of support and looks forward to new beginnings in the new year." It also said, "We continue to be disappointed by T.J.'s lack of discretion, respect, and sensitivity toward Marilee and the parties' daughter."
Robach and Holmes haven't talked about their relationship in public yet, but Amy has returned to Instagram in the middle of the scandal.
Robach deactivated her Instagram account on November 30 after footage of the TV stars on their cosy vacation in New York became public. She returned to the social media site on December 30, but she hasn't posted anything new yet.
Related Stories Recommended By Writer: