Superman and Lois have become an integral part of The CW's lineup in just two seasons on television. The popular Arrowverse spinoff stars Tyler Hoechlin and Elizabeth Tulloch in the title roles, both of whom previously appeared on Supergirl. This time around, the series follows the Kent-Lanes as they try to raise their two teenage sons while maintaining their careers as hero reporters in Smallville. And it has become an instant classic of that universe and the superhero genre as a whole.
In June, after several long breaks spread out over the course of the previous six months, the show's second season concluded on The CW. Critics have, unsurprisingly, given it high marks; it's obvious that the show has successfully revived the spirit of its groundbreaking debut. Furthermore, it led to the show receiving six Saturn Award nominations.
But if you're eager for Season 3, you might be waiting a while. The CW has released their lineup for the 2022–2023 TV season, and season 3 of Superman and Lois is not on it.
Superman & Lois Season 2 Finale Ending Explained
Superman & Lois' Bizarro World tale was wrapped up in the season two finale with a big Arrowverse disclosure, a fresh Diggle tease, and several other important moments. With Ally Allston's ultimate fight with Superman, a significant chapter in the Kents' lives came to a close. When the third season of the show premieres, the characters will be free to tackle completely fresh problems now that Ally has been defeated.
There was some doubt over who the true identity of the season's big evil was during the first half of the season. The first clues pointed to Doomsday, but they were all only a giant red herring to hide the existence of Bizarro. But he wasn't the main antagonist, either. Anderson, whose hatred for Superman led him down a bad road, added to the uncertainty. But in all the commotion, it became clear that Ally Allston was the true danger to all of the show's primary characters. She became a difficult opponent after merging with her counterpart from Bizarro World, one that Superman himself wasn't even able to defeat until the conclusion.
The fate of the Earth was once more in Clark's hands in Superman & Lois season 2, episode 15, "Waiting for Superman." In the previous episodes, Ally's power-draining prowess had appeared to remove the Man of Steel from the picture, leaving Natalie, Steel, and Jordan to fill in for him. But in the end, Superman was the one who saved Earth when things were at their worst. Here are Clark's strategies for defeating the Parasite of the Arrowverse and the significance of the episode's other key moments for the future of the show.
Superman & Lois season 3 release date 
Season 3 of Superman and Lois will debut on The CW in early 2023. While we don't yet know when the premiere will occur, it's safe to assume that it will be within the months of January and March (at the very latest).
It's evident that Superman and Lois have become a fan favorite of the midseason schedule, as the first season launched at the end of February 2021, and the second season began in early January 2022. For the third time, it makes sense that The CW would wait until then to air it (even if the absence of its biggest show in the fall line-up is a bit risky).
'All American,' 'Riverdale,' 'Flash,' 'Walker' Among Seven Early Renewals at CW https://t.co/Fp9ay1ShSn

— Variety (@Variety) March 22, 2022
Superman and Lois were renewed for a third season despite concerns that it might be terminated following Warner Bros. Discovery's infamous cancellation of the already-completed Batgirl feature and its reshuffling of their HBO Max line-up. And so, for the time being, its future is secure.
Yes, it looks like we'll have to wait a while longer for new episodes of Superman and Lois, but if there's one thing we've learned from this show, it's that the wait is always worthwhile.
Superman & Lois Season 3 Cast
The season 3 cast has not yet been finalized, but the principal stars that may return include: Clark Kent/Superman is played by Tyler Hoechlin.
As Lois Lane, Elizabeth Tulloch
Jonathan Kent played by Jordan Elass
Jordan Kent is played by Alexander Garfin
Kyle Cushing, played by Erik Valdez
As Sarah Cushing, Inde Navarrette
As John Henry Irons, Wolé Parks
Chrissy Beppo is played by Sofia Hasmik
Natalie Irons, played by Tayler Buck
As retired general Sam Lane, Dylan Walsh
Lana Lang Cushing is played by Emmanuelle Chriqui.
When John Henry Irons (Wole Parks) and David Ramsey John Diggle met at Smallville's cafe in the season 2 finale, John Diggle hinted about a new antagonist.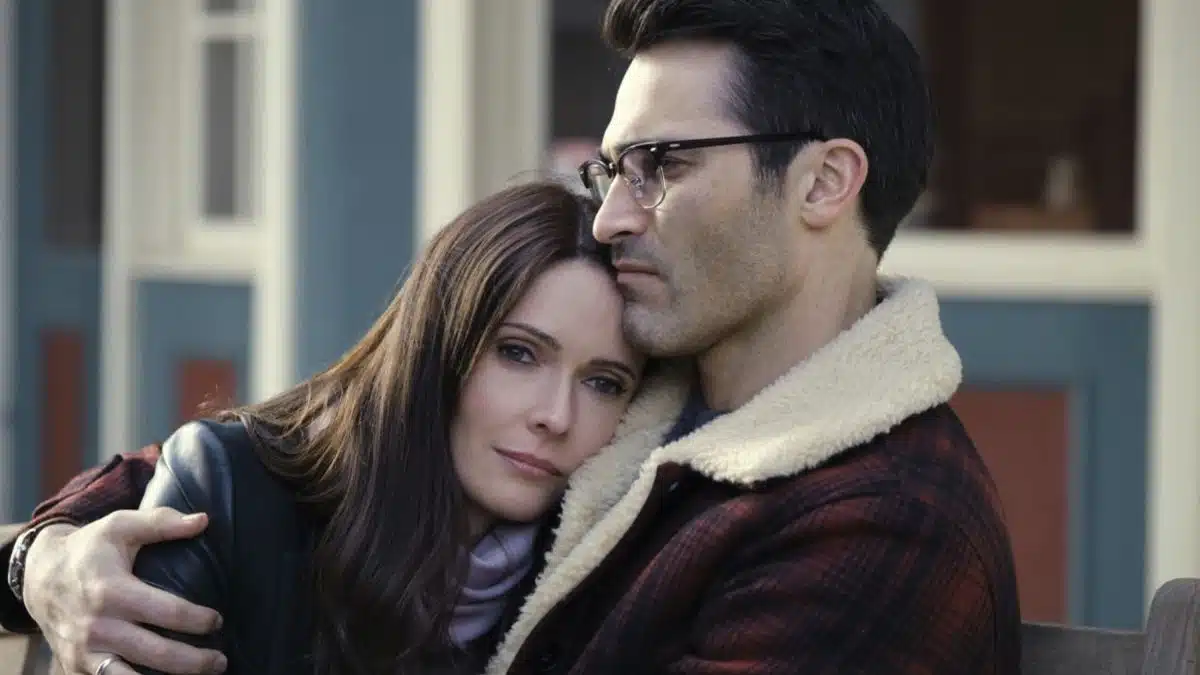 Diggle gave Irons a folder with information on Bruno Mannheim, a notorious felon who is most likely to blame for the killing of the Irons from Earth. The third season will mark Mannheim's live-action premiere.
Showrunner Todd Helbing recently spoke to Den of Geek about how Mannheim will be the main antagonist in the forthcoming episode: "Every year, at some point, I talk to DC, and there's a deck that's constructed that tells us who are the characters that we can explore.
"I submit requests, and there are paths I can take—sometimes fully, sometimes partially, and occasionally not at all. We simply come up with a different version of it if it isn't at all.
He continued, "Bruno will play a significant role in season 3 and have a significant impact on a number of individuals. There are several components in place that could lead us to a specific location if you watch seasons 1 and 2.
Superman & Lois Season 3 Plot
The plot of season 3 hasn't been released yet, but it's expected to be chaotic given that the season 2 ending hinted at a chaotic fusion of Earth and the Bizarro World.
Additionally, it doesn't appear that Jordan and Sarah will be together in season 3.
According to Helbing, "it's like a lot of teenage romances — you sort of move in and out." You go through phases where you're incredibly intense and others when things kind of fade out. Jordan and Sarah will likely remain close for the rest of their lives because of their shared love for one another. But as of today, they're most likely not going to be together moving ahead. We'll see if they get back together or not later, but for now, probably not."
The showrunner went on to say that he is certain the Lane family will face numerous challenges in season 3. You'll see how season 3 develops with Superman and how (our new nemesis) disrupts both his life and the lives of John Henry and Nat, he continued.
"Thematically, everything should feel like a piece."
Where to watch Superman & Lois Season 3
Superman & Lois, starring Tyler Hoechlin, Bitsie Tulloch, and Alexander Garfin, is currently streaming on Netflix. You may stream it on your Roku device via The CW, Prime Video, VUDU, Spectrum TV, the Vudu Movie & TV Store, Apple TV, or HBO Max.
Is there a trailer for Season 3 of Superman & Lois?
Because production on the next season doesn't start until September, there is no trailer available at this time. If you're eager to get a look at Season 3 before its official release, you likely won't have to wait too long, since a trailer is expected to drop before the year is through. But you can enjoy Season 2 Traile Here.