Lindsay Lohan has finally shown off her baby bump. She and her husband Bader Shammas, announced in March that they are having their first child together.
Lindsay, who married the investor in July 2022, posted a mirror selfie to her Instagram Story on April 25. The photo shows her baby bump under a green and white crochet dress. Lindsay wore this stylish look last week during her baby shower weekend with family and friends.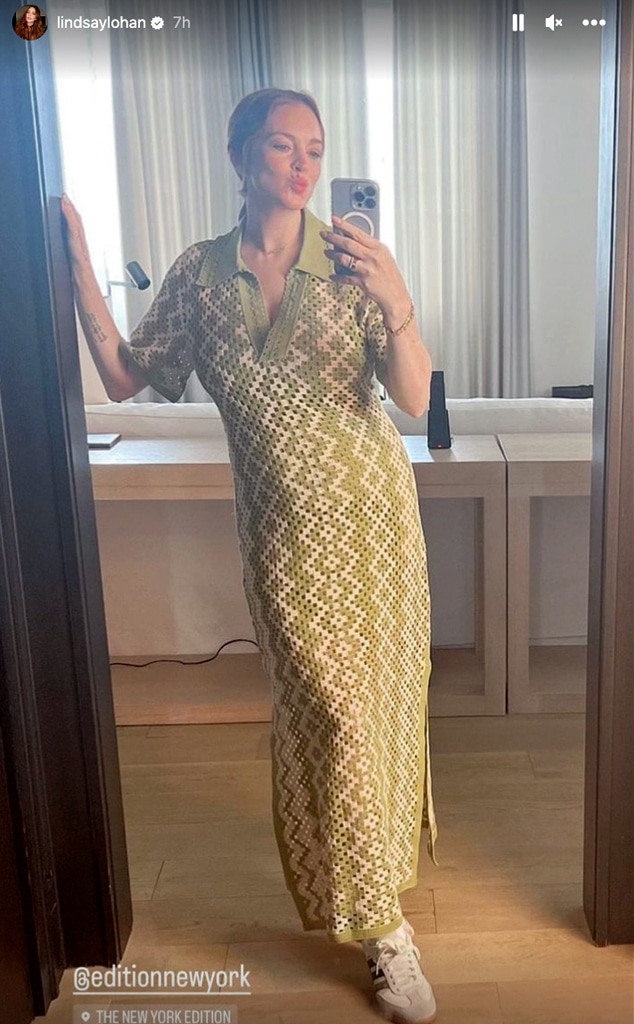 During the event, Lindsay was caught taking a selfie with her sister Aliana Lohan while rocking the 'fit. The 36-year-old also showed a picture of herself with Aliana and their mother, Dina Lohan, that showed a glimpse of her shower.
In a photo taken on April 16, the actress from Mean Girls was seen happy while sitting at a table with a round, white-frosted cake and a wooden box with white flowers and the words "Oh baby."
If you're curious about which other celebrities are expecting babies right now, you can find out more about them in the posts we have given below:
Lindsay's friend Samantha Pariente and Ladies of London grad Juliet Angus were also there. On her Instagram Story, Angus wrote,
"Flew into town to shower my gorgeous preggers bestie and glowing Mama-to-be @lindsaylohan."
Lindsay has that "pregnancy glow" during this chapter, which her mother thinks came at the right time.
Dina told People in an interview on March 16: "She's been trying, and then that little stick turned out to be positive." "It's the right time for her, and Bader is a saint. Her husband is so nice, and they are so happy together. They're just very happy and ready."
Dina hasn't said much about Lindsay's due date or where the star plans to give birth since she and Bader live in Dubai, but she did say, "I will be there. Absolutely. I'll definitely be there."
You may find additional details about the personal lives of other celebrities, such as their pregnancies, in our most recent posts, which you can see by following us on Twitter.