After seeing it, viewers are eagerly anticipating the film's sequel. Brandon Perea weighed in on the sequel. Because of its originality, ambition, performances, and Peele's direction, the film has received positive reviews from critics.
The Film Has Been A Huge Success
We're all aware that the film is doing quite well. Brandon Perea also spoke about the film's enormous success.
"It's incredible. It's completely insane. I was just thinking yesterday, 'Oh my God, I'm in the number one film at the box office.' It's picking up steam quickly. That's what I've noticed throughout this entire process. Everything is a blessing.
It's everything I've worked for, so being in the thick of it is surreal. [I'm] reading articles about my performance that claim I'm stealing scenes, and I'm like, 'Y'all chill, chill [laughs]."
There Is Any Plan For a 'nope' Sequel?
The sequel is not currently in the works. Peele was asked frequently about the sequel, and he did respond. " That is a question I am frequently asked. Never, ever say never. There's certainly a lot to discuss. We shall see."
Peele also told another publication, "I'm most proud of how we addressed this recognition of the first actor, right?" Nobody knows who the jockey in the video was. In many ways, this film is a necessary sequel, a reboot of the original film in which we acknowledge the erasure and exploitation. We let it be, and then we went and made the best f—ing crazy alien adventure movie with Black people and Black voices."
Brandon Perea's Take On The Sequel
Brandon Perea has spoken out about the sequel. And, in the actor's opinion, the story is far from over.
"I don't think the story is over, in my opinion," the actor said. I don't know anything, no one has told me anything—maybe I'm just being selfish, but I'm like… I'd like to do it all over again. I want to work for Jordan again, with Keke—have let's some fun!
I felt like we just told a whole story and now we're going on another journey. But what I'd like to see for my character is how Angel handles his newfound celebrity. Let's see if the general public believes us if he's out here displaying proof that they've captured Jean Jacket and there are images. And then it's like we have to prove it all over again. I'm hoping Jean Jacket's family shows up and tries to f-k some s-t up."
What Is Nope Synopsis?
Two siblings running a horse ranch in California discover something wonderful and sinister in the skies above, while the owner of an adjacent theme park attempts to profit from the mysterious, otherworldly phenomenon.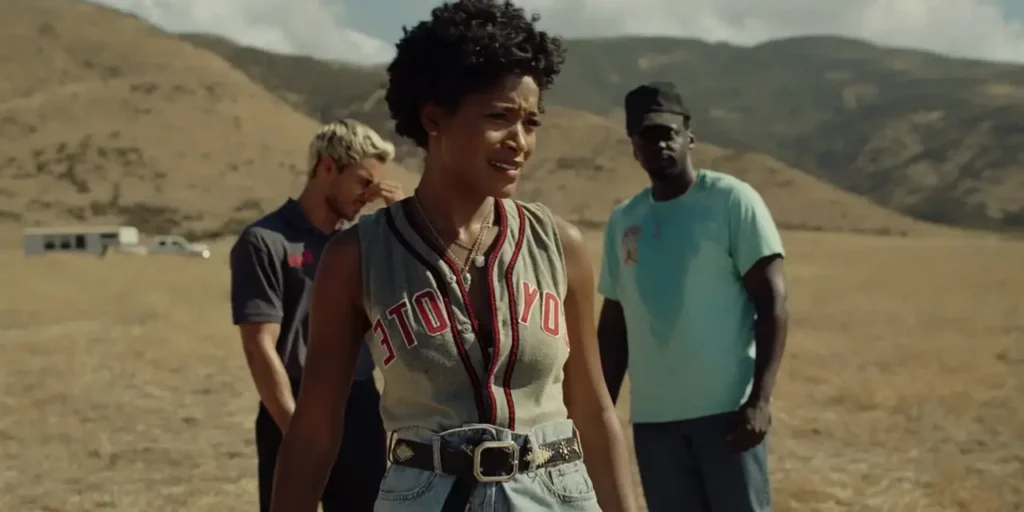 Trailer: