Renowned drummer Jim Gordon, who had worked with music legends such as Eric Clapton and George Harrison, has passed away. Gordon had been diagnosed with schizophrenia after Murdering his mother in 1983.
According to Variety, he passed away on Monday due to natural causes at the California Medical Facility located in Vacaville, California. He had been incarcerated for a considerable period and struggled with mental illness throughout his life. He was 77 years old at the time of his demise.
Gordon was in Clapton's band Derek and the Dominos and is recognized as a co-writer of the 1970 hit song "Layla." He also played on hundreds of songs as a member of the Wrecking Crew, an elite group of session musicians. He was also in Joe Cocker's "Mad Dogs and Englishmen" band, Delaney, Bonnie, and Friends. He was also one of the main drummers on George Harrison's groundbreaking 1970 record "All Things Must Pass." One of the most copied drum breaks in hip-hop history is his work on "Apache," a song by the Incredible Bongo Band from 1972.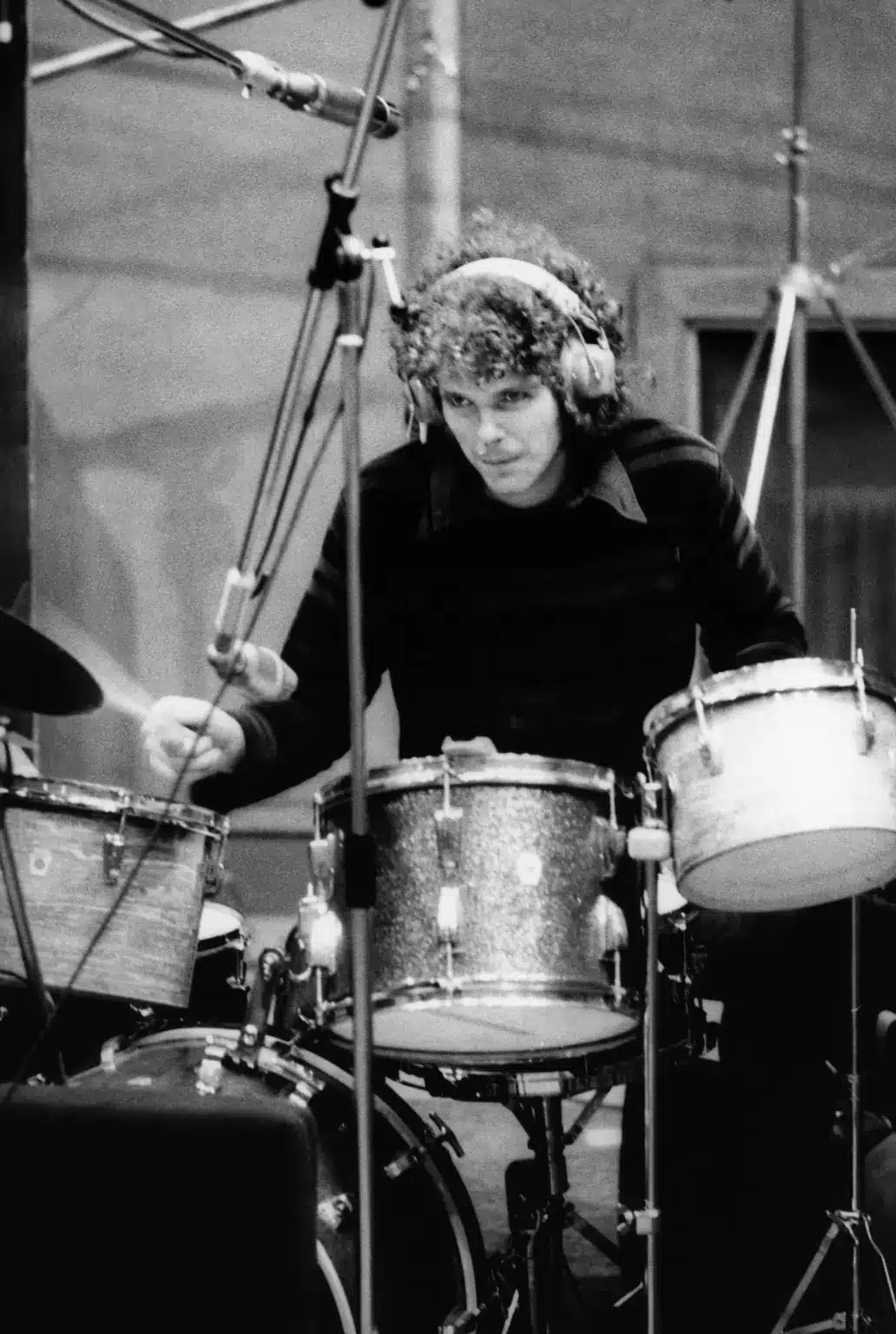 Any individual with even a passing interest in rock music from the 1960s and 1970s is likely to be familiar with his exceptional drumming skills, which can be heard in numerous popular songs. These include tracks by renowned artists such as the Beach Boys (including the iconic "Pet Sounds" album), Steely Dan's "Rikki Don't Lose That Number," Carly Simon's "You're So Vain," John Lennon's "Power to the People," Gordon Lightfoot, Harry Nilsson, Sonny and Cher, Nancy Sinatra, Glen Campbell, and Leon Russell. He even played the whipcrack drum fill that concludes the Byrds' 1967 cover of Carole King and Gerry Goffin's "Goin' Back." He was widely considered as one of the greatest drummers of his time. However, his mental illness went inadequately treated for a prolonged period, leading to the tragic incident of him taking the life of his mother.
Jim Gordon was born in 1945 and grew up in California's San Fernando Valley. He developed a passion for drumming at a young age and played with various rock bands and the Burbank Symphony during his teenage years. Despite receiving a music scholarship to UCLA, he chose to accompany the Everly Brothers on their British tour immediately after graduating from high school in 1963. Gordon honed his skills as a session musician and played on several hit records by the aforementioned artists, earning him a reputation as one of the most sought-after drummers in the industry. He also went on tour with renowned acts such as Delaney and Bonnie, Joe Cocker, and Derek and the Dominos.
However, he had a history of mental illness, and in 1970, while on tour with Joe Cocker, he assaulted his girlfriend, singer Rita Coolidge. In Bill Janovitz's biography of Leon Russell, Coolidge is quoted as saying, "Jim said very quietly, so only I could hear, 'Can I talk to you for just a minute?' He meant he wanted to talk alone. So we walked out of the room together … And then he hit me so hard that I was lifted off the floor and slammed against the wall on the other side of the hallway… It came from nowhere."
Gordon had received outpatient treatment for his condition and exhibited few symptoms to his fellow musicians in the past. Coolidge continued, "He was an amazing guy, just really so charismatic, [But] after everything happened, I started to recognize that look in his eye and knew that he was not playing with a full deck."
Despite the incident and its aftermath, Gordon continued to tour and maintain a hectic schedule. His career reached its zenith during his time with Derek and the Dominos. Gordon is widely recognized as the composer of the piano-driven instrumental second half of "Layla," although according to Coolidge, it is a song that she co-wrote with him, which was subsequently released as "Time." This assertion is backed by two of their bandmates. Coolidge maintains that when she requested credit, Clapton's manager rudely turned her away.
During the following years, he collaborated with a plethora of artists, including Steely Dan, Dave Mason, Alice Cooper, Helen Reddy, Frank Zappa, Tom Waits, Johnny Rivers, Joan Baez, Tom Petty, and numerous others. However, his behavior became increasingly unpredictable and paranoid throughout the 1970s, exacerbated by his struggles with substance abuse. He assaulted Renee Armand, a singer whom he was briefly married to, as well as a girlfriend. As news of his condition spread, work opportunities began to dwindle, and he was admitted to hospitals on multiple occasions to seek treatment.
In June 1983, after exhibiting threatening behavior for weeks, Gordon brutally killed his 72-year-old mother, bludgeoning and then stabbing her. He claimed that he was instructed to do so by voices in his head. Subsequently, he was diagnosed with schizophrenia, and in 1984, he received a sentence of 16 years to life in prison. The following year, he granted an extensive interview to Rolling Stone, during which he recounted his lifelong experiences of hearing voices in his head and likened the act of killing his mother to being "guided by a zombie." Despite several attempts to obtain parole in the ensuing years, he was unsuccessful.
Gordon is survived by his daughter, Amy, from his first marriage.
Read More:
Be Entertained and informed with the latest news at thetecheducation.com! From the hottest trends to the most breaking news. And Also, Follow us on social media: Facebook, Pinterest, Twitter, and Linkedin. And be part of the movement! Share your thoughts, ideas, and opinions with us.