It is a Walt Disney Pictures production directed by Anne Fletcher, written by Jen D'Angelo, and produced by Walt Disney Pictures. The film is a sequel to the 1993 film Hocus Pocus, and it stars Bette Midler, Sarah Jessica Parker, Kathy Najimy, and Doug Jones reprising their roles, as well as Sam Richardson, Whitney Peak, Bellisa Escobedo, Tony Hale, and Hannah Waddingham in new roles.
Aside from that, Hocus Pocus 3 has yet to be confirmed. Critics, like the original, gave the film mixed reviews, praising the cast, humor, and nostalgia while criticizing the plot. Following in their footsteps, the Sanderson Sisters may return with another Hocus Pocus film.
Hocus Pocus 3 potential release date
As previously stated, Hocus Pocus 3 has yet to be officially confirmed by Disney, so no release date has been set.
If the sequel is a success, Disney may want to move quickly on another outing with the Sanderson Sisters.
Even if that happens, we doubt you'll see the third film before Halloween 2024 – and that's assuming it's confirmed at all.
Hocus Pocus 3 cast: Who will return for Hocus Pocus 3?
If There Is A Third Film, Bette Midler, Sarah Jessica Parker, and Kathy Najimy Will Return As Winnie, Sarah, and Mary Sanderson.
While Najimy teased that they'll never say never, she also stated that the three stalwarts felt like they were done with the roles: "I feel like we're done. We've gotten every story we could out of this. Never say never, I guess, but I'm glad we got to do it again. I'm not sure if there are plans for a third."
Parker revealed that the idea for a third animated film came from Najimy. But one Sanderson sister, Bette Midler, is eager to reprise her role as a witch.
"If There Was A Third One, Of Course, I'd Sign On, But I Don't Know How," Midler revealed. I'm not sure what the story would be, but I adore Winifred, Sarah, Mary, and our friendship. It's Beneficial to Women.
"We stick together through thick and thin, but we do cause mayhem, and not many women do that!"
Doug Jones' Billy Butcher is unlikely to return because he, too, went to the afterlife when Winnie vanished at the end of the film.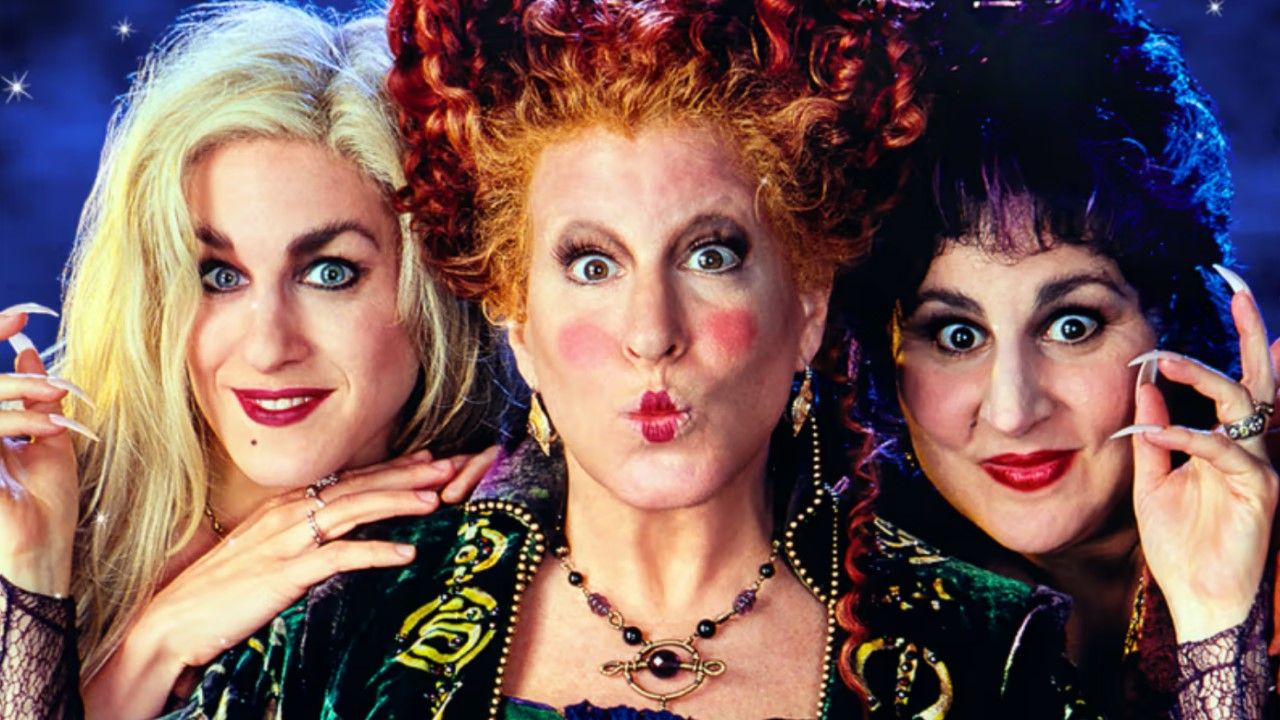 Hocus Pocus 3 plotline
The Sisters are resurrected in the second film as a result of Becca (Whitney Peak) lighting the Black Flame Candle in the woods with her friend Izzy (Bellisa Escobedo).
While the candle was destroyed at the end of the film, the post-credit scene reveals that another candle exists. Gilbert's (Sam Richardson) cat is seen bounding around the shop before coming to rest in front of a box labeled "Bf #2 Candle," implying that a second one exists.
However, the twist in this one is that the Sanderson Sisters die not by succumbing to the curse that causes them to vanish at sunrise on November first. Instead, Mary and Sarah are the victims of Winnie's spell, which she uses to grant herself total power.
Winnie asks Becca, a new witch, to cast a spell to reunite them, but instead of bringing Mary and Sarah back, the spell sends Winnie to wherever they are, presumably an afterlife.
It remains to be seen whether another Black Flame Candle can call them back from the afterlife, but it would certainly lessen the dramatic arc achieved in the sequel, and we must hope that if a third film is greenlit, it will take a completely different direction.
Where To Watch Hocus Pocus 2?
You can now watch Hocus Pocus 1exclusively on Disney Plus. The movie is available for all subscribers to stream at no extra cost. Hocus Pocus 2 Also Arrives Soon On Disney Plus.
Hocus Pocus 3 Trailer Updates
There is currently no official update on the production or trailer of Hocus Pocus 3. If You Haven't Seen Hocus Pocus 2, You Should. Check Out The Trailer Below And Then Go See The Movie!!!
Is there a fourth Sanderson sister?
Elizabeth, the fourth and most innocent Sanderson sister, is one of the Sequel's new characters. She was furious to discover that her mother had duped her for all those years.
Who is the oldest witch in Hocus Pocus?
Winifred "Winnie" Sanderson is the main antagonist in Hocus Pocus, a 1993 Disney film, and its 2022 sequel. She, along with her two sisters Mary and Sarah, was the eldest and most intelligent witch who lived during the Salem Witch Trials.
Reac More: