The much-loved story is about a boy named Charlie Spring, who is played on TV by Joe Locke and his growing feelings for a rugby player named Nick Nelson, who Kit Connor plays. The story began as a webcomic in 2016, and the first book came out in 2019.
So far, there have been four volumes of Heartstopper, with the last one coming out in 2021. Before we say goodbye to the coming-of-age queer classic in volume five, here's everything you need to know about the next graphic novel.
Heartstopper Volume 5 Release Date Details
Heartstopper Volume 5 was first said to come out in May 2020 and author Alice Oseman said there would be five volumes in the series.
The release date was later changed to February 2, 2023, but the author, Alice Oseman, told fans in October 2018 that volume five would come out later than expected. The exact date hasn't been set yet.
After saying in June 2022 that she was "taking a break" from making volume five, Oseman later replied on Twitter to a fan who asked if the graphic novel would be out in February 2023, "unfortunately not!"
@AliceOseman is heartstopper vol 5 still planned to be out for February?

— Erin 🍂🐳 (@kizzyedgelI) October 4, 2022
Fans are not quite ready for the end of the series to come, no matter when it does.
"Final installment?? Alice Oseman, this won't work. Don't you know that I love this series more than my own miserable life? one Goodreads reviewer wrote.
Another person wrote, "Um, excuse me, but what do you mean that Alice Oseman won't make any more of these comic books until the end of time?"
The graphic novel series is coming to an end with volume five, but fans of the Netflix show will be happy to hear that it has been picked up for seasons two and three. Season two is expected to air on Netflix in 2023.
Heartstopper Season 2 is officially in production and a few people wanted to say "hi" pic.twitter.com/7MQ1NWhqkx

— Netflix (@netflix) September 22, 2022
What Does Writer 'Alice Oseman' Have To Say?
Alice Oseman, the author of Heartstopper, is only 28 years old. She has said before that her graphic novel series, which has sold more than six million copies around the world, and its adaptation for Netflix are "more than I could have ever hoped for."
She told PinkNews, "Just being able to help someone on their journey in some small way [by putting them in her stories] is a really special thing as an author and more than I could have ever hoped for."
"I've always thought that in young adult fiction, we should care about all young people, and as an artist, I try to be careful to treat my readers with respect and give representation where I can."
She also said that fans love Nick and Charlie's love story, but she's glad that both the show and the graphic novels can have "a wide range of queer characters" because the show is also about queer friendships as well as romance.
Oseman, who is asexual, added, "When it comes to less understood queer identities, like asexuality, it can be hard for writers who aren't those identities to tackle those stories because they might not really understand that experience."
It's less than 2 months until the Heartstopper Yearbook is released on Oct 13th!! And I finally have copies of the UK and US editions! The Yearbook is a full-colour hardback with loads of fun Heartstopper content inside… you can preorder now! 🌈🍂🐶🏉https://t.co/a6G5I9JUZr pic.twitter.com/DjaPmrZSbP

— Alice Oseman Updates (@AliceOseman) August 28, 2022
Where Is The Heartstopper Yearbook Available?
While you wait for Heartstopper Volume 5, you can check out the Heartstopper yearbook, which came out in October 2022 and has extra content from both graphic novels and the Netflix show.
Amazon and Waterstones are both places where you can buy them.
Oseman says that the yearbook is "a mix between an annual and an art book." It is full of "old and new Heartstopper art, stuff about how the comics are made, and a lot of behind-the-scenes information," he says. There are things you can do, like a quiz and a guide to drawing. All kinds of fun things that Heartstopper fans will enjoy!"
She also said, "I've always wanted to make a book like this for Heartstopper, and I'm so happy to be able to do it now."I can't wait to show readers, for the first time in a book, new and old Heartstopper artwork in full color."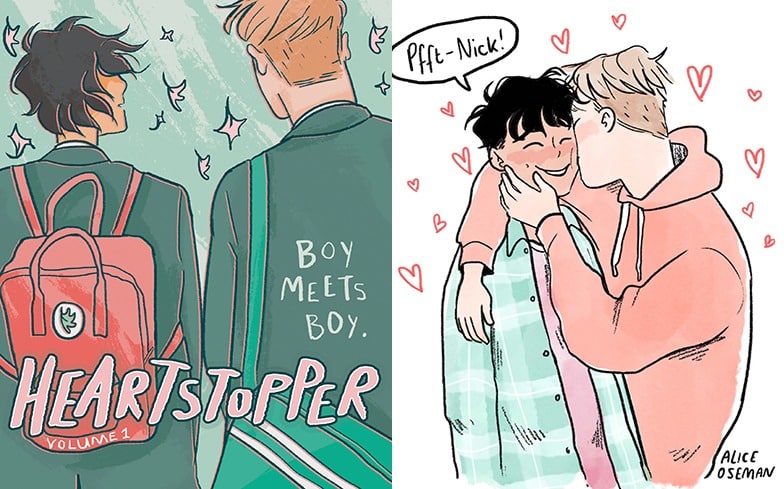 Related Stories Recommended By Writer: