Ciri, the main character in "The Witcher," takes on a new identity at the end of the season three finale, which could have major implications for the Netflix drama. Everyone on the Continent is attempting to capture Ciri (played by Freya Allen) in order to claim her magical powers for themselves in the upcoming season.
Ciri is separated from her friends Jaskier (Joey Batey), Yennefer (Anya Chalotra), and Geralt (Henry Cavill) after the fight with Aretuza in episode six and taken to a desert planet. Ciri embarks on a spiritual journey in episode seven, where she sees visions of her deceased parents and the former quarter-elf, Falka (Hiftu Quasem), who teaches her how to wield fire magic.
When Falka tries to further corrupt Ciri, she renounces all of her magic. Ciri is kidnapped by thugs after returning to civilization in the series finale. Before they can sell her, another gang arrives and slaughters the thugs in order to release their companion, who was imprisoned alongside Ciri. When they ask Ciri what her name is, she says Falka.
Here's what you need to know about Falka's past and what this revelation could signify for future seasons of "The Witcher."
Who Is Falka In Witcher? Also Known As "Bloody Falka"
Falka is known as 'Bloody Falka' because she murdered her family and organized a rebellion. Falka was a former princess of Redania, the first-born daughter of King Vridank of Redania and Beatrix of Kovir, according to "The Witcher" novel canon.
Falka and her mother were transported back to Kovir after her parents split, while Vridank married another lady named Cerro and had two more children. Twenty-five years later, Falka led a rebellion that assassinated her father, stepmother, and two half-brothers, garnering her the moniker "Bloody Falka."
Falka's rebels successfully took Redania, but they were destroyed when they expanded into neighbouring kingdoms, and Falka was burnt at the stake. However, before Falka died, she pledged that one of her offspring would avenge her.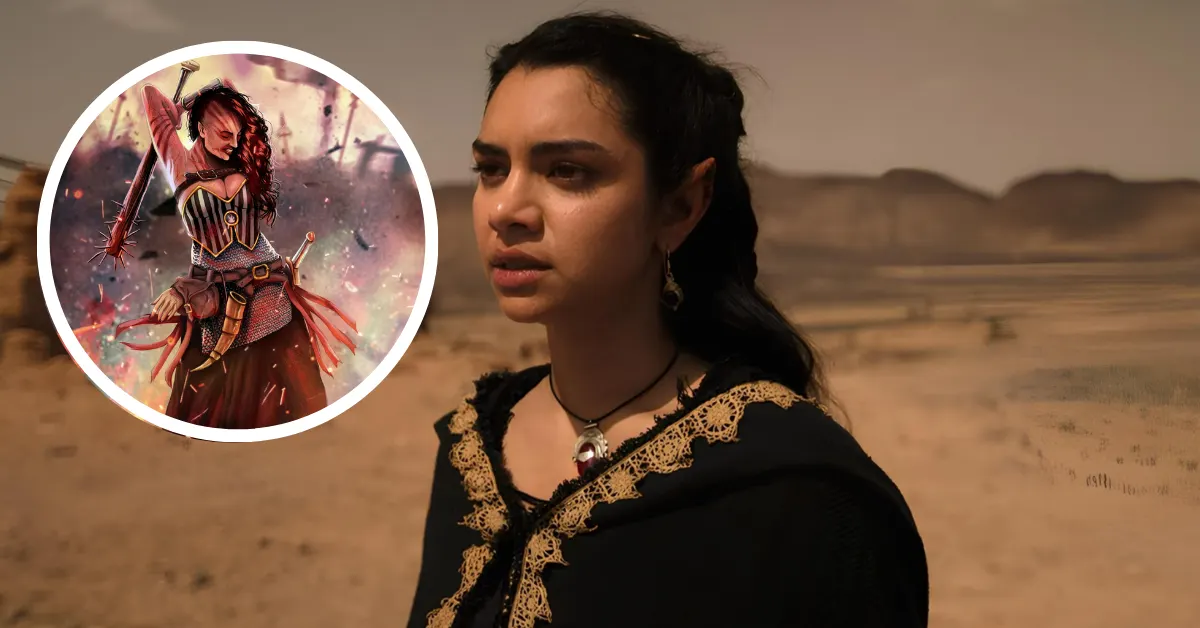 How Does It Affect Ciri?
There are two prophecies in "The Witcher" novels. The first claims that a child with Elder Blood will save the planet, while the second is that a child with the same blood will destroy it.
It is believed that a descendant of Falka will be the world's destruction, while a descendant of elf sorceress Lara Dorren will be the world's saviour.
Both characters' descendants were raised as siblings in a prison cell at one time. Because their adoptive mother went insane, it's unclear which of the descendants is related to Falka and which is related to Lara Dorren.
Ciri, who carries Elder Blood, is thought to be a descendant of Lara Dorren, but she could also be a descendant of Falka, and thus destined to destroy the world. "The Witcher" looks to be hinting at a darker side to Ciri in season four by adopting Falka's name at the end of season three.
Before the premiere of season three, Allan told in an interview that the program will "definitely" take a darker turn in season four.
"She hasn't felt that yet," Allan explained. "I think she feels loss of herself in that moment and a loss of her innocence. And I think that that is only gonna continue into the rest of her story. And I'm scared and excited to explore it."
Another thing to remember is that before returning to the actual world, Ciri abandoned her magical talents. Ciri was unable to regain her skills in the novels for some time after renouncing them. So, even if she wishes to regain her powers in season four, she may be unable to do so. Season three, volume two of "The Witcher" is currently available on Netflix.
Conclusion: Ciri takes on the name Falka in "The Witcher" season three finale, a figure with a terrible past and foreboding prophesies. This revelation raises worries about her fate and the fate of the globe. Ciri's journey takes an intriguing and unclear turn in season four, with a darker turn expected. Prepare for the next chapter on Netflix!
We appreciate your readership! If you found this post helpful, please bookmark Thetecheducation.com so you can easily find it again.