After years of delays, a new Dungeons & Dragons movie finally has a release date, a full title, and a trailer. Dungeons & Dragons news from the official side: Fans have been waiting long for information about Dungeons & Dragons: Honor Among Thieves, but now they can get some of what they've been looking for.
This has been an excellent year for fans of the classic tabletop role-playing game and fantasy. There have been a lot of information, fun, and interactive events related to the movie shown at San Diego Comic-Con and Ccxp. Let's Check Dungeons And Dragons: Release Date, Cast, Plot And Trailer And More Details.
Dungeons & Dragons: Honor Among Thieves Released Date
If you want to see "Dungeons & Dragons: Honor Among Thieves" before its March 31 release date, there's good news: On March 19, 2023, at 2:00 p.m. local time, only Amazon Prime members will be able to watch a one-day-only screening. New members can also watch the screening, so if you've made it this far without subscribing to The Bezos Machine, you can always sign up now!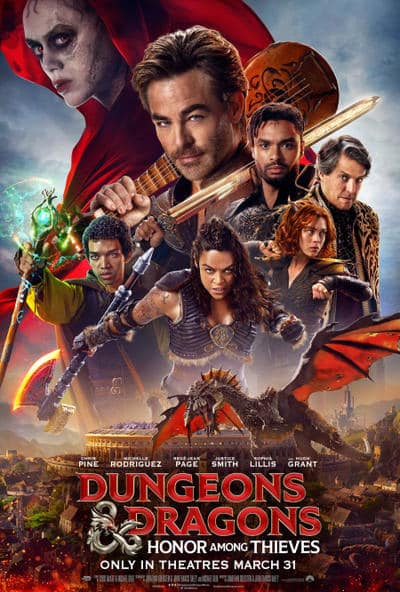 Dungeons & Dragons: Honor Among Thieves Cast And Crew
Some of the biggest names in Hollywood are in the cast of Dungeons & Dragons: Honor Among Thieves. Chris Pine plays Elgin, a bard, in one of the leading roles. Pine called the character "the ultimate party planner" when talking to Collider. Pine is famous for playing Captain James Kirk in the new Star Trek movies. In Wonder Woman, he also played Steve Trevor.
Holga, a barbarian, is played by Michelle Rodriguez, who is also a star. Rodriguez's movie and TV roles include Ana on "Lost" and Letty in the Fast and Furious series. Hugh Grant is the perfect choice to play Forge Fletcher, an aristocrat who is also a bad guy. Grant has played slyly charming men in Bridget Jones's Diary, Paddington 2, and other movies.
He was just in The Undoing, where he played a darker but charismatic character. In Dungeons & Dragons: Honor Among Thieves, we can't wait to see him play the role of Forge Fletcher. Grant said that he was excited about the script because it was one of the few things he had been given recently that made him laugh and reminded him of Monty Python in some ways.
Regé-jean Page, Yes, Bridgerton's Simon Basset will play a paladin named Xenk. We can't wait to learn why a Paladin turned into a thief. The page also appears in the 2022 movie The Gray Man.
Sophia Lillis plays a tiefling druid named Doric. Lillis was in Sharp Objects and It: Chapter Two, and in the 2019 movie Nancy Drew and the Hidden Staircase, she played Nancy Drew.
Dralas is played by Jason Wong, known for his roles in Jarhead 2 and Strangers on ITVS. Chloe Coleman from Little Big Lies, Daisy Head from the Netflix show Shadow and Bone, and the horror movie Wrong Turn also have parts.
Characters from the short-lived but much-loved animated show will also be in the movie. We have yet to determine who will play those parts.
Dungeons & Dragons: Honor Among Thieves was primarily shot in Northern Ireland, but some were also shot in Iceland. It looks beautiful when it slows down enough for viewers to enjoy the scenery.
Jonathan Goldstein and John Francis Daley are in charge of directing Dungeons & Dragons: Honor Among Thieves. They, along with Michael Gilio, also wrote the script. Goldstein and Daley wrote the screenplay for Spider-Man: Homecoming and were responsible for the dark comedy Game Night.
Obsessed with our first real look at the characters of #DungeonsAndDragons thanks to the tavern experience at #SDCC2022! First up: Chris Pine pic.twitter.com/MXRVxBBUNu

— Screen Rant (@screenrant) July 21, 2022
Dungeons & Dragons: Honor Among Thieves About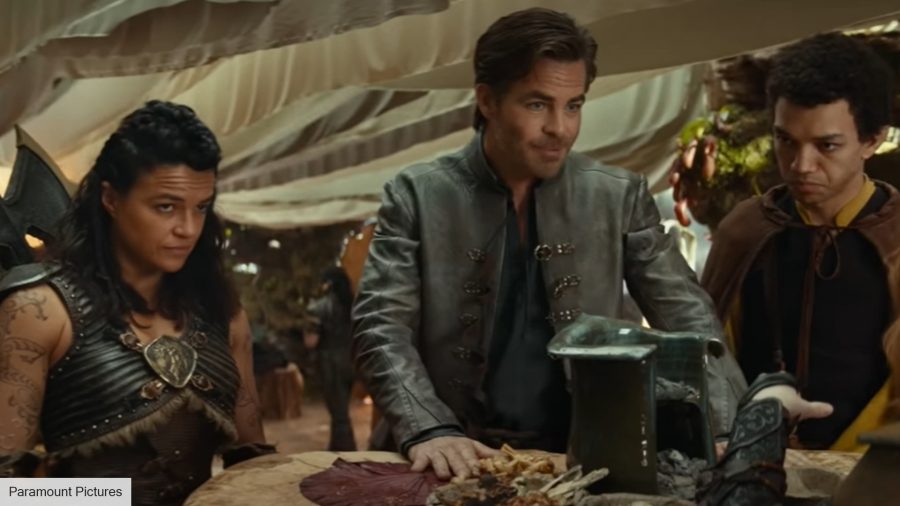 Dungeons & Dragons: Honor Among Thieves is about a group of thieves, which is not surprising given the title, who "helped the wrong person steal the wrong thing" and now have to fix their mistakes and save the world. Even though they might be thieves, that doesn't mean they'll let the worst evil take over their world.
Elgin, a bard also the group's planner, is part of the team. Holga is a barbarian; Xenk is a paladin; Simon is a sorcerer; and Doric is a Tiefling Druid.
Chris Pine, who plays Elgin, said the following about the movie:
"Game of Thrones mixed with a little Princess Bride [and] just a smidge of Holy Grail" and said it's "poppy, it's eighties heartfelt, [and] there's a bit of Goonies in there."
Don't worry, D&D Tabletop fans who want to see classic spells, tropes, and items: The movie's director and writer, John Daley, said it will have "a ton of Easter eggs."
From Paramount's official plot summary:
A charming thief and a band of unlikely adventurers undertake an epic heist to retrieve a lost relic, but things go dangerously awry when they run afoul of the wrong people. Dungeons & Dragons: Honor Among Thieves brings the rich world and playful spirit of the legendary roleplaying game to the big screen in a hilarious and action-packed adventure.
Dungeons & Dragons: Honor Among Thieves Trailer
Good news, friends, The Gods of the Forgotten Realms have given us a good teaser. A Dungeons and Dragons: Honor Among Thieves trailer came out in July 2022. It is full of action, special effects, and famous people.
The clip shows the leading adventurers—Chris Pine, Regé-Jean Page, Michelle Rodriguez, Justice Smith, and Sophia Lillis—starting a new search for lost treasure.
The group has to deal with many monsters and puzzles, and we even get a glimpse of the movie's lousy guy, Hugh Grant. It's all very spicy, and if the footage is any indication, D&D fans won't be let down by the show.
During the Super Bowl on February 12, 2023, a Big Game spot came out:
Read More
Be Entertained and informed with the latest news at techeducation.com! From the hottest trends to the most breaking news. And Also, Follow us on social media: Facebook, Pinterest, Twitter, and Linkedin. And be part of the movement! Share your thoughts, ideas, and opinions with us.