There will be other betas of Server Slam before its release, but this one will be the most representative of the "final" version.
Before the game's release on June 6th, players of Diablo IV get one final opportunity to play the game in a dungeon. The highly anticipated release of The Legend of Zelda: Tears of the Kingdom coincides with a busy weekend for gamers. Countless choices! We have a lot of options.
In any event, here is all the information you require for the Diablo IV "Server Slam" beta.
Beta Start and End-Times
The Diablo IV Server Slam beta kicks off this Friday, May 12th at the following times depending on your region:
12 pm PDT (West Coast NA)
3 pm EDT (East Coast NA)
8 pm BST (UK)
9 pm CEST (Western Europe)
4 am JST on Saturday, May 13 (Japan)
This brief beta will finish on Sunday, May 14th, at those exact times. That indicates that it will only be active for 48 hours. Create a plan for it.
#DiabloIV draws near.

We've heard your feedback, it's time to visit Sanctuary once more before June.

Join the Server Slam, May 12-14 🔥 pic.twitter.com/B2fr8TF5p6

— Diablo (@Diablo) April 20, 2023
Who Is Eligible To Play?
Because this is an open beta, you do not need to pre-purchase the game in order to participate. You will, however, be required to sign in with a Battle.net account, so ensure that you have your login information handy, or create an account if you haven't done so previously.
Beta Content: What's Available?
Although there are certain modifications we'll discuss below, the Server Slam beta is mostly the same as the Open Beta.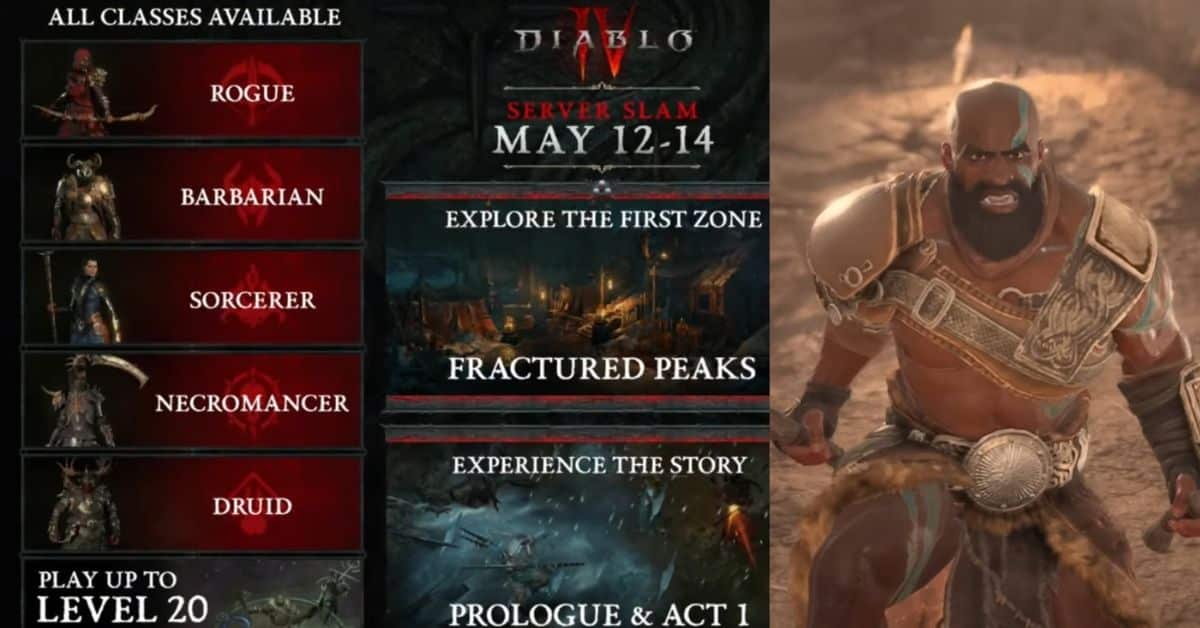 The list of it is that you will be able to:
Battle the World Boss, Ashava.
Play 2-player couch co-op or up to 4-player online co-op.
Wait in endless server queues!
Play the Prologue and Act I of the game and explore the Fractured Peaks zone.
Play all five classes: The Rogue, Barbarian, Sorcerer, Necromancer, and Druid.
Enjoy other games which are also trending in the internet world:
What's Changed Since Beta?
Since the last beta, Blizzard has made a number of changes, adjustments, and fixes. There will be other betas of Server Slam before its release, but this one will be the most representative of the "final" version.
Some of the big changes include:
Dungeons have been redesigned to reduce the amount of backtracking required of players. Less repetitive gameplay.
Changes to boss difficulty levels and dungeon event rates.
Many changes to classes. These include buffs to the Barbarian's Whirlwind skill, buffs to Druid powers, some nerf to the overpowered Necromancer class, buffs to the Rogue, and many tweaks to the Sorcerer.
Server Slam Beta Rewards
Beta Wolf Pack Cosmetic Item: Reach level 20 on one character.
Cry of Ashava Mount Trophy: Defeat Ashava with a level 20 character.
Initial Casualty Title: Reach Kyovashad with one character.
Early Voyager Title: Reach level 20 on one character.
While you'll keep these rewards in the main game, no progress from the beta will carry over to the launch. You'll start fresh with all-new characters at the beginning.
Stay updated with us by visiting the thetecheducation.com.