Fraud and data thefts are using social engineering tactics more and more. Industry leaders like Agari, Symantec, and Verizon Enterprises have put out studies showing that social engineering techniques like phishing, vishing, and imitation are being used with digital hacking techniques to make attacks more effective and, finally, more profitable for the attackers.
The 2020 Verizon Data Breach Investigations Report says that social engineering attacks were the cause of 22% of confirmed data leaks. So Let's see the reasons behind Cyber Attackers Commonly Using Social Engineering Attacks; it's typed, and many more facts about it.
Why Do Cyber Attackers Use Social Engineering Attacks?
Malicious hackers know that it could take hours, days, weeks, or even months to brute force their way into a network to get passwords. But if someone knows how to use social engineering, they can get the same credentials in minutes instead of hours or days. For example, all it takes to get someone to do something is a good reason and a phone call or email.
A hacker could also try to physically get into the computers that make up a company's computer network. To do this, an attacker could pretend to be a delivery person, a building worker, or a tech support person.
If you look through open-source information, go dumpster diving, or talk to an unhappy employee, you might find information that can be used to gain entry without permission. Once the attacker has gotten into the computer, they only need a regular USB thumb drive to infect it. So now we know The reason; let's discuss what precisely Social engineering is.
What Does "Social Engineering" Mean?
Social engineering is the skill of getting other people to reveal private information for your benefit. But when people are targeted, the bad guys usually try to trick you into giving them your password or bank information, or they try to get into your computer to secretly install malicious software that gives them access to your passwords, bank information, and control over your computer so they can steal your identity and your money.
Attacks that use social engineering are done in some ways. A person who plans to attack someone first researches that person to find important background information, like possible entry points and lax security standards, that will be needed to carry out the attack later in the day.
The attacker then tries to get the target to trust them so they can get them to do things that break security rules, like give out private information or let them into crucial infrastructure. Let's Defend posted a Social Engineering attack structure.
You can see their Tweet below:
Social engineering attacks for SOC teams pic.twitter.com/Uhsqs32eW6

— LetsDefend (@LetsDefendIO) June 17, 2023
Tools And Techniques Hackers Use In Social Engineers?
Social engineering assaults may take many forms and occur everywhere people interact. These are the five most common digital social engineering assaults.
Phishing
Phishing schemes use email and SMS messages to scare or intrigue victims. Social engineering assaults like phishing are frequent. They are then urged to provide critical information, click on unnatural links, or download malware-infected attachments.
One example is one online service's email notifying users of a policy violation requiring a password change. It links to an illegal website that looks genuine and requires the naive user to input their current credentials and a new password. After form submission, the attacker receives information.
Mail servers using threat-sharing systems can identify and stop phishing attacks since they all send similar messages.
Spear Phishing
This targeted phishing fraud targets specific people or businesses. They tailor their messages to their victims' personalities, occupations, and contacts to hide their attack. The attacker must spend weeks or months on spear phishing. They're harder to spot and more effective.
In spear phishing, an attacker poses as a company's IT consultant and emails workers. It's written and signed as the consultant would, making recipients think it's real. The mail instructs recipients to update their passwords and provides a link to a bogus page where the attacker steals their login and other information.
Scareware
Scareware sends victims bogus warnings and threats. Users are tricked into downloading and installing malicious software by being told their machine is infected. Deception, rogue scanning, and fraud are all names for scareware.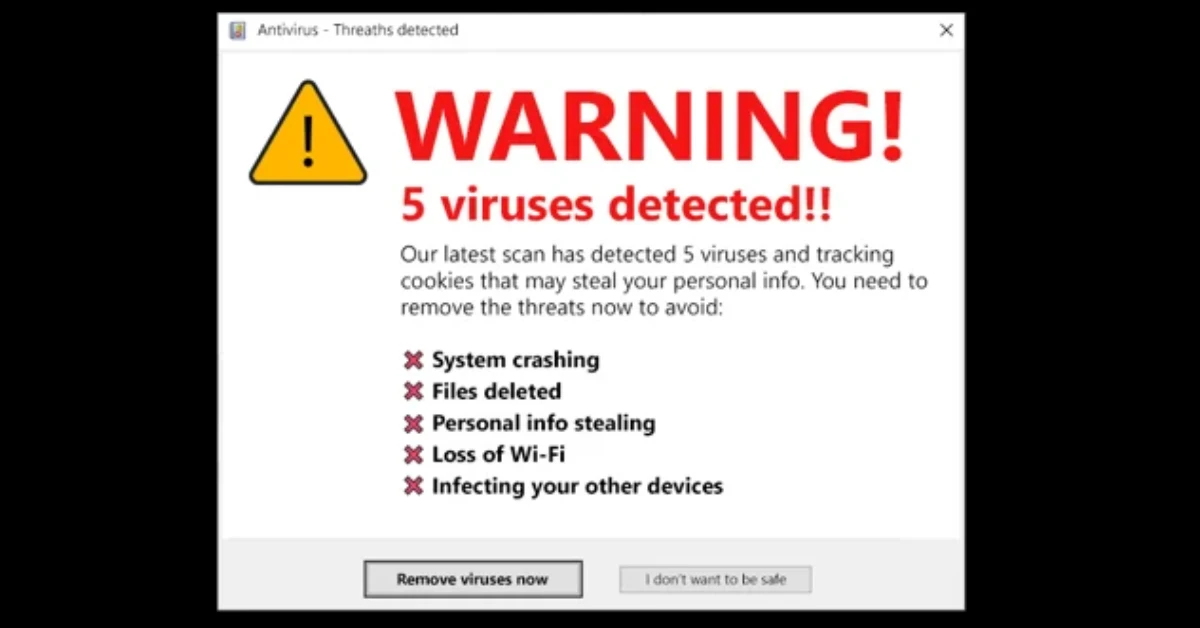 Popup adverts that say, "Your computer may be infected with terrible spyware programs" or "Your machine may be infected with harmful spyware programs" are typical scareware. It either installs the application (often tainted with malware) or refers you to a bogus website that infects your PC.
Baiting
Baiting attacks use deceptive promises to pique a victim's interest or greed. They deceive people into giving over their data or infecting their systems.
Baiting is the most hated malware dissemination method since it uses biological material. For instance, putting malware-infected flash drives in apparent places where prospective victims may see them, such as toilets, elevators, or a targeted company's parking lot. The bait seems real, with a payroll list label.
The bait is curiously inserted into a computer at work or home, installing malware automatically. Baiting schemes can be executed remotely. Online baiting uses enticing ads to lure users to hazardous websites or malware-infected apps.
Pretexting
A pretext lies to gain information. These scammers often ask for critical information to fulfill a crucial task. The attacker generally starts by impersonating coworkers, police officers, bank and tax authorities, or others with control over their job to establish confidence. The pretext asks questions to verify the victim's identity but collects sensitive personal information.
This scam can get social security numbers, personal addresses and phone numbers, phone logs, employee vacation dates, bank records, and physical plant security information. The following section discusses how to be safe from Social Engineering attacks.
You can also go for Below given posts below related to Cyber security which educates and spread awareness about Hacking:
How Can You Prevent Social Engineers?
To stop social engineering, you must be aware, alert, and take practical steps. Start by learning about standard social engineering techniques like hacking, pretexting, and baiting. Be careful when sharing sensitive information, and ensure the person asking for it is who they say they are before giving out any personal or confidential information.
Use robust security measures, such as multi-factor login, update software and systems regularly, and use strong passwords. Be careful of messages you didn't ask for, and don't click on suspicious links or download files. Lastly, keep up with the latest social engineering methods and ensure your company has a culture of security knowledge. CyberElements also posted an awareness video Clip about Social Engineering attacks, which you can see below.
How to prevent social engineering attacks pic.twitter.com/Q6bhFyci2G

— CyberElements (@Cyber_Elements) June 12, 2023
We appreciate your readership! If you found this post helpful, please bookmark "thetecheducation.com" to easily find it again.