One can hack an iPhone. Although iPhones are less susceptible to hacking than Android devices are, there are ways to get beyond Apple's protection.
Using secure passwords and keeping your iOS software updated are examples of good digital hygiene that can help prevent hacking. Antivirus software is also quite helpful.
See how TotalAV is much more than simply antivirus software by reading our review of TotalAV.
While iOS security gets a lot of well-deserved praise, the Apple marketing hype of "unhackable" isn't 100 percent true.
Despite the fact that iOS security is excellent and Android security is less secure, you shouldn't rely solely on Apple to safeguard your data. By keeping your identity and accounts in your control, developing excellent data security habits can help you avoid a lot of trouble.
Can an iPhone Be Hacked?
If you're concerned about the security of your iPhone, it's crucial to understand that while they tend to be safer than Android phones, iPhones are not impervious to security threats. Through flaws in apps or the iOS operating system, as well as by luring you into downloading malware, hackers may be able to access your iPhone.
Use strong, unique passwords, activate two-factor authentication, and exercise caution when clicking links or downloading files from unidentified sources to safeguard your iPhone from potential assaults. For additional security, think about installing a reliable antivirus program. You can protect your iPhone from potential hackers and protect your personal information by following these instructions.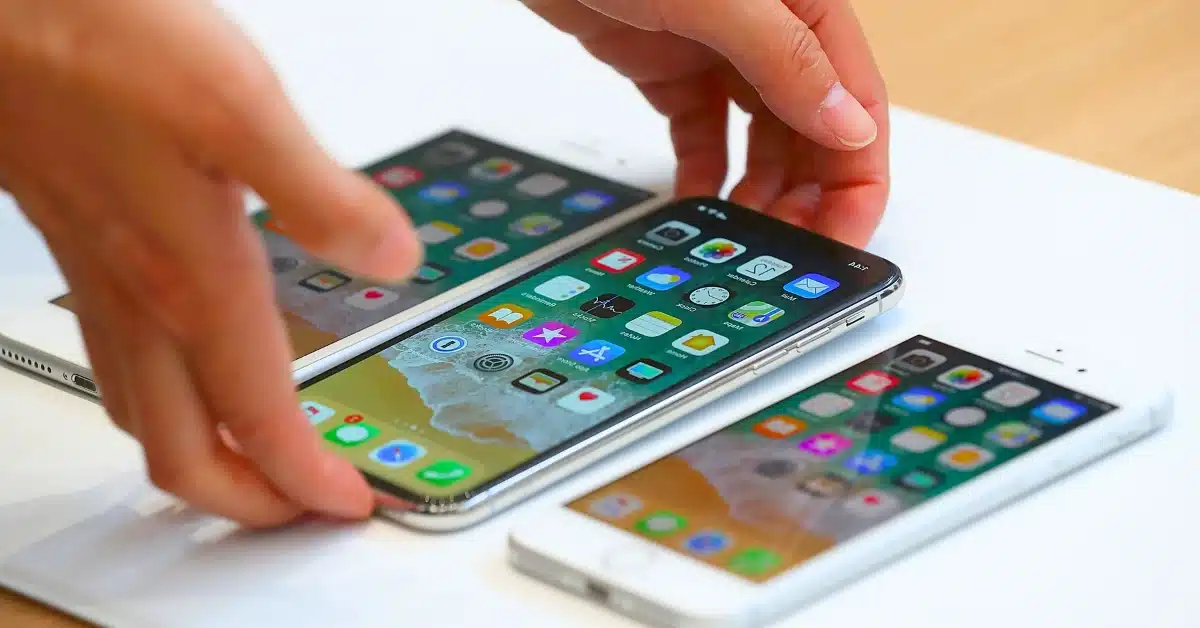 Best iPhone Apps to Prevent Hacking
One of the strongest defenses against hackers and their malware on the iPhone is installing antivirus software. Since our testing revealed that these applications help defend against ransomware, spyware, and all other sorts of malware, we have given Norton, Kaspersky, and TotalAV the highest ratings for protecting iPhones. Look closely at what follows:
How iPhones Get Hacked
There are many well-known ways to circumvent iPhone security, and the majority of them involve deceiving the user.
Sketchy Wi-Fi Connections
We've all come across dubious public Wi-Fi networks that demand a ton of personal information up front and then give us 100 pages of terms and conditions to read. In times of need, we've given in and hidden our IP addresses and surfing histories without even utilizing a VPN. These are the locations where shady Wi-Fi networks are most prevalent:
Airports: There are numerous public Wi-Fi networks available at airports across the United States for travelers. These networks share the same security flaws as other open Wi-Fi networks. In essence, any Wi-Fi network that requests extensive personal data or is run by a third party creates even more concerns.
Budget hotels/motels: Many low-cost hotels choose to use one open network instead of maintaining a large Wi-Fi network with hundreds of unique users and private connections since it is less expensive to do so.
Cafes and bars: Coffee shops and "free Wi-Fi" are essentially interchangeable terms. Although the Boingo pop-up at the airport definitely makes you more cautious, we bet you no longer hesitate to connect to Starbucks' Wi-Fi.
Sketchy URLs
In case anyone still needs to be reminded, never click on a link if you can't confirm the sender's identity or that it originates from a reliable source. Phishing still ranks among the most widely used methods of online fraud and takes many different forms, including these:
Emails: These phishing emails are different from the ones from twenty years ago, when a randomly selected email address would send you a 200-character link to a "free cruise." The more convincing phishing emails you might come across advise you to update your password or account details and expertly impersonate account providers like Google, Amazon, or Apple.
Phone calls: All day long, scam callers swarm American phone numbers. Phishing calls frequently invite the victim to call them back to discuss a topic that is important to them, such as debt consolidation, mortgages, or auto loans.
SMS: Phishers prefer text messages more recently, using the quantity-over-quality strategy.
Social media: As we are more inclined to click on them, social network accounts that appear as tailored adverts are a new popular phishing technique.
Web ads: Since the beginning of the internet, certain clickbait adverts have included difficult-to-remove adware. But because so many people continue to click on banner or pop-up adverts, criminals continue to produce adware.
Fraudulent software: The least well-known phishing technique involves using fake copies of well-known software applications, which can rank startlingly high in a Google search. Although free software can be authentic, as we've seen with free VPNs and free antivirus software, the websites occasionally offer a "free" version of paid software.
Sketchy Apps
The saying applies to social media platforms and apps that are free to use: "If they don't charge you for the product, you are the product." The amount of writing about how Facebook and Google sell user data could fill a whole library. Apps that aren't cultural icons, though, can nonetheless spy on you, particularly if you give them permission to.
Simple apps with offers for "free" wallpapers or ringtones, as well as novelty camera apps like FaceApp, are popular targets for malware and spyware. Even programs from reputable developers might contain dangerous code. Watch out for these warning signs:
High power draw or overheating: An app can be using more resources on your phone than it is supposed to if it causes your phone to overheat or drain your battery more quickly when you use it.
Unnecessary permissions: Your phone's fitness tracking software shouldn't require access to your contacts. An app shouldn't require your camera or microphone if it isn't recording video or taking images.
Unusual mobile device behavior: After downloading an app, if you detect a change in the behavior, usability, or software interface of your device, it might be a symptom of something more sinister.
Sketchy People
Sometimes, the call can actually be coming from within the house.
Stalkerware: A kind of spyware frequently referred to as "stalkerware" can be installed by stalkers, violent ex-partners, abusive current partners, or family members to track your every move and keystroke.3 Our post-breakup safety report describes how an ex-partner might pose a security risk in a variety of non-abusive situations. For instance, almost 22% of both men and women reported having their financial security violated by an ex.
Direct data transfer: Manual data theft is a considerably more manageable attack. People with malicious intentions can connect your phone to another device and download files and data straight if you leave it unattended and unlocked. Because they are frequently around you and have access to your device, abusive partners or family members are more likely to send direct data to them.
You read a variety of articles covering a range of technical subjects. As can be seen in the following:
Steps You Can Take To Prevent iPhone Hacking
First and foremost, we want to make sure that you never encounter an iPhone hack. However, if you do become hacked, we want you to be aware of the signs and what to do. The three Cs are prevention, recognition, and response.
How To Prevent an iPhone Hacking
The fundamental question we must ask ourselves is, "What can I do to prevent my iPhone from getting hacked?" We are aware that the lengthy list of hazards above appears intimidating.
Install updates as soon as possible: Some upgrades are hurried fixes for recently found security flaws. When you initially install updates, you may encounter inconveniences like lengthy loading times or minor bugs. These little annoyances, meanwhile, are still preferable than having someone access your phone and take your identity.
Set up two-factor authentication: To prevent unauthorized individuals from accessing your Apple and iCloud accounts, enable two-factor authentication. Even better is multifactor authentication using biometrics!
Use a VPN when on public Wi-Fi: You are exposed to everyone with access to the same network when using public Wi-Fi. When utilizing public Wi-Fi, when your iPhone is most at risk from rogue hackers, you can safeguard it by using a VPN.
Use a strong password: Assure that your password is strong by using a combination of letters, numbers, and special characters. For best password protection, it should also be exclusive to your Apple ID and include at least 12 characters.
Don't offer personal info without confirming legitimacy: Before sending personally identifiable information, check the legitimacy of the asking organization on its website.
Set up a passcode. Once you take these steps, if you put your phone down for a predetermined period of time, it will require a passcode to open it up.

Go to Settings.
Tap "Touch ID & Passcode."
Tap "Turn Passcode On."
Tap "Passcode Options."
Select "Create a Custom Alphanumeric/Numeric Code."

Set up Find My iPhone. This feature helps you locate your phone easily in the event that you lose it.

Go to Settings.
Tap your name.
Tap "Find My."
Tap "Find My iPhone."
Tap the switch icon to turn it on.
To see your iPhone even when it's offline, tap the switch next to "Find My Network."
To send Apple the last location of your phone when the battery is low, tap the switch next to "Send Last Location."

7

Turn off Bluetooth when not in use. Hackers can discover and spoof other devices you've connected to before and gain access to your iPhone.

8

Go to Settings.
Tap "Bluetooth."
Tap the Switch icon to turn it off.
How to Determine If a Hack Has Taken Place
When a user's phone has been hacked, there are usually some telltale signs something is amiss:
The phone is constantly hot and low on battery.
The phone is sluggish to load webpages, regardless of the connection quality.
You don't remember making certain calls or texts.
Your contacts say they're getting weird messages from 

you
Do your homework before declaring that you've been hacked. There are situations when an iOS upgrade is to blame. Or if your iPhone is older than two years and your battery is now close to being phased out.
How To Respond to a Hack
Without understanding the specifics of the phone hack that took place, it is difficult to offer particular guidance. But first, some fundamental cybersecurity advice:
If sketchy Wi-Fi is to blame, then disconnect and forget the network.
If a sketchy URL might be the issue, remove anything downloaded after you went to that web address.
If the trouble comes from a sketchy app, uninstall and delete the app, then update your phone.
If your iCloud or Apple ID is compromised, contact Apple directly at 1-800-275-2273 on a different device, or visit an Apple store in person.