Chaim Topol, an Israeli actor and singer best known for playing Tevye the Milkman in "Fiddler on the Roof," has died at 87.
According to local media, Topol passed away on Wednesday in Israel at home with his family. He was well known by his last name alone. His son just told him that he was given a dementia diagnosis the previous year.
In a statement about Topol's death, Israel's President Isaac Herzog called him a "gifted actor who conquered many stages in Israel and abroad, filled the cinema screens with his presence, and especially entered deep into our hearts."
Over five decades, Topol played Tevye in the stage musical. At one point, he estimated that he had played the role more than 3,500 times. He also played the religious Jewish father in the 1971 movie, for which he won a Golden Globe for best actor and was nominated for an Oscar for best actor.
When he started playing Fifty something Tevye on stage in 1966, Topol was only 30 years old. He used makeup and clothes to make himself look older and heavier than he was. When he finished playing a role in 2009, he had to act younger than he was.
"How Many Actors Are Famous for One Role? How many people in my field are known all over the world? So I'm not whining about it," he said in an interview in 2015. "Sometimes I'm surprised when I go to China, Tokyo, France, or anywhere else, and the immigration desk asks, "Topol, Topol, are you Topol?" So, yes, many people did see "Fiddler on the Roof," and that's not bad.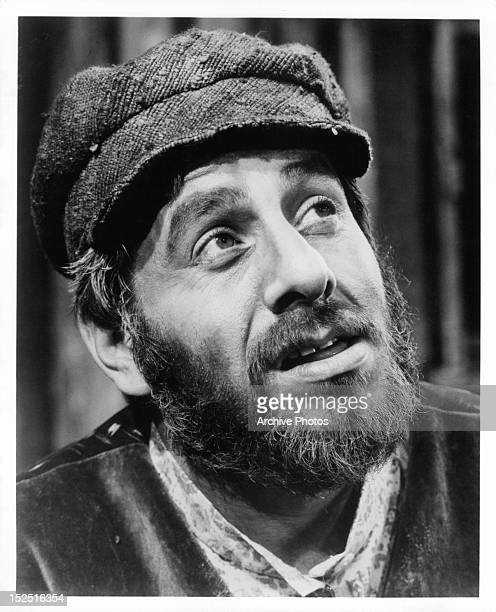 Topol was born in Tel Aviv in 1935. When he was 18, he joined the Israeli Army. He joined an entertainment troupe and sang and acted on the road there. During his time with the company, he played the role of Sallah Shabati in skits written by the future director and writer Ephraim Kishon.
Kishon would later direct Topol in a movie version of the skits in 1964.
Topol's performance in the satire, which follows the main character and his family as they deal with the chaos of Israeli immigration, made him known worldwide. Topol won a Golden Globe for Most Promising Male Newcomer, and Sallah Shabati was the first Israeli film nominated for an Academy Award for Best Foreign Film.
Two years later, when Shmuel Rodensky got sick and had to leave the Israeli production, Topol took over as Tevye. Harold Prince, who was in charge of the original Broadway show, asked Topol to try out for the upcoming West End production. To learn English well, Topol memorized the Broadway Cast Album and spent six months in London working with a vocal coach to learn how to say his part phonetically.
During the Arab-Israeli Six-Day War, Topol was called back to Israel a few months after the theater opened and joined an entertainment troupe. He went back to London and did more than 400 shows there.
He has cast as Tevye again in the 1971 movie after director Norman Jewison decided not to use Broadway actor Zero Mostel, who had made the role famous in the US. Topol won a Golden Globe for best actor in the movie. He was also nominated for best actor at the Oscars, but Gene Hackman's performance in The French Connection won the award.
He kept playing a role in different Fiddler on the Roof productions in the U.S., London, Israel, and Australia until 2009. In 1991, he was up for a Tony Award for the Broadway revival of 1991.
Topol was cast as the main character in the Broadway musical The Baker's Wife, but after eight months, director David Merrick fired her for acting unprofessionally.
He got parts in movies like Galileo, where he played Galileo Galilei; Flash Gordon, where he played Dr. Hans Zarkov; and For Your Eyes Only, where he played James Bond's friend Milos Columbo. In the Hebrew version of The Jungle Book, he did the voice of Bagheera. In the first two Harry Potter movies, he provided the voice of Rubeus Hagrid.
Topol wrote and drew books in his later years and started a charity for children with special needs. In 2015, he was given the Israel Prize, one of the country's highest awards.
Read More
Be Entertained and informed with the latest news at techeducation.com! From the hottest trends to the most breaking news. And Also, Follow us on social media: Facebook, Pinterest, Twitter, and Linkedin. And be part of the movement! Share your thoughts, ideas, and opinions with us.