If you thought that DC Studios wouldn't do anything about Aquaman's huge success in 2018, you were wrong.
James Wan is back to make a new movie about the king of Atlantis, even though there were some delays, and he made some fun, scary films.
Aquaman was one of DC's most popular movies with audiences and reviewers. It had a lot of action, a fun, adventurous tone, and a few jump scares that reminded us that Wan is also a great horror director.
So far, Aquaman and the Lost Kingdom will be the last DCEU movie before the new DCU movies start.
Aquaman 2: Release Date Details
On December 20, 2023, Aquaman 2 will come out. The DC movie was supposed to come out in December 2022 but was pushed back a year so it wouldn't compete with James Cameron's Avatar 2, which is also about water. This was a smart move.
The World Needs Heroes. @TheBatman @blackadammovie @theflashmovie @aquamanmovie #DCHeroes pic.twitter.com/eQmgy246Ey

— DC (@DCOfficial) February 11, 2022
Plot Of Aquaman 2
Even though we don't know a lot about the story of Aquaman and the Lost Kingdom yet, we do have an official, short summary:
"When an ancient power is released, Aquaman must form an uneasy alliance with an unlikely ally to save Atlantis and the world from irreversible destruction," it says.
It's unclear who the "unlikely ally" is, but it could be Orm, who Aquaman beat at the end of the first movie, making Aquaman the new king of Atlantis instead of Orm.
So, the second movie will probably start when Aquaman has just become king and is dealing with the first threat he faces as lord of Atlantis. No matter what happens, Momoa said in October 2019 that the whole thing was "planned."
We don't know much else about what to expect in the sequel, but the writer has given hints about where to look for teasers.
Johnson-McGoldrick told a fan on Twitter, "We're not adapting a specific comic book story, but if you want to know the vibe we're going for, pick up pretty much any Silver Age story with Black Manta."
In August 2020, at the DC FanDome, Wan hinted how the sequel would be different. Wilson asked him to guarantee that the sequel would go to "new worlds."
"The second one is a little bit more serious and has more to do with the world we live in now. Wan said, "That's where it wants to go."
Aquaman 2: Cast Details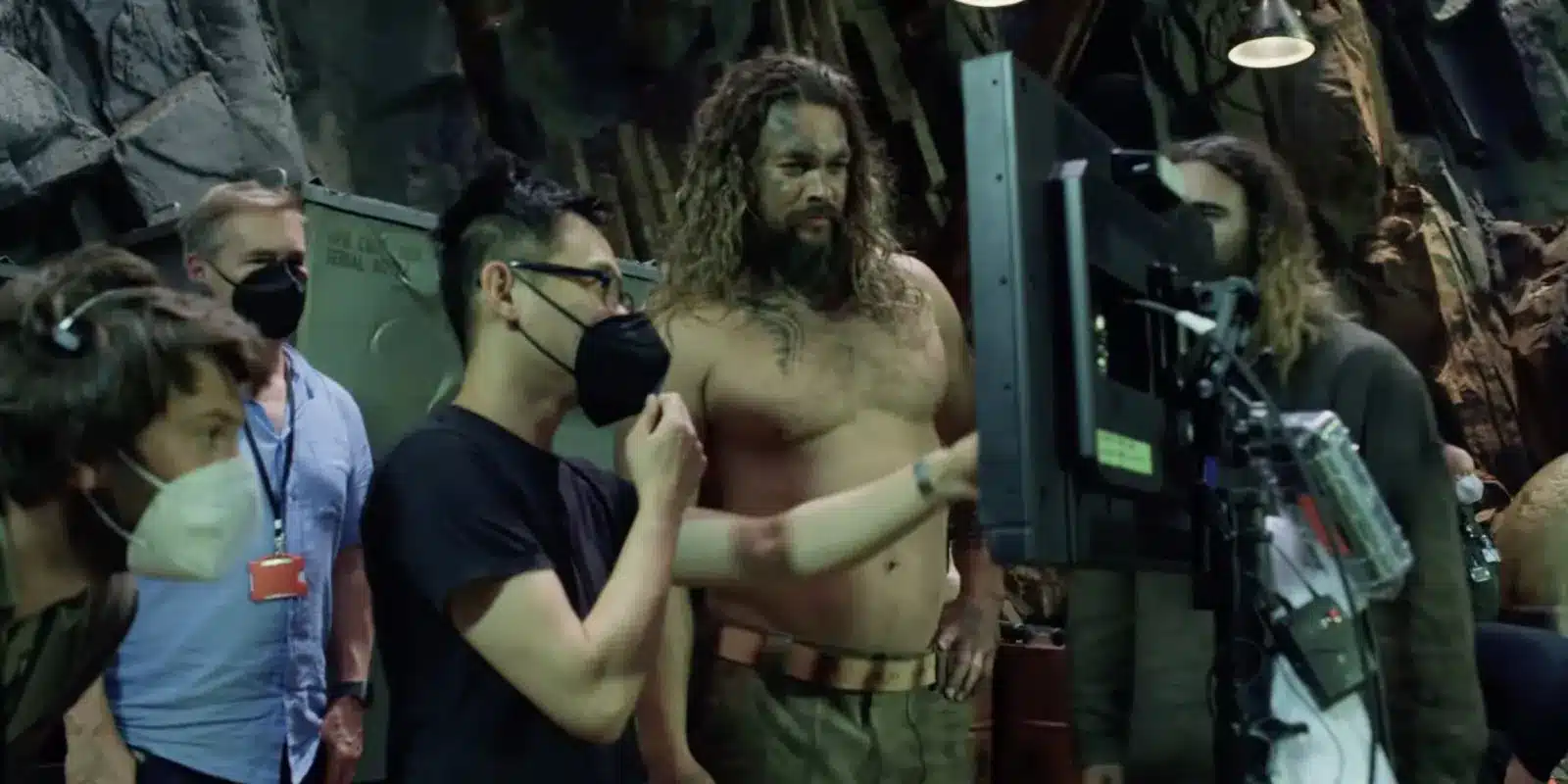 It has been confirmed that Jason Momoa will take on the part of Arthur Curry/Aquaman again. Amber Heard (Mera) and Yahya Abdul-Mateen II (Black Manta) are also set to be in the movie.
Patrick Wilson, who plays Ocean Master/Orm, Dolph Lundgren (who plays Nereus), Nicole Kidman (who plays Atlanna), Temuera Morrison (who plays Tom Curry), and Willem Dafoe (who plays Nuidis Vulko) are also set to come back.
In Aquaman 2, we'll see a lot of new figures along with the old ones. Pilou Asbaek, who also plays a part in Game of Thrones, has joined the cast of Aquaman 2, but his role hasn't been announced yet.
Randall Park will play Dr. Stephen Shin, a marine scientist who wants to find Atlantis, and Vincent Regan will play the first king of Atlantis, Atman. Jani Zhao, who plays Stingray, has also joined the group. Momoa's co-star from Justice League, Ben Affleck, is also in the group. Affleck is back as Batman.
"REUNITED," Momoa wrote back in July 2022 on Instagram. "Arthur and Bruce. Ben, I love and miss you, WB studio tours. I just checked out the backlot. Busted on set, all great things coming in AQUAMAN 2 all my aloha j."
Affleck put away his cape in 2019 and has been honest about how hard it was to play the part. But then it came out that Affleck would dress up again for The Flash, which is set to come out in June 2023.
Read more:
Will Aquaman Feature In James Gunn's DCU?
When James Gunn and Peter Safran, the co-heads of DC Studios, showed off the list of projects for Part 1 of their new DCU, Gods and Monsters, Aquaman was noticeably absent. Many people thought this meant that Arthur Curry would end along with the DCEU since it was hard to see where the superhero would go after the upcoming movie. In a recent interview with Total Film, however, Momoa gave fans a reason to be hopeful. He said that he was sure that The Lost Kingdom wouldn't be the last time we saw the watery god of Atlantis. Part of what Momoa said was, "I'm positive that Aquaman will be part of the DCU. It's on, bro, because Aquaman is the biggest! But I also hope that people are looking forward to the new one. It's cool."
On December 20, 2023, Aquaman: The Lost Kingdom appears in theatres. Check out the interview that Momoa did with Collider for the first Aquaman movie:
Where Can I Watch Aquaman 2?
Aquaman and the Lost Kingdom will be released in theaters on December 20, 2023. It will stream on HBO Max soon after its theatrical release. As of now, it is not available to stream, rent, or buy on any platform.
Is There Any Trailer For Aquaman 2?
There isn't a video for Aquaman 2 yet. We expect one to come out in the summer of 2023, giving us a few months to prepare for the big hit.
Write Some Movies Like Aquaman
Here are some movies that are similar to Aquaman in terms of their themes, genres, or styles:
Black Panther – a superhero movie with a strong focus on world-building and mythology, set in an exotic and technologically advanced kingdom.
Thor: Ragnarok – a superhero movie that features fantastical creatures, magical weapons, and larger-than-life battles, all set in a visually stunning environment.
Avatar is a science-fiction adventure on an alien planet featuring breathtaking visuals, epic battles, and a mystical connection to nature.
The Lord of the Rings – a fantasy epic that follows a band of heroes on a perilous journey across a vast, mythical world filled with strange creatures, ancient magic, and powerful artifacts.
Pirates of the Caribbean – a swashbuckling adventure on the high seas featuring charismatic heroes, treacherous villains, and supernatural elements like ghosts and curses.
Be Entertained and informed with the latest news at techeducation.com! From the hottest trends to the most breaking news. And Also, Follow us on social media: Facebook, Pinterest, Twitter, and Linkedin. And be part of the movement! Share your thoughts, ideas, and opinions with us.