When you think of AirDrop, you probably think of the times you used Apple's wireless transfer tool to move photographs and files to and from your iPhone. That's OK; AirDrop is built particularly to eliminate the need for you to think about such things. Just be aware that with iOS 17, AirDrop will gain a few additional capabilities to make file transfers easier and boost the number of items you can share. So Let's check out What's new in iOS 17 AirDrop.
What's New In AirDrop on IOS 17?
Apple's new Contact Poster feature in iOS 17's phone makeover significantly changes AirDrop. NameDrop lets you easily share new contact cards with nearby iPhone and Apple Watch users. NameDrop isn't iOS 17's only AirDrop change. Intelligent proximity sharing and huge file transfers after you leave are also accessible.
Here's an overview of what AirDrop will accomplish in iOS 17, which is currently accessible as a developer beta (though some users have been able to download it with only an Apple ID). However, a public beta will be available in July, allowing adventurous iPhone users to test out AirDrop's upgrades — as well as other iOS 17 features — before the final release of the software update this autumn.
NameDrop
NameDrop provides a new way to share contact information with other iPhone users, presumably running iOS 17. iOS 17's NameDrop allows you to share contact details with Apple Watches by holding your phone near theirs. NameDrop works with the Apple Watch Series 6 and subsequent devices, the Apple Watch Ultra, and both iterations of the Apple Watch SE, which will need the watchOS ten upgrade later this year.
NameDrop lets you select numbers and addresses to share. You can exchange or receive contact information. NameDrop lets you share your iOS 17 Phone app Contact Poster and phone numbers and addresses. Your full-screen contact cards with images or emoji display on incoming calls and in the Contacts app.
Proximity Sharing
NameDrop uses proximity sharing to share stuff with others. Apple's WWDC 2023 presentation didn't explain how proximity sharing will work—will a prompt display whenever an iPhone-toting contact is nearby, or will you have to take action? However, this approach may transmit photographs and other things. One of the Twitter users shared a Tweet related to this airdrop feature.
Check out their Tweet below:
One of the coolest @Apple iOS features! The #animation is smooth. 😮The new #AirDrop and #NameDrop simplicity and animation in #iOS17 Beta 2 is 👌 pic.twitter.com/KuLeoqDxJD

— Saboor Ash (@saboorashly) June 23, 2023
You may also begin SharePlay sessions with proximity sharing, which displays links to communicate, FaceTime, and share media with close friends. Once iOS 17 launches in the fall, app developers can add proximity sharing with SharePlay using a developer tool.
Sending Larger Files
No longer will you need to wait while AirPlay transfers large files from one iPhone to another. With iOS 17, you can transmit many photos or videos over the internet if you or the recipient are in a hurry. Note that both parties must be enrolled in iCloud for this AirDrop feature to function.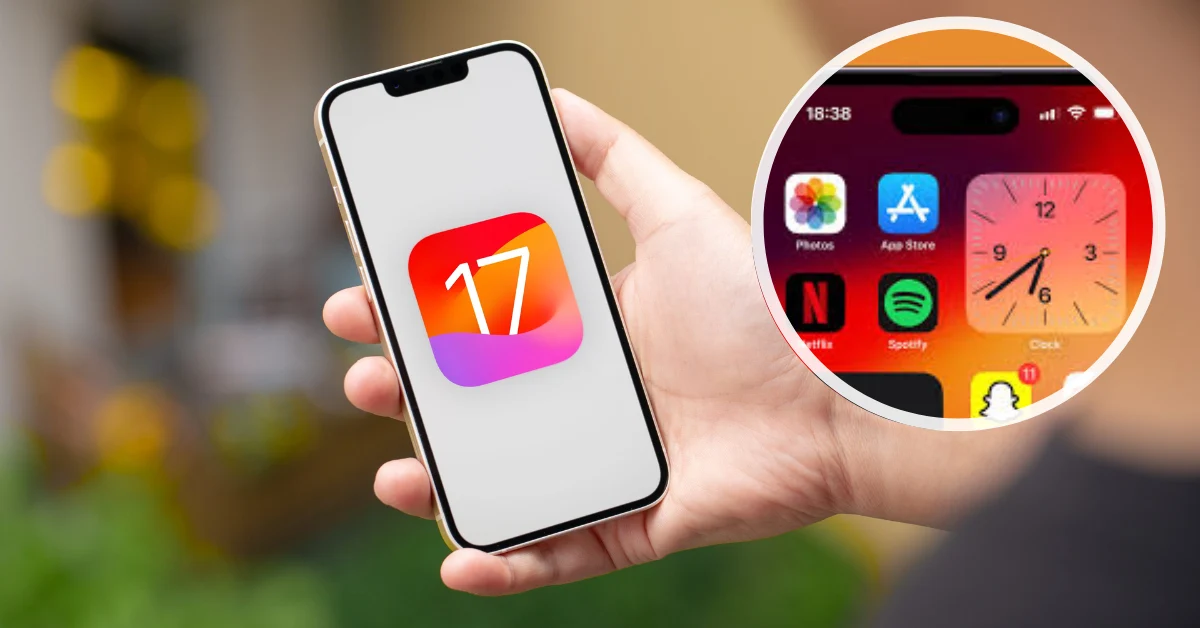 Unleash the Power of the iPhone 14 Satellite Feature: Your Ultimate SOS Survival Guide! Discover the incredible life-saving capacity that keeps you linked to emergency services regardless of location.
Sensitive Image Blurring
IOS does not allow anybody to share a photo or document with your device unless you actively accept it. However, one long-standing issue with AirDrop is that it shows a preview of the proposed shared item on your device's screen whether or not you wish to see it.
Due to this, people have been treated to unsolicited nude and explicit photos. To avoid this, Apple is adding a new opt-in feature in iOS 17 that is meant to automatically blur photographs received over AirDrop that may include sensitive content like nud!ty. The material will be hidden, but it may be accessed by hitting a "Show" button.
These Sensitive information Warnings act similarly to Apple's Communication Safety capability for minors, with all detection occurring on the device so that Apple is unaware of the information being transmitted.
Conclusion: iOS 17 improves AirDrop for file transfers. NameDrop lets adjacent iPhone and Apple Watch users exchange contact info. Proximity sharing speeds up internet transfers of bigger files. iOS 17 also blurs indecent images to safeguard users. AirDrop is now more powerful and user-friendly.
We're always adding new content, so be sure to bookmark "thetecheducation.com" to stay up-to-date on the latest news and information.