Star Wars is a massive franchise with many well-known characters, but not even the most famous ones have a story like Ahsoka Tano's. It's hard to believe that there was a time when fans thought it was silly for Anakin Skywalker to have a padawan because it was never mentioned in live-action movies. In Star Wars: The Clone Wars, however, young Ahsoka won the hearts of fans as she changed from a proud student to a patient Jedi Knight (2008-2022). When she left the Jedi Order to start a new life, many people thought that was the end of her journey. However, in Star Wars Rebels (2014-2018), she still chose to fight for good, even when she met her former master, who had become the evil, Darth Vader. Her fight with Vader should have ended her journey, but she somehow avoided death and made her glorious live-action debut in The Mandalorian (2019-), even making a brief appearance in The Book of Boba Fett (2021).
Now that the fan favorite is a well-known name, her story will continue in a new way with her own live-action show. Ahsoka (2023) is almost here, two and a half years after it was first announced. We finally got some long-awaited details about her first-ever solo series, so here's what we know about Snips' next adventure.
Ahsoka: Release Date Details
At Star Wars Celebration 2023, it was announced that Ahsoka would be on Disney+ in August 2023.
Just released at #StarWarsCelebration:

Here's your first look at the new poster for #Ahsoka, coming August 2023 to @DisneyPlus. pic.twitter.com/KWUrN59YyS

— Star Wars (@starwars) April 7, 2023
Who Is Making Ahsoka?
Dave Filoni, who has been a part of almost every Star Wars TV show, both animated and live-action, is the show's writer and showrunner. This makes a lot of sense, considering that Ahsoka was one of the first Star Wars characters Filoni made for The Clone Wars and that he also made Rebels. As usual, Filoni and Jon Favreau and Kathleen Kennedy will also be producing the show. Filoni is also expected to direct. The complete list of directors hasn't been released yet, but Peter Ramsay, who directed Spider-Man: Into the Spiderverse, is on the team.
Plot Details Of Ahsoka
Like almost every recent Star Wars project, plot details are being kept to a minimum, but that doesn't mean we don't have a pretty good idea of where Ahsoka's story is going next. Ahsoka's goal became clear near the end of her episode of The Mandalorian. After her fight with Morgan Elsbeth, Ahsoka made it clear that she was after a bigger fish: Grand Admiral Thrawn, the leader of the Chiss Empire and one of the main bad guys in Star Wars Rebels.
Even though the Rebels had fought many Sith Lords and Inquisitors, Thrawn was one of the cruelest and most dangerous opponents they had ever faced. He pushed the team to their physical and mental limits. The show's end felt less like an ending and more like a cliffhanger because both Thrawn and the main character of Rebels, Ezra Bridger, disappeared into space. So, if Ahsoka is right and Thrawn is still alive, there's a good chance that Ezra is still out there, too. This makes Ahsoka a continuation of Tano's story and a direct sequel to Star Wars Rebels.
Related Stories Recommended By Writer:
Who Is In The Cast Of Ahsoka?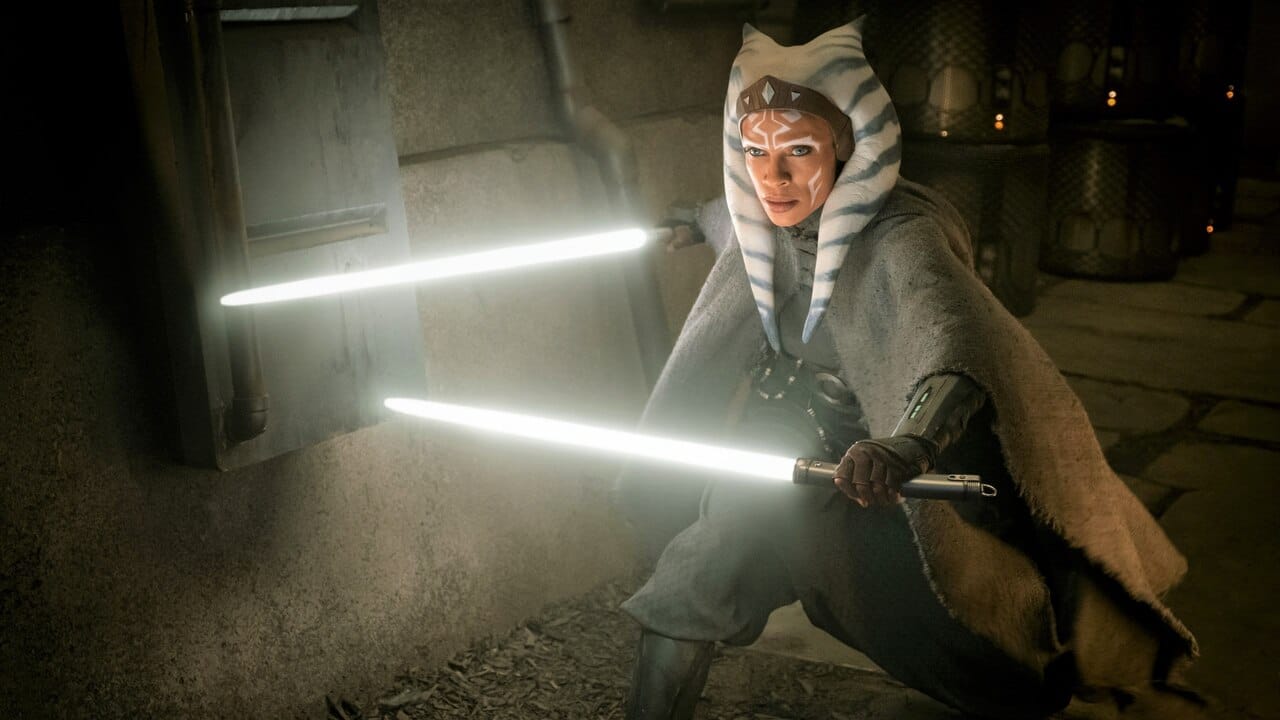 Rosario Dawson (Daredevil) will play Ahsoka again. Thanks to a viral fan campaign, Dawson got her to wish to play the role. The positive response she got from the rest of the community after her Mandalorian appearance seemed to show Lucasfilm that she was the right choice. Hopefully, Ashley Eckstein, who voiced Ahsoka in the animated movies, will at least make a cameo.
Remember when we said that we might have some flashbacks to Clone Wars? The most significant sign is that Hayden Christensen, who played Ahsoka's former master and the man who would become Darth Vader in "Revenge of the Sith," will be back in the new movie. Since Ahsoka takes place after Return of the Jedi, Anakin has been dead for a long time. The most likely time we'll see him is in a flashback where he and Ahsoka fight battle droids in Clone Wars. Or maybe Vader and Tano will fight again, if only briefly.
Ahsoka isn't the only character going from animation to live-action. Natasha Liu Bordizzo (Day Shift) will play Mandalorian freedom fighter Sabine Wren, who once had the legendary Darksaber. How she lost the Saber to Moff Gideon will probably be discussed, but it makes sense for her to be in the story because she is close to and friends with Ahsoka.
Eman Esfandi, who played King Richard on Rebels, will play Ezra Bridger, a young Jedi missing in the Star Wars timeline. People at first thought that Mena Massoud, who played Aladdin, would play the fan-favorite character, but the actor tweeted that those rumors were not true:
Glad the rumors will stop now. Never really had a fair shot at it unfortunately (1 self-tape months ago) but just wasn't meant for me I guess. Can't deny the dude looks exactly like Ezra. Hope it's done justice!

— Mena Massoud (@MenaMassoud) September 9, 2022
Hera Syndulla, a former rebel pilot and one of the main characters on Star Wars Rebels, will be played by Scott Pilgrim vs. the World star Mary Elizabeth Winstead. Ray Stevenson (Thor) will play a Sith named Baylan, and David Tennant (Doctor Who) will play Huyang, the same droid he voiced in The Clone Wars who make lightsabers. Ivanna Sakhno, who was in Pacific Rim: Uprising, will also have a role in the show that hasn't been decided yet. Genevieve O'Reilly will play Mon Mothma again. She has already done so in Star Wars: Episode III – Revenge of the Sith, Rogue One: A Star Wars Story, and most recently on Andor. After playing Morgan Elsbeth in The Mandalorian, Diana Lee Inosanto will play the part again. The characters of Chopper and Grand Admiral Thrawn are also confirmed to be in the series.
When Does Ahsoka Take Place In The Star Wars Timeline?
A few decades have passed since she first appeared in The Clone Wars, and Ahsoka will be her most recent story regarding when it takes place. Ahsoka is expected to take home sometime after Rosario Dawson's live-action debut in The Mandalorian Season 2 and probably after her brief cameo in The Book of Boba Fett (but here's hoping we get to see the first time Ahsoka and Luke meet).
For those wondering how this fits into the timeline of the movies, Ahsoka would be somewhere between the events of Return of the Jedi and The Force Awakens, so after the fall of the Empire and before the rise of the First Order. But people who want to see Ahsoka's early years in flashbacks may get them in a live-action Clone Wars, as a certain Jedi who hates sand has been confirmed to appear.
Will Ahsoka Be Getting A Season 2?
Ahsoka is being called a "miniseries" right now, meaning there will only be one season. However, fans of Tano shouldn't give up hope because some Disney+ shows that were supposed to be miniseries got picked up for another season. Loki is a good example.
It all depends on how well the show does, where Ahsoka's story goes, and whether or not a full-fledged sequel is needed or wanted. Since the show follows Ahsoka and the other popular Rebels characters, it's hard to imagine that it'll be a failure.
Is There A Trailer For Ahsoka?
Back in 2022, some footage did come out on the panel for the show at Star Wars Celebration, but the sizzle reel was only shown to people there. As expected, plot details were kept secret, but it was confirmed that Hera Syndulla, the Twi'Lek pilot of the Ghost, and a few other returning characters would be in the movie.
We also got a very brief first look at this show in Disney+'s 2023 sizzle reel, which showed Ahsoka taking off her hood before her next adventure on the streaming service. The footage isn't a huge surprise, but it could mean that a new trailer is coming soon.
At Star Wars Celebration 2023 on April 7, 2023, the first official teaser trailer for Ahsoka was shown to the public for the first time. The teaser lasts under two minutes, giving us our first look at Sabine Wren, Hera Syndulla, and Ezra Bridger in their first live-action roles. The trailer also showed the new Sith character Baylan and hinted that Grand Admiral Thrawn would be coming.
Write Some Similar Series Like Ahsoka
If you enjoyed Ahsoka, here are some other TV series you might enjoy:
The Mandalorian – Like Ahsoka, The Mandalorian is set in the Star Wars universe and features a lone warrior navigating a dangerous galaxy. It also features some crossover with characters from Ahsoka's storyline.
Clone Wars – Ahsoka was first introduced in this animated series, which chronicles the adventures of the Jedi during the Clone Wars. It has a similar tone and style to Ahsoka and is an excellent choice for fans of the character.
Rebels – Another animated series set in the Star Wars universe, Rebels follows a group of rebels fighting against the Empire. It features Ahsoka's appearances and other characters from the broader Star Wars canon.
Stranger Things – While not set in the Star Wars universe, Stranger Things shares some similarities with Ahsoka regarding its focus on a young protagonist navigating a dangerous world with unique abilities.
The Umbrella Academy – Another series with a group of young protagonists with unique abilities, The Umbrella Academy has a darker tone than Ahsoka but shares some of its themes of finding family and fighting against powerful enemies.
Make sure you bookmark our site, thetecheducation.com. For more information.