During a recent meeting at Seoul's Four Seasons Hotel, Netflix's Co-CEO Ted Sarandos gave some fantastic insights into the rising success of Korean content and its huge global impact. During his three-day trip to Seoul, Sarandos met with Korean production partners and government leaders, like Prime Minister Han Duk-soo, to discuss the event. Yahoo Finance Tweeted a video clip of Netflix co-CEO announcing their investment in K-content.
You can see their full Tweet below:
Netflix co-CEO Ted Sarandos made a pledge to invest $2.5 billion in South Korean content and talent. pic.twitter.com/9ewncbWt1u

— Yahoo Finance (@YahooFinance) June 22, 2023
All The information we Have Provided below is an explanation of what Netflix's Co-CEO said in their recent meeting at Seoul's Four Seasons Hotel.
Sarandos told an amazing fact: "A staggering 60 percent of our members have now watched one Korean title — with viewing of K-content up sixfold globally in the last four years," This huge rise shows how famous and influential Korean entertainment is on the site.
One type has grown a lot, and Sarandos points out, "Take just one genre — romance: 90 percent of K-romance viewing now comes from outside Korea. And last year, our Korean movie 'Carter' and two TV shows — 'All of Us Are Dead' and 'The Glory' — hit the Netflix top 10 in over 90 countries. Of course, nothing quite beats 'Squid Game' — the biggest TV show in history on any metric we've ever seen,"

The Power Of  Korean Storytelling
Sarandos was surprised by how much Korean stories have affected people, especially in the United States. He said, "Who would have guessed that a TV show made in Korea for Koreans would cause a craze for green tracksuits in America or push sales of Vans sneakers up by nearly 8,000 percent when released on Netflix?."  "That's the power of Korean storytelling." A page on Twitter (SAY CHEESE) Tweeted about increased VANS sales after the Squid Game release.
The sales for white slip-on VANS increase 7,800% after 'Squid Game pic.twitter.com/eEaUEePoUc

— SAY CHEESE! 👄🧀 (@SaycheeseDGTL) October 9, 2021
Netflix's Ongoing Investment In South Korea
Netflix has been actively investing in South Korea since 2016 when it put $700 million into the market. It did this because it saw the vast promise of the country's entertainment business. In April of this year, the company renewed its commitment to South Korean dramas, movies, and reality shows by offering an extra $2.5 billion over the next four years.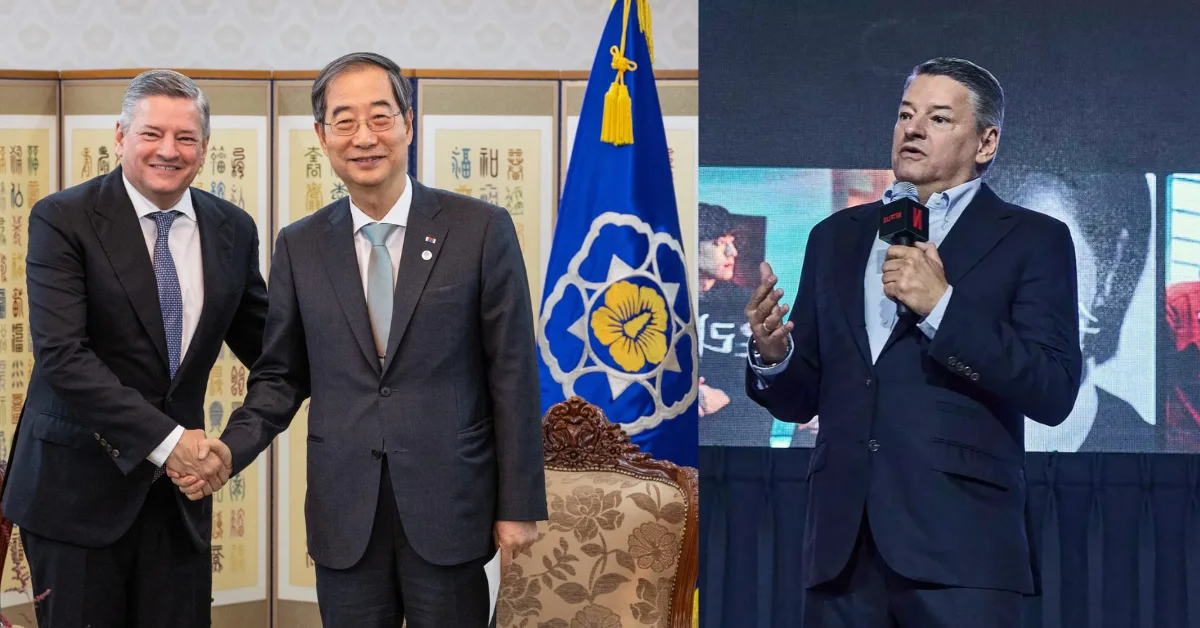 A critical part of this funding is working with neighbourhood groups to help young people develop their skills in front of and behind the camera. Netflix works closely with the Korea Radio Promotion Association, which gives local students great chances to get real-world experience in the production business.
Sarandos explained his plan: "Between 2022 and 2025, one in five Netflix titles in Korea will have come from a first-time writer or director," Sarandos said. "Just yesterday, I met 100 students with director Park Chan-wook — all future screenwriters and directors with so much potential. We have to invest in their talent collectively as an industry."
Fueling Netflix Growth In The Asia-pacific Region
South Korea has become one of Netflix's primary sources of shows and movies, which is a big reason why so many people in the Asia-Pacific region subscribe to Netflix. This lively market has become the company's fastest and most reliable source of growth, showing how crucial Korean material is in the area and worldwide.
Netflix's Conflict
The rise in fame has been good for Netflix, but it has also caused problems in the business world. Netflix is fighting with the South Korean mobile service SK Broadband over fees for using the network. A court in Seoul, South Korea, said in 2021 that Netflix must pay repayment because its traffic has grown so much.
But now, Netflix is fighting the ruling, saying it doesn't have to pay network usage fees. John Draisey Tweeted about the news at that time.
Check out His Tweet given below:
Squid Game is so popular that internet provider SK Broadband (South Korea) is suing Netflix for "high bandwidth usage."

— John Draisey (@JohnDraisey) October 8, 2021
Thank you for reading! We hope you'll bookmark "thetecheducation.com" and come back for more great content.