Martin Luther King Jr. (born Michael King Jr. on January 15, 1929, and died on April 4, 1968) was an American Baptist minister and activist. From 1955 until he died in 1968, he was one of the most important people in the civil rights movement. King worked to improve civil rights for people of color in the United States through nonviolence and civil disobedience.
He was an African-American church leader and the son of Martin Luther King Sr., an early civil rights activist and minister. Inspired by his Christian beliefs and Mahatma Gandhi's nonviolent activism, he led targeted, nonviolent resistance against Jim Crow laws and other forms of discrimination.
When Has Martin Luther King Jr Died?
Martin Luther King Jr. was shot and killed on April 4, 1968, as he stood on the balcony outside his second-floor room at the Lorraine Motel in Memphis, Tennessee.
Martin Luther: Early Life Details
Michael King Jr. was born on January 15, 1929, in Atlanta, Georgia. He was the second child of Michael King and Alberta King (née Williams), who had three children in total. King had a sister named Christine King Farris, who was older than him, and a brother named Alfred Daniel "A.D." King, who was younger. Adam Daniel Williams, Alberta's father, was a minister in rural Georgia. In 1893, he moved to Atlanta and became the pastor of the Ebenezer Baptist Church the next year.
Williams tied the knot with Jennie Celeste Parks. King, Sr. was born in Stockbridge, Georgia, to sharecroppers James Albert and Delia King and had African and Irish roots. King Sr. left his parents' farm when he was a teenager and walked to Atlanta, where he went to high school. He went to Morehouse College to prepare for the ministry. King Sr. and Alberta started dating in 1920, and on November 25, 1926, they got married.  They lived together on the second floor of Alberta's parents' two-story Victorian house, where King was born until Jennie died in 1941.
The Southern Christian Leadership Conference
King knew that he needed a large-scale movement to build on the success of the Montgomery action, so he started the Southern Christian Leadership Conference (SCLC). This gave him a base of operations throughout the South and a national stage to speak from. King gave speeches all over the country and talked about race with religious and civil rights leaders at home and around the world. In February 1959, he and his group were warmly welcomed by India's Prime Minister Jawaharlal Nehru and others.
After a short talk with followers of Gandhi about the Gandhian ideas of peaceful noncompliance (satyagraha), King became more and more sure that nonviolent resistance was the most powerful way for oppressed people to fight for freedom. King also went to Africa to get ideas. "The struggle for freedom in Africa has been the most important international event for African-American students," he wrote. "I hear them say a lot that if their African brothers can break free from colonialism, then the American Negroes should be able to break free from Jim Crow."
In 1960, King and his family moved back to Atlanta, where he was born and raised. There, he worked with his father at the Ebenezer Baptist Church as a co-pastor. At this job, he spent most of his time on the SCLC and the civil rights movement. He said that "the psychological moment has come when a concentrated drive against injustice can bring great, tangible gains." His theory was soon tested when he agreed to back sit-in protests by Black college students in his area.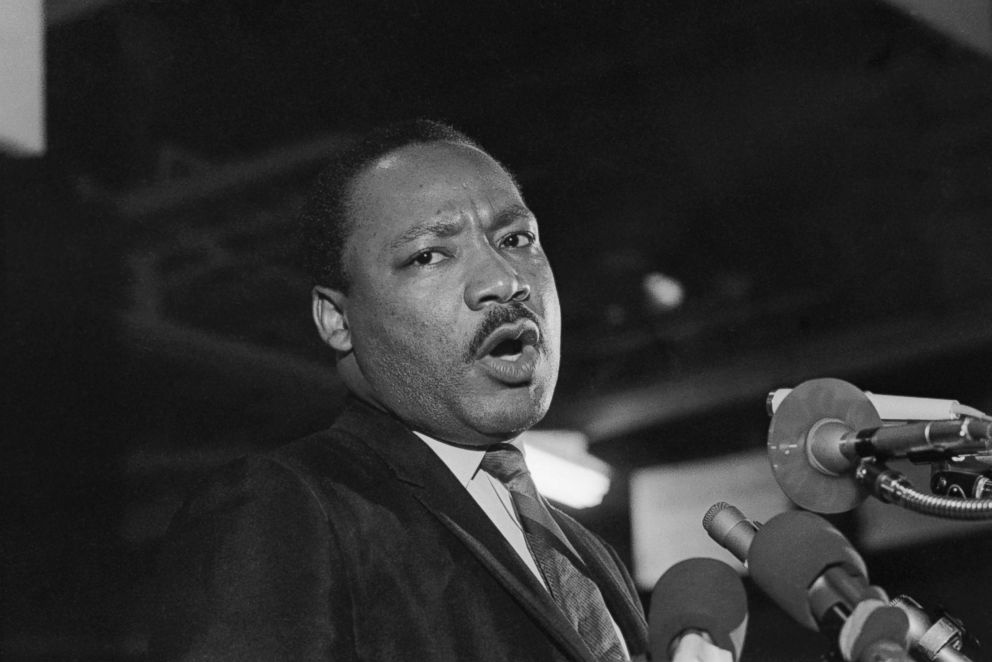 In late October, he and 33 other young people were arrested at a lunch counter in an Atlanta department store for protesting segregation. Even though the charges were dropped, King was sent to Reidsville State Prison Farm on the grounds that he had broken his probation for a minor traffic violation from a few months before.
People all over the country worried about his safety and were angry that Georgia didn't follow the law. But President Dwight D. Eisenhower didn't do anything to help. John F. Kennedy, who was running for president as a Democrat, was the only one who could get King released. This was such a well-known event that many people thought it helped Kennedy win the election eight days later.
Related Stories Recommended By Writer: