Who Is Millie Bobby Brown?
Millie Bobby Brown is a British actress and producer who was born on February 19, 2004. She was nominated for two Primetime Emmy Awards for Outstanding Supporting Actress in a Drama Series and two Screen Actors Guild Awards for Outstanding Performance by a Female Actor in a Drama Series for her role as Eleven in the Netflix sci-fi drama series Stranger Things (2016-present).
She is one of the award's youngest nominees.  Brown was named to the Time 100 list of the world's most influential people in 2018 and was appointed as a UNICEF Goodwill Ambassador, making her the youngest person to hold this position at the time. Brown made her feature film debut in Godzilla: King of the Monsters (2019), and she reprised her role in the sequel Godzilla vs. Kong (2021). She also starred in and produced Enola Holmes, a Netflix mystery film (2020).
The career of Millie Bobby Brown
Millie began her acting career in 2013 after relocating from Orlando, Florida to Los Angeles, California. She has emerged in several popular television shows, such as Grey's Anatomy and NCIS, but in minor roles. Her first major role was as Eleven in Stranger Things, for which she rose to prominence at a young age. Godzilla: King of the Monsters was her first film role. Millie also produced and appeared in the Enola Holmes Mysteries film adaptation. She became one of the youngest people in Hollywood to receive a producer credit on a movie produced by her own company, PCMA Productions. She will also be narrating an episode of Darren Aronofsky's VR series Spheres.
Read more: Contract Divorce WNBA Between Tina Charles and Mercury, Charles To Join Storm
Who is Millie Bobby Brown's boyfriend Jake Bongiovi?
Millie recently sent her fans into a frenzy when she appeared on the BAFTAS 2022 red carpet with her long-rumored boyfriend, Jake Bongiovi – yes, the son of musician Jon Bon Jovi.
While Millie and Jake have been dating since 2021, this is their first official public appearance as a couple.
The actress wore a black Louis Vuitton gown with a deep V-neck and a train, as well as peplum detail and a sheer lace skirt. Millie accessorized her look with long black opera gloves, which added to the drama. We adore. Jake, on the other hand, wore a black-and-white Fendi tuxedo.
The Stranger Things star even posted a beautiful photo of herself on the red carpet to Instagram, accompanied by three red heart emojis.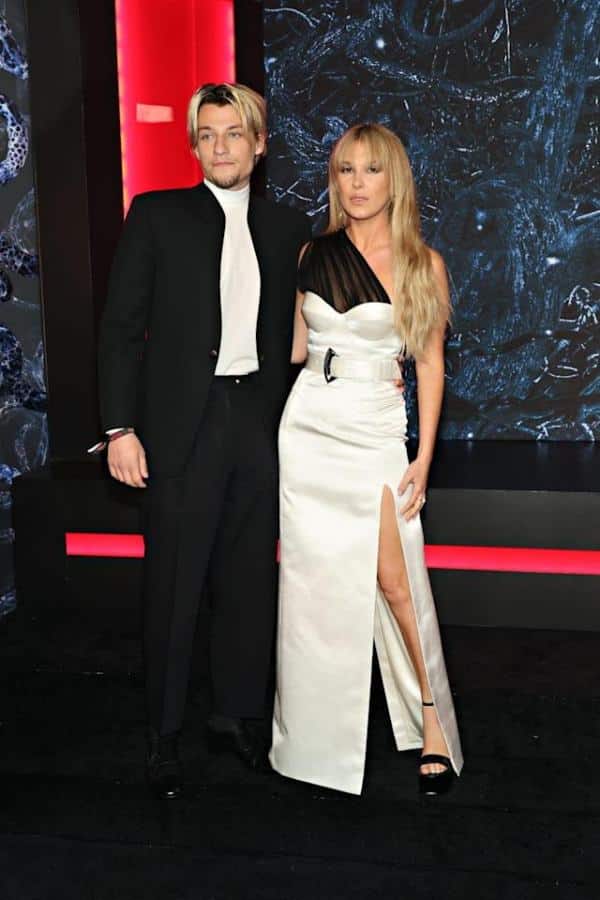 Who Has Millie Dated In The Past?
Jacob Sartorius
Millie dated the singer and social media personality in 2017. Despite their brief relationship, they were known for their gushing Instagram and Twitter posts.
The couple even went on some cute dates to Disney World and celebrated New Year together, but young love is fickle, and the two split up on mutual terms.
Joseph Robinson
Millie's most serious relationship to date has been with British rugby player Joseph Robinson, whom she dated for eight months in 2020. The couple reportedly met while on vacation in the Maldives.
Given that their relationship began with a summer romance, it's quite a feat that they've made it to the eight-month mark – especially given that most vacation flings end there.
Unfortunately, their schedules and high-profile careers kept them apart, and a source told Access that it easily wasn't their time."Millie has become a huge star overnight, and Joseph's rugby career is on the rise, so maybe it wasn't the right time for them to date. Of course, they're both still very young, so there's no doubt they have a bright future ahead of them "according to the source
 Romeo Beckham 
Millie and Romeo were linked when Romeo was 15 and she was 16. The two, however, never got past the getting to know each other stage. Rumors erupted after Millie shared an Instagram story in honor of Romeo's birthday. Brown tweeted "happy bday @romeobeckham" to wish Beckham a happy birthday. "I adore you, brooooooo."
Despite the fact that the message appears to be friendly, internet sleuths discovered Romeo posting a red heart on Millie's posts. If that wasn't enough proof of a crush, Millie told a reporter at Unicef's 70th-anniversary gala, "I don't know. Something involving Romeo Beckham."
According to The Sun, mum Victoria approved of the union and was optimistic about their future.
"It's early days," the insider said at the time, "but they make a very sweet couple." "Posh has given it her stamp of approval because she is a big Millie fan."
Read more: Are Natalia Dyer and Charlie Heaton's 'Stranger Things' Co-stars and Couple Still Together?
Millie Bobby Brown's Net Worth In 2022
Millie Bobby Brown is an actress, producer, and internet personality from England. Millie Bobby Brown's net worth is $10 million as of 2022. Her net worth was accumulated through his acting and modeling careers. Eleven/Jane Hopper in Netflix's original science fiction thriller series Stranger Things (2016 – present) and Enola Holmes in the mystery film "Enola Holmes" (2020). In 2016, she was nominated for a Primetime Emmy Award for Outstanding Supporting Actress in a Drama Series.
In 2018, she was named to Time 100's list of the "World's Most Influential People." Later that year, she was also appointed as a UNICEF Goodwill Ambassador, making her the youngest person to hold this position. Florence by Mills, her new cosmetics and skincare line, debuted in 2019.
Read more: Kim Kardashian Lost '21 Pounds': 'Completely Changed My Lifestyle'