Kelsea Ballerini is a well-known country singer and songwriter who has had a successful career so far. She has set the bar in the Hollywood industry and has been reaching the top of her field. But after divorcing her husband, she is now in the news because of her new love life.
Kelsea Ballerini has found a new love. She broke up with her husband Morgan Evans in public in August 2022. It was said that Kelsea was seen walking around with Outer Banks actor Chase Stokes and getting close to him. Kelsea and Chase have been dating since December and are very close.
Here's an overview of the whole situation so you can think about Ballerini's relationship in light of her first marriage:
Kelsea Ballerini's Marriage And Her Divorce From Ex-husband Morgan Evans
Kelsea and Morgan Evans were married for almost five years before she told the public that they were splitting up in August 2022.
In March 2016, when they were hosting the Australian Country Music Channel Awards, the two people who used to be together got to know each other. After 10 months, Morgan asked her to marry him, and they got married in Mexico on December 2, 2017.
Kelsea posted a message on her Instagram Stories announcing their breakup, saying:
"Friends, I've always tried my best to share my life with you in an honest and transparent way, while still preserving layers of my personal life as they unfold."

"I wanted you to hear from me directly that I am going through a divorce because this is already public record." Kelsea added: "This deeply difficult decision is the result of a journey of love, growth, and effort that ultimately has come to an end. It's hard to find the words here… but I feel extremely grateful for the years of marriage to Morgan and hopeful for the next seasons."
Check out who other celebrities are dating in 2023:
Who Is Kelsea Ballerini's Boyfriend, Chase Stokes?
Chase is an actor from Annapolis, Maryland, who is 30 years old. As a child, he moved to Georgia. When he was a teenager, he moved to Florida. Chase first wanted to be an ice hockey player, but in 2014 he decided to try his hand at acting.
Before he became known as John Booker Routledge (John B) in the Netflix teen drama series Outer Banks, he had small parts in shows like Stranger Things, Daytime Divas, and Tell Me Your Secrets.
Kelsea Ballerini And Chase Stokes' Relationship Timeline
Chase and Kelsea were seen together for the first time at a football game in January 2023. The actor posted a picture of them cuddled up in their seats. The picture didn't show their faces, but Kelsea was tagged.
A few weeks later, Chase gave TMZ a hint about their relationship by saying: We're having a good time, and that's all I'll say." After they were spotted enjoying a cozy date at a bar in Nashville and packing on the PDA at LAX airport, Kelsea confirmed that she wasn't single.
In February, she asked on the Call Her Daddy podcast, "Am I single?" "Am I single? God. Um… nope… All of this is very new to me. I'm walking on my toes, but I'm happy. It's been a beautiful coming back to life."
Kelsea said that she messaged Chase in December, and they started "just having fun" right away.
But in March, they went on their first public date to a New York Rangers game, where they were photographed kissing from their seats. They were also photographed walking around NYC holding hands.
Chase has also shown that he is a good boyfriend by watching Kelsea's shows from the side of the stage when she was on tour in March.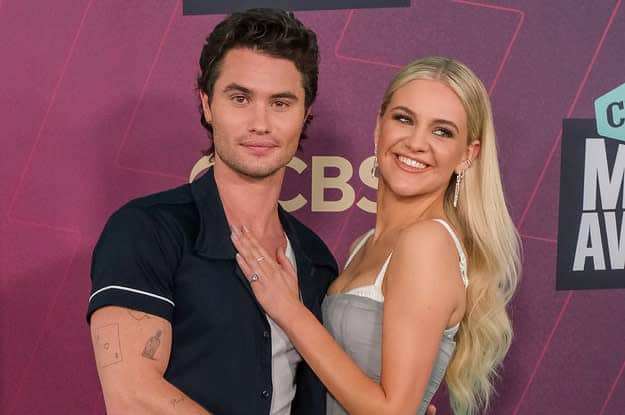 Kelsea Ballerini: Career Details
At age 19, Ballerini signed with Black River Entertainment, an independent record label in Nashville. In 2014, she put out her first single, "Love Me Like You Mean It." The song went to number one on the Billboard Country Airplay chart, making Ballerini the first solo female artist since Carrie Underwood's "Jesus, Take the Wheel" in 2006 to top that chart with her first single. Later that year, "Love Me Like You Mean It" was on Ballerini's first EP, which was just called "Ballerini." It was also the first single from her first studio album, which came out in 2015 and was called "The First Time." "Dibs" and "Peter Pan" were two more number-one hits that came from that album.
If you want to check out more about celebrities' love life then you can join us on our Twitter account.