The new SteelSeries Arctis Nova Pro gaming headset is a successor to SteelSeries' beloved flagship Arctis Pro gaming headset line, which turned four this year. It retains some of the best aspects of its predecessor and other Arctis kin, such as the hot-swappable battery, dual 2.4GHz and Bluetooth wireless connectivity, speaker drivers designed for high-resolution audio, and signature Arctis design and comfort. SteelSeries improved the design and mic, boosted battery life, adjusted connection types to match new ports and consoles, converted to a proprietary spatial audio system, upgraded the GameDAC 2 (still only for the wired model), and more for the Nova Pros. As a result, the new flagship headset retains all of its gaming credentials while remaining a little costly.
This is a new era. Your era.

Introducing the Arctis Nova Pro and Arctis Nova Pro Wireless 🎧

Play like a god: https://t.co/Sko4kzOLOU pic.twitter.com/u8DASuf8kv

— SteelSeries (@SteelSeries) May 24, 2022
Pros and Cons of SteelSeries Arctis Nova Pro
Pros
Cons

Excellent bass and audio quality.
Sonar's new parametric EQ is simple to use and instructive.
Lightweight, comfortable, and extremely adaptable.
DAC is a spare battery dock with an amp and fast charging capabilities.
Noise cancellation for the microphone and ear cups.

Over Bluetooth, you can only skip or pause music using the headset buttons.
When travelling out of range, there are terrifyingly loud glitch noises.
AI noise cancellation is currently lacking.
SteelSeries Nova Pro and GameDAC
The Nova Pro range has five variants, with the wired Nova Pro and its Xbox-specific sibling costing $250 and the wireless models for PC, Xbox, and PlayStation costing $350. There isn't much difference between them. The Xbox models switch a USB connection and the second USB-C port on the base station for the required Xbox-compatible USB connector, but otherwise are identical to their counterparts. The following headsets are PS5-compatible: The retail packaging for the PS5 model is just different. I tried the Nova Pro Wireless, but I didn't get to test the new GameDAC.
In addition to connecting via USB to a PC or Mac, you can send audio to the headset from a PS5 or Android phone with a USB-C connector via the base station (which is effectively the dongle), a Nintendo Switch (in TV mode), or anything with a 3.5mm analogue jack. The base station also has an analogue input for mixing a stream on your computer. SteelSeries, among other things, deleted the optical connections, so if you have an earlier console, this isn't a good option.
Related Articles
SteelSeries Arctis Nova Pro Design and Build Quality
SteelSeries did a great job of balancing the materials in the Arctis Nova Pro. The top of the headset is made of a light metal plate with a plastic bottom. Above that is a flexible fabric band that sits on the top of your head. The two earpieces are also made of plastic, except for the metal speaker plates that can be switched out to change how the cans look.
The earcups that come with the Nova Pros are made of leatherette and have soft, plush padding that fits my ears really, really well. If you don't like them, you can take them off and put something else there.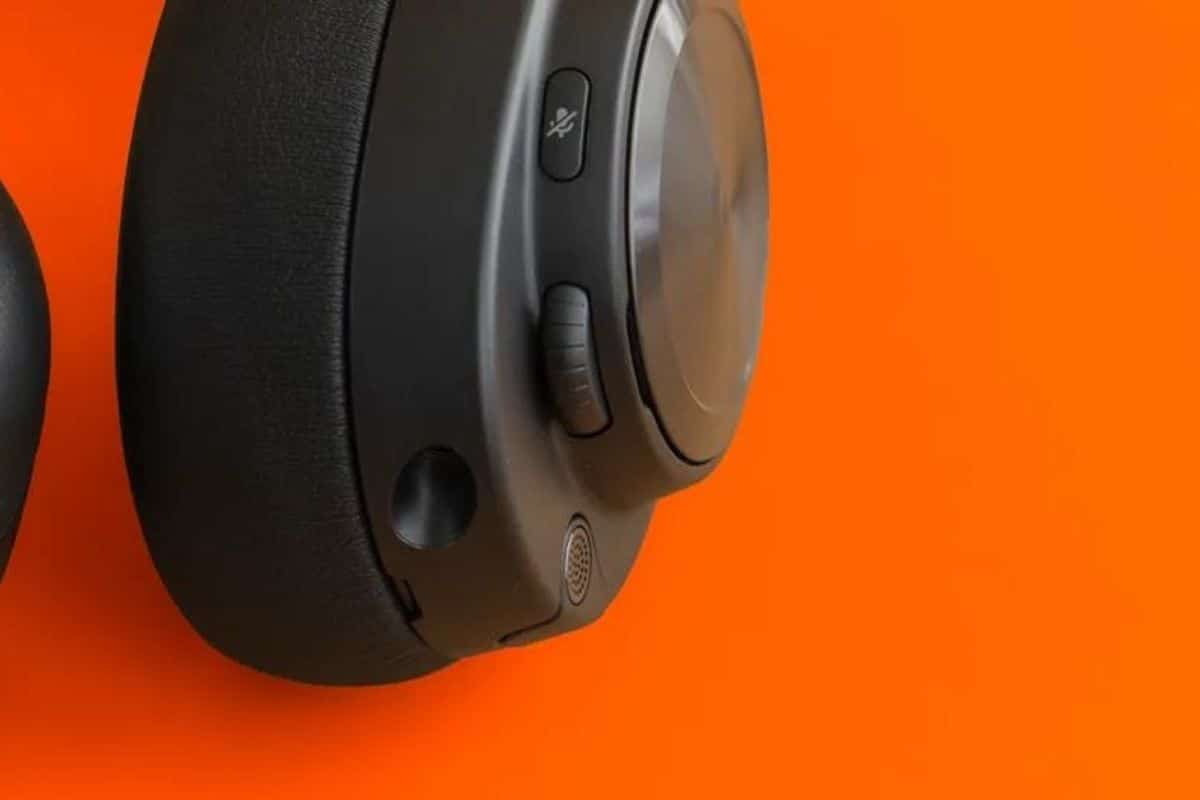 Because of these design choices, the headset feels sturdy in the hand but doesn't weigh very much, and I never got tired of wearing it even after hours of gaming. These headphones are some of the most comfortable I've tried.
On the left earcup are all of the connections and controls for the headset itself. There you'll find the 3.5mm headphone input port, a mute button, a volume dial, and a microphone with a boom that you can pull out. The mute button and the volume dial are easy to find, but you probably won't use them very often. We'll talk more about that later.
The Nova Pro's retractable microphone boom is one of my favorite things about how it was made. Most headphone makers will let you take off the boom mic when you're not using it, but SteelSeries decided to let you just push it into the left earcup to hide it. I love this choice because it doesn't feel like these headphones were made for gaming as an afterthought. Instead, they look like they were made with the idea that someone would use them at their desk to play games, listen to music, or even work. It just seems to be put together better, which I really like.
SteelSeries Nova Pro Specs
Neodymium Drivers: 40 mm
Frequency Response (Wired): 10–40,000 Hz
Frequency Response (Wireless): 10–22,000 Hz
Sensitivity: 93 dBSPL
Impedance: 38 Ohm
Total Harmonic Distortion: < 1%
High-Res Audio Capable: Yes (Headphone Speakers)
Active Noise Cancellation: 4-mic hybrid design with Transparency Mode
Microphone Type: ClearCast Gen 2 – Fully Retractable Boom
Microphone Polar Pattern: Bidirectional Noise-Canceling
Microphone Frequency Response: 100-6500 Hz
Microphone Sensitivity: -38 dBV/Pa
Microphone Impedance: 2200 Ohm
SteelSeries Nova Pro included GameDAC
The Nova Pro has a GameDAC instead of a volume dial. This command deck has a button-equipped dial. Left of the dial is a touch-sensitive "back" button.
When you initially turn on the GameDAC, it walks you through setting changes and menu navigation. Turning the dial from standby controls the volume; pressing it enters the menu, where turning it right and left cycles through settings. Back advances one page. The GameDAC only has three input possibilities.
GameDAC has many possibilities. You may adjust the mic volume, headphone volume, sidetone, and other audio parameters. While the SteelSeries software lets you fully modify the equalisation (EQ), you may do it directly from the GameDAC on a Mac or console without the software (at the time of publication, that software was only available for PC). While that means you have limited Mac usage, that's typical for SteelSeries, and the fact that the EQ can be modified from the GameDAC helps.
The GameDAC's biggest feature is its ability to change between two audio sources. I've linked it to a PC, PS5, and Mac at the same time, and being able to switch between them without cords is a great concept. It means I'll use this one set of headphones for everything at my desk, so I can leave my other headphones on their stands.
SteelSeries Nova Pro Audio Quality
The Arctis Nova Pro Wireless features twin diaphragm 40mm custom speakers with a wireless frequency response of 10Hz to 22,000Hz and a wired frequency response of 10Hz to 40,000Hz. The Arctis Nova Pro Wireless' audio quality is exceptional for a gaming headset and exceptional for a pair of lifestyle headphones. Is it, however, on par with audiophile-grade gear? Not quite, although that's due in part to the device's wireless constraints.
The wired Arctis Nova Pro is identical as the wireless Arctis Nova Pro, except it's wired. Instead of a wireless base station, it comes with SteelSeries GameDAC Gen2. The GameDAC Gen2 serves as a base station, allowing you to choose between input sources and alter EQ and other audio settings, as well as an ESS Sabre Quad-DAC, providing a purer signal (with reduced levels of noise/distortion) and increasing the audio resolution of your wired headset. In other words, the Arctis Nova Pro Wireless is capable of hi-fi, but you'll need a wired connection and a SteelSeries GameDAC Gen2 to get there. (I suppose you could use a different DAC as well.) Nonetheless, SteelSeries could have included both wired and wireless headsets with the GameDAC Gen2.)
The high-fi capabilities of the Arctis Nova Pro Wireless aren't really necessary, especially because the headset provides superb audio by most standards. In my game testing, the headset delivered detailed, multi-layered audio that soon reminded me why I don't play games like Alien: Isolation with noise-canceling headphones. The ANC on the headset has a few quirks to iron out — it didn't perform nearly as well on the streets of DTLA as any of my Bose QuietComfort headphones — but it did a fantastic job of simulating the terrifying emptiness of space in the relative calm of my home office. Even without adjusting the EQ, the in-game audio was incredibly immersive.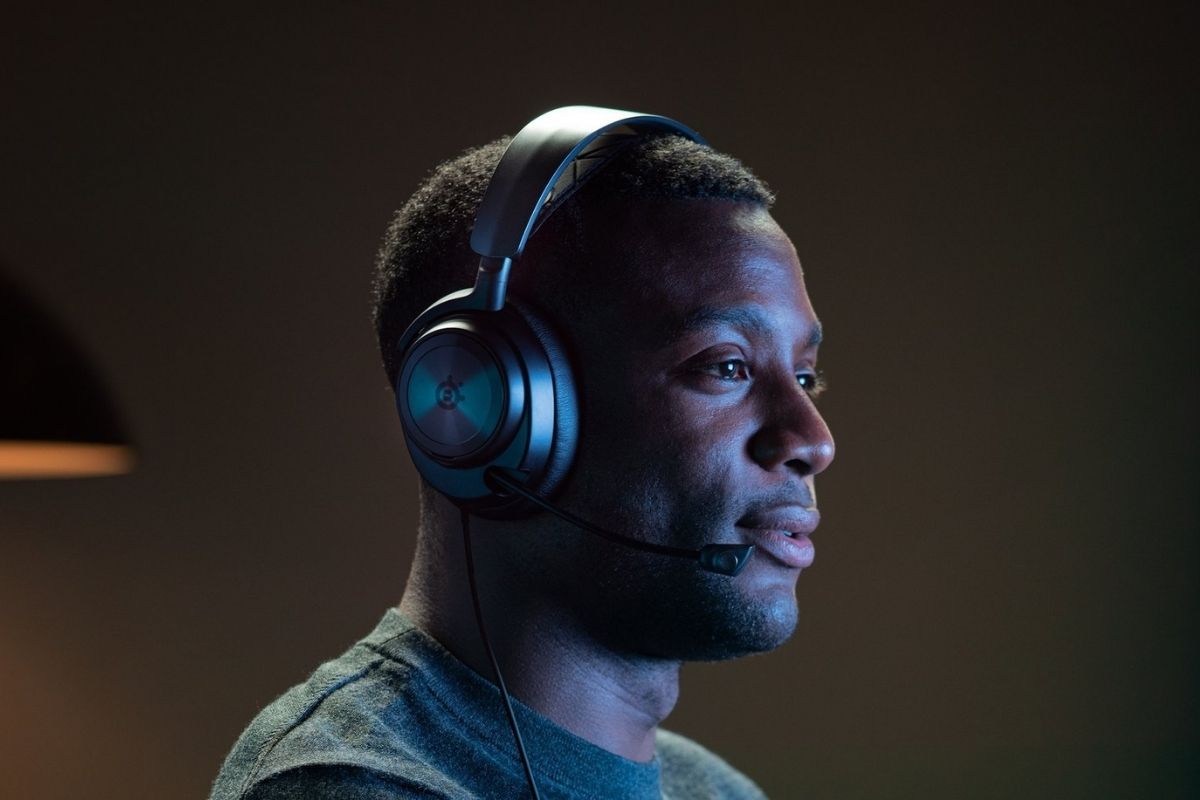 While listening to my audio testing playlist, the headset sounded great, maintaining the more natural (and less bass-heavy) profile we've come to expect from SteelSeries' Arctis range. It's still a gaming headset, so the lower mids were a little compressed in Lorde's Royals, and the bass kick in Billie Eilish's Bad Guy was little muddled. This isn't as bad as it seems because I'm comparing these to Sennheiser's HD 800 S headphones, which are my reference headphones.
SteelSeries Nova Pro Microphone Quality
The Arctis Nova Pro Wireless comes with a noise-cancelling, completely retractable bidirectional "ClearCast Gen 2" microphone with a frequency response of 100 – 6,500Hz and a sensitivity of -38dBV/Pa.
The microphone's performance is excellent: it picks up crisp, clear vocals and reduces background noise to a reasonable degree. It doesn't make you seem too breathy, harsh, or nasal, and you can adjust the mic's EQ in the Sonar programme that comes with it. The mic was able to consistently filter out my aggressively clicky keyboard during my tests, but only around 70% of the time with my wildly barking Pomeranian.
The mic is connected to the headset by a tiny, flexible cable that is simple to pull out but difficult to push back in. When you stow the mic, it mutes automatically; luckily, there's a mute button on the left earcup so your colleagues don't have to hear you fumble with it.
SteelSeries Nova Pro Features and Battery Life
Multi-platform gamers will enjoy the Arctis Nova Pro Wireless. The wireless base station may connect to a PC and PS5 through dual USB-C connections. The base station can be used to swap sources and alter EQ and other audio parameters. The base station can be controlled via the base station (volume/scroll knob and touch button) or the headset (volume wheel).
The base station features line-in and line-out connectors and charges the second battery, so you always have a fully charged backup. The base station is different from the wired Arctis Nova Pro's GameDAC Gen2.
Sonar Audio supports the Arctis Nova Pro Wireless. Sonar is part of SteelSeries GG and has been in Early Access since the Arctis 7+ and 7P+ last year. Sonar has 10 parametric EQ bands, realistic 7.1 surround sound/360-degree spatial audio, and distinct EQ settings for game audio, team chat, and your microphone.
I can see Sonar overpowering the ordinary user as a gaming audio programme. The software has presets for Apex Legends, Dota 2, League of Legends, Fortnite, GTA V, Halo Infinite, Minecraft, etc., but the list isn't full. Given how much SteelSeries has promoted this software, I'd prefer additional gaming and music/listening instructions.
The Arctis Nova Pro has a swappable battery, like the Arctis Pro and Siberia 800. The headset has two rechargeable batteries that last 22 hours each (18 hours with Bluetooth). When the headset's battery goes low, snap out the right earcup's magnetic speaker plate and switch the batteries.
The Arctis Nova Pro has a swappable battery, like the Arctis Pro and Siberia 800. The headset has two rechargeable batteries that last 22 hours each (18 hours with Bluetooth). When the headset's battery goes low, snap out the right earcup's magnetic speaker plate and switch the batteries.
FAQs about SteelSeries Arctis Nova Pro
Should I buy SteelSeries Arctis Pro?
For cordless gaming, the SteelSeries Arctis Pro Wireless are ideal. They sound amazing, can be used with both a console and a mobile device at the same time, feature a great microphone that filters out a lot of background noise, and are quite comfortable to wear. They also have reduced wireless latency that isn't Bluetooth.
Are SteelSeries worth it?
The SteelSeries gaming headphones are excellent. The majority of their headphones include balanced audio reproduction and strong microphones, making them ideal for multiplayer gaming. SteelSeries solely offers over-ear headphones, and many of them feature their signature ski-band headband for added comfort.
Where to buy SteelSeries Arctis Nova Pro?
Just type SteelSeries Arctis Nova Pro on you browser and you'll get the link to buy SteelSeries Arctis Nova Pro 🙂
Continue Reading