Twelve more sexual assault lawsuits were filed against Eric Weinberg, the jailed writer and producer of the TV shows "Scrubs" and "Californication." Weinberg is accused of being a serial rapist.
Weinberg, who is 62, is also being charged with 18 crimes that involve five women. In November, two women filed lawsuits against him, saying that he had sexually assaulted them on different occasions in 2019.
Jailed 'Scrubs' Writer Eric Weinberg Faces 12 More Sexual Assault Lawsuits https://t.co/uEx351gtf3

— Variety (@Variety) January 28, 2023
In the new lawsuits, 13 women say that Weinberg sexually assaulted them between 1998 and 2017. At the time of the attacks, the women were between 18 and 35 years old, and most of them say there was a pattern.
According to the complaints, Weinberg would meet women in public places like a cafe or a grocery store, tell them he was a photographer, and ask them to take part in a photo shoot.
Weinberg would have them come to his house, where he would start taking pictures. According to the lawsuits, he would then tell them to take off their clothes and sexually attack them. In several of the lawsuits, the women say that they were afraid that Weinberg would kill them or hurt them badly if they didn't do what he said.
Some of the lawsuits say that he took pictures of the women while he was beating them. After that, he sometimes tried to convince them not to call the police. One woman said he had said he would hurt her child.
The lawsuits give the plaintiffs' initials instead of their real names. Two accusers say in one of the complaints that they went to Weinberg's house together in October 2013 and that he sexually assaulted both of them.
Some of the women say that he put them at ease by showing them pictures of his kids.
One woman says that Weinberg sexually assaulted her when she was an actor on the MTV show "Death Valley," where he was a writer and producer.
The lawsuit says Weinberg called her a lot in the weeks before the attack and talked about his penis and sex acts while he was masturbating.
The suit also says that Weinberg pushed her up against a wall and groped her breast, hip, and thigh while he had her cornered in a lonely part of the set. According to the suit, she stopped working on the show after that and turned down his offer to be in a photo shoot.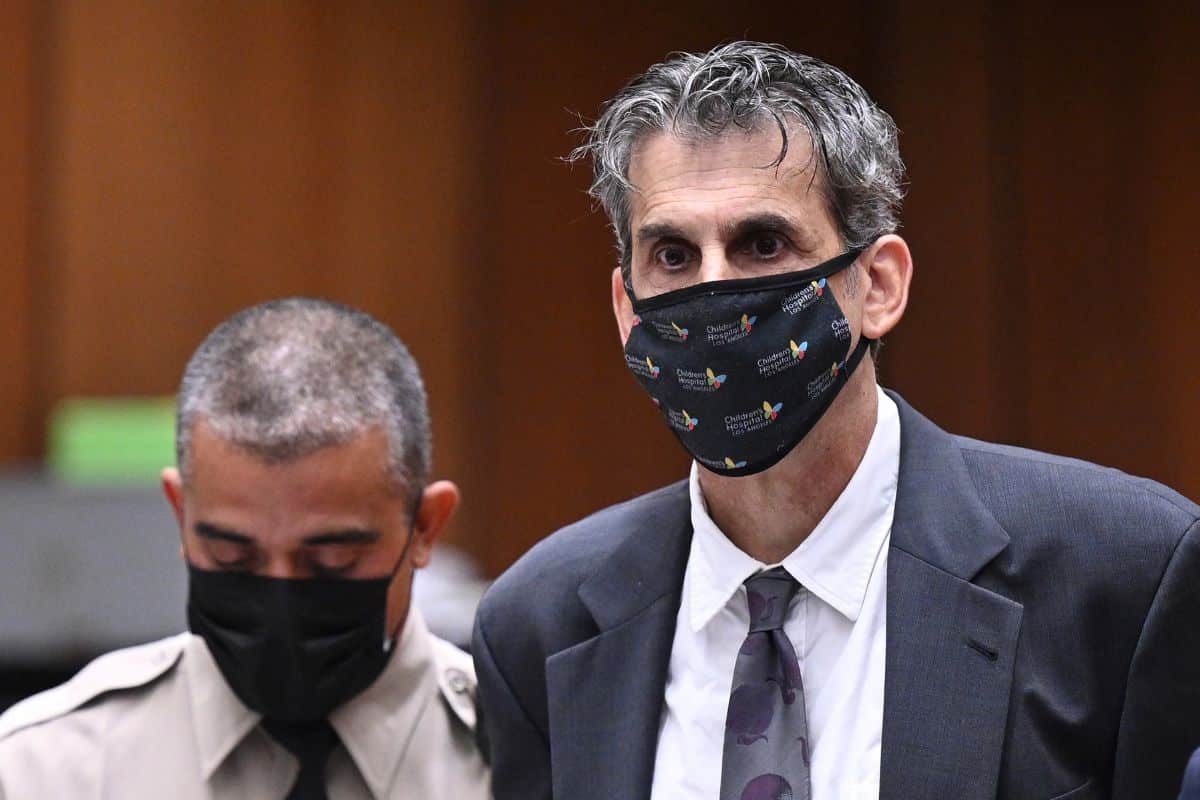 The woman says that Weinberg complimented her looks and asked if she was an actress when he saw her on the street years later. He didn't seem to recognize her. She told him to leave her alone, and he allegedly got mad, grabbed her wrist, and tried to force her into her car. In later years, Weinberg is said to have talked to her two more times in public, and the lawsuit says she told the police about him and had to get security cameras put up at her home.
Another woman said that Weinberg met her on OKCupid and that they planned to meet at a bar for a drink. The woman says Weinberg put something in her glass, took her home, and raped her.
Weinberg was arrested in July and paid $3.225 million bail to escape jail. On October 5, he was charged, and his bail was raised to $5 million. He said he wasn't guilty. On October 25, the judge took away Weinberg's bail because the accusations against him showed that he "cannot and will not stop sexually assaulting women and is, therefore, a threat to their safety."
At the time, prosecutors said that more than 70 tips about Weinberg had been sent to the LAPD.
He is being kept at the North County Correctional Facility in Castaic at the moment. Weinberg was first arrested in 2014, but no charges were brought against him.
All of the plaintiffs are being helped by lawyers from Oakland named Micha Star Liberty and Amy Zeman.
Weinberg and his company, Guitar and Pen Productions, are named as defendants in the lawsuits.
From 2001 to 2006, Weinberg worked on "Scrubs." He was also involved with the shows "Veronica's Closet," "Californication," and "Anger Management."
Related Stories Recommended By Writer: