Doki Doki Literature Club has gained quite a reputation for its unexpected and chilling story turns. One of the standout moments in the story centers around Sayori, a key figure, and the protagonist's close friend. Let's explore Sayori's journey, the factors that shaped her destiny, and how it resonated with the game's players and fans.
How Did Sayori Die?
In Act 1's conclusion, despite the protagonist's decisions, a tragic event involving Sayori takes place. She becomes absent from school and unresponsive to any attempts to reach her. When the protagonist visits her room, a devastating scene awaits. The game then crashes and Sayori's character file is corrupted and deleted when it starts up again.
Monika, the club head and the game's hidden bad guy, says that Sayori did not die quickly or without pain. In Act 3, Monika says that Sayori didn't jump from a higher place but instead stepped off a chair to hang herself. This made her slowly choke, and she tried to claw at the rope to get free, cutting her hands in the process. Monika thinks that either Sayori changed her mind too late or her reflexes to stay alive kicked in.
Sayori's tragic end wasn't a sudden twist of fate. Her deep sadness, which she tried so hard to mask, played a role in it. Throughout the first part of the story, there are subtle clues indicating she's not genuinely cheerful. For instance, she often hits the snooze button too many times, skips meals in self-deprecatingly jest about herself, and pens down her raw emotions in poetry.
The day before the heartbreaking incident, she confessed to the protagonist about her long-standing feelings of worthlessness and believed that he might
Who is Sayori?
Sayori is a central figure in the game "Doki Doki Literature Club!" She holds the title of Vice President within the Literature Club and shares a history with the protagonist, having been close friends since childhood. Players have the opportunity to craft poems with her in mind.
Visually, Sayori sports a distinctive coral-pink hairstyle that reaches her chin, curling slightly at its ends. A noticeable red bow adorns the top left portion of her head. Like her female peers in the game, she has a pair of notable hair strands framing her face, and her eyes shimmer in a clear sky-blue hue. Among the characters, her stature is modest, standing taller only than Natsuki.
While at school, Sayori dons the typical female student attire, which includes a grayish blazer left open, a white blouse with a slightly askew collar, coupled with a brown vest and a slightly askew red tie. This ensemble is paired with a dark blue skirt, reaching above her knees, and she completes the look with white socks that extend to her knees and pale school shoes with a hint of blue.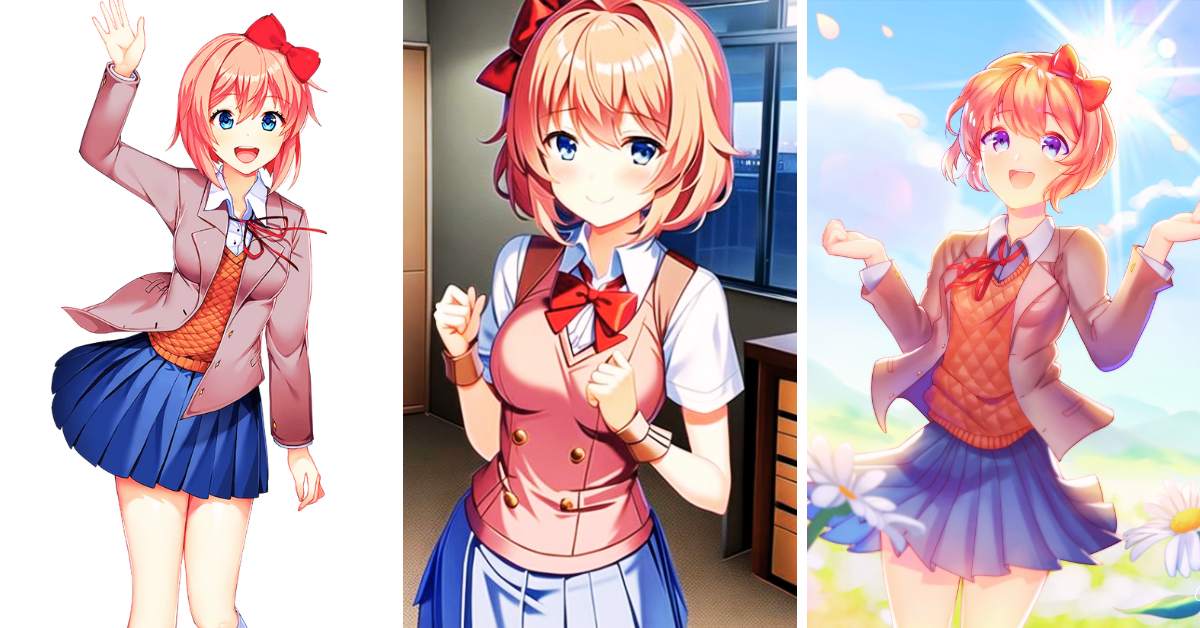 Outside the school setting, Sayori opts for a casual look: a pink top with sleeves pushed up and blue shorts. On a particularly somber morning, she's spotted in a white dress shirt with brown accents and two pockets, coupled with fitting red shorts. She didn't wear any footwear on that day.
Why Did Sayori Die?
Sayori's death was caused by both her sadness and Monika's trickery. Monika becomes aware that she exists within a virtual environment and believes she's different from the rest. She feels that her real bond is with the participants. This makes her deeply fond of them. To guarantee she's the center of their focus, she'll do almost anything, even if it means others might get hurt.
Later on, Monika admits to intensifying Sayori's struggles, leading to tragic consequences. She did this by changing some of Sayori's behavioral traits in her character file. Sayori's sadness got so bad that she couldn't handle it, and she became more obsessed with and dependent on the main character.
She made her realize her role in the situation, causing her to question her place and purpose. Monika aimed to push Sayori to a breaking point, hoping she'd confess her feelings to the protagonist or be overwhelmed by despair. She also saw that deleting Sayori didn't make him forget about her or stop loving her.
You might also be interested in reading about the next episode of an anime series or the next chapter of a manga. If so, check out the posts below:
What Impact Did Sayori's Death Have?
Sayori's death changed the game and the players in a big way. Sayori's death in the game set off a chain of events that showed that Doki Doki Literature Club is really a scary game. Monika kept deleting or changing the other characters and their files, which made the game less secure and less bug-free without Sayori.
In Act 2, Yuri stabbed herself to death, and Natsuki was abused and neglected, making the game darker and more brutal. At some point in the game, Monika removed everything except herself and the player. This left them in a void where they could talk forever.
Sayori's death shocked and upset many players who liked her character and had grown attached to her. Some players even felt guilty or responsible for her death because they thought they could have stopped it by picking different options or writing poems for her. Some players also felt like Monika had cheated them or angered them by killing her and ruining the game. But some of the players also felt sorry for Monika because they knew she was lonely and wanted to be loved.
Sayori's death was one of the most shocking and sad parts of Doki Doki Literature Club since many players thought they were playing a cute and innocent love sim. It also made me think about free will, morality, truth, and love in a virtual world.
If you want to check out other new Anime details, you can join us on our Twitter account.