The game mode was in the first version. It added a long, new story to the game and revealed some secrets about a character who wasn't Leon Kennedy if that's your thing. The unlockable modes after the main game are one of the best parts of the Resident Evil series. Since Resident Evil 4 didn't have a second character playing, Separate Ways gave people another way to enjoy the game after the main game.
Ada Wong first shows up in Resident Evil 2, which is one of the best PC games of all time. Every time she does, she gets in Leon Kennedy's way, and she's mostly there to irritate our hero.
She does a lot of the same things in Resident Evil 4 Remake. She pops up in moments and makes snarky comments, so it's natural to wonder what she's doing the rest of the time while you're killing the bosses in the horror game. So, that's what this game mode was supposed to do. Does Separate Ways show up in Resident Evil 4 Remake, and when will Resident Evil 4 Separate Ways come out?
Resident Evil 4 Separate Ways Release Date
On September 21, 2023, Separate Ways came out. It can be played on all the same devices as Resident Evil 4 Remake, which are PlayStation 4, PlayStation 5, Xbox Series X|S, and PC. Ada Wong and Albert Wesker can also be used as playable characters in the Mercenaries game.
Resident Evil 4 Separate Ways Gameplay
As downloadable content for Resident Evil 4 Remake, it retains most, if not all, of the gameplay mechanics from the original game. You will use Ada Wong in place of Leon. As Ada, players will have access to a number of items Leon does not. Ada has access to a crossbow, which can fire explosive bolts, rather than an elemental bolt thrower. Ada's arsenal also includes a grappling hook, which players presumably saw her use during the game's initial playthrough.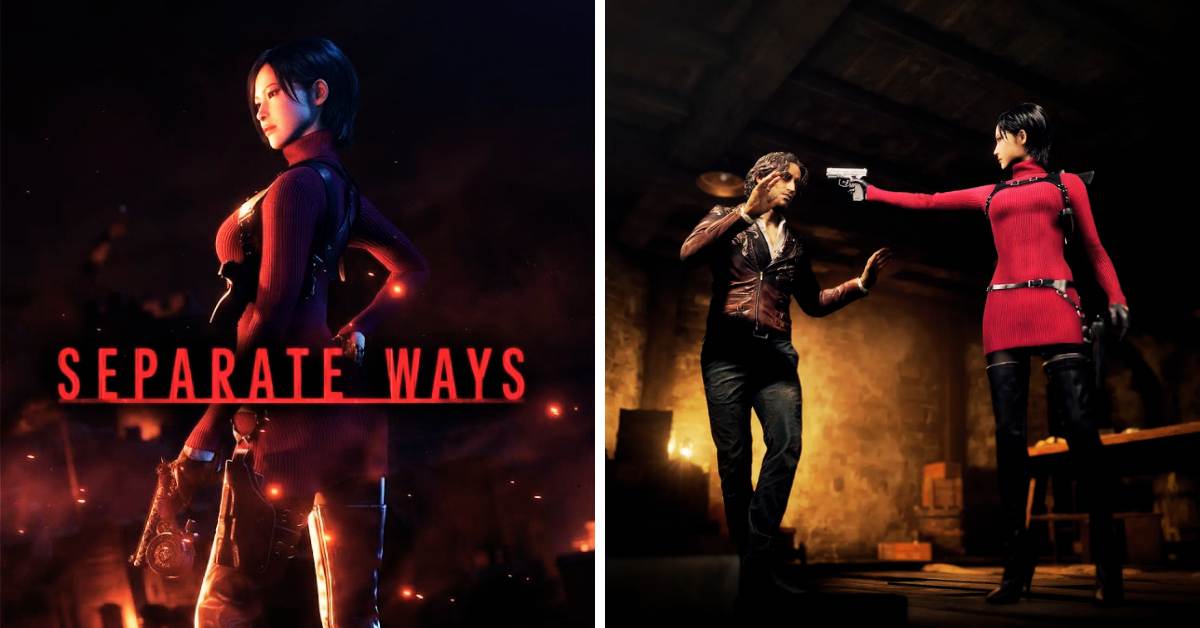 Two uses are possible for the grappling hook. First, it enables Ada to reach locations that are either too far or too high for her to reach using conventional methods. This enables her to traverse distances and scale structures, among other things. Combat is the second application of the grappling hook available to players. Ada can pull herself toward downed foes to deliver the finishing blow, or she can remove enemy shields to make it simpler to shoot them.
Take a look at the Twitter post below about Separate Ways Resident Evil 4:
Separate Ways is a worthy counterpart to Resident Evil 4's fantastic story, providing an excellent remix of both new and familiar locations, and its breakneck pace of pitting you against excellent adversaries never leaves room for a dull moment. https://t.co/yDJZZS428X pic.twitter.com/AJW6zCN8tx

— IGN (@IGN) September 22, 2023
She can also use this ability in conjunction with her movement, as she can grapple an opponent to a ledge in order to swiftly dispatch them.
Ada is able to evade significantly less than Leon, which is a minor but significant detail. When Leon employs his dodge ability, he ducks under hostile attacks. Ada, however, is able to reach the floor when she performs this action. This enables her to evade a more comprehensive array of enemy attacks, something Leon will likely be unable to do.
As in the original game, Ada will occasionally join up with NPCs. This DLC's primary non-playable character appears to be the fan-favorite Miguel, who accompanies Ada on some of her excursions.
Here, you can also gain knowledge about recent upcoming games via the below link:
Resident Evil 4 Separate Ways Plot
The Separate Ways DLC story goes along with the main game's story. Albert Wesker hires Ada Wong to find something called the Amber. This takes her to the same place in rural Spain where Leon goes to save Ashley Graham. She then goes back and forth between looking for Amber, helping Leon, and trying to find a way to stop herself from getting sick. She fights with Miguel, who offers to help her with her goal if she will help him get rid of the infection in Leon and Ashley.
Resident Evil 4: Separate Ways DLC Review
Resident Evil 4 starts with a really spooky vibe. In the beginning, we see Leon exploring creepy places until he reaches a scary village. But in the 'Separate Ways' extra content, things get intense quickly. We play as Ada Wong, and right away, we face a tough enemy. This side story is short but packed with action. It's fun and reminds us of the original game from 2005.
Ada's journey happens at the same time as Leon's mission to save the President's daughter in a distant Spanish village. Their stories cross at times. Ada is working for a mysterious person and has secrets that even fans of the original might not know. This makes her part worth playing.
In the original game, Ada often had to save Leon. But in this new version, her story feels more real. She has to decide between following orders and caring for her friends. This time, Ada's story gets more attention, and it's not just about showing what Leon did. It's more about her own challenges and choices.
Stay in touch with Thetecheducation.com to find out everything you need to know about games.