LinkedIn is much more than just a site to hunt for work. It's the go-to social site for businesses trying to make alliances, find their next hiring, and even maintain tabs on their competitors. However, if you want your organization to create a bigger impression, you must improve your LinkedIn SEO.
LinkedIn, like most social networks, has a search engine and an algorithm, which means you'll be fighting for attention with other businesses who use the platform. Fortunately, it simply takes a little effort to make your company's page stand out from the crowd. Continue reading for 5 LinkedIn SEO Optimization Techniques.
5 LinkedIn SEO Optimization Features
LinkedIn SEO entails more than just using the proper keywords. Here are a few things you may do to boost the SEO of your company's LinkedIn page.
1. Make your headline into an elevator pitch
Because your headline is one of the first things people will notice, it's tempting to make it extremely catchy.
While that is a terrific method to attract someone to visit your profile, it is not the ideal strategy to get your page in front of them. Instead, utilize terms in your headline that are relevant to your firm — or your sector. Keep it brief and to the point. You don't need five keywords; one or two would suffice.
2. Improve Your About Section
In the About section of your page, you can use up to 2,600 characters, which equates to 371 to 650 words depending on the terms you use. That's a lot of excellent SEO real estate, so make the most of it! If you're stuck for ideas, use a service like Google Trends to uncover popular terms related to your sector and include them into your About section.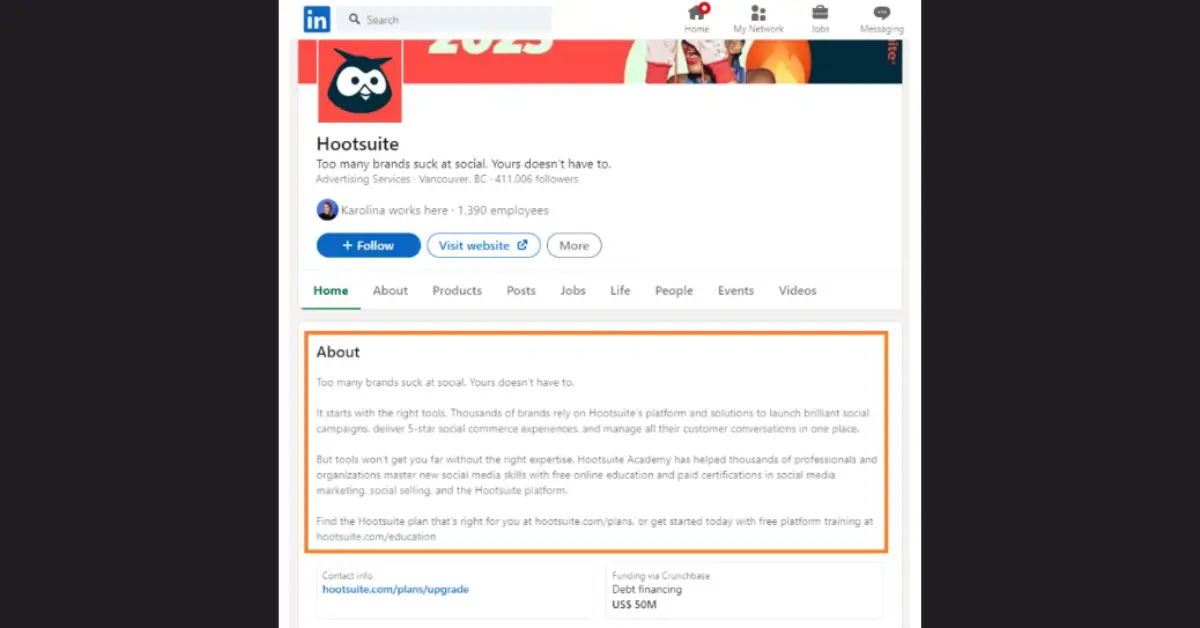 Make certain that you do this naturally! Use your About section to explain how your firm differs from the competitors, what makes your product a good choice for potential clients, and how you got to where you are. Then, just make an extra effort to incorporate such keywords into your work.
3. Personalize your URL
Did you know you don't have to preserve the original URL of your page? LinkedIn will create a default URL for your page that is merely a string of digits, similar to this:
www.linkedin.com/in/company-x/69845325
If you want to boost the SEO of your LinkedIn page, you can change the URL to include a keyword related to your sector. For example, if you specialize in social media marketing, you can edit your link as follows:
www.linkedin.com/company-x-social-media-marketing
If your organization is already well-known in your industry, using merely your name in the URL is also a good idea: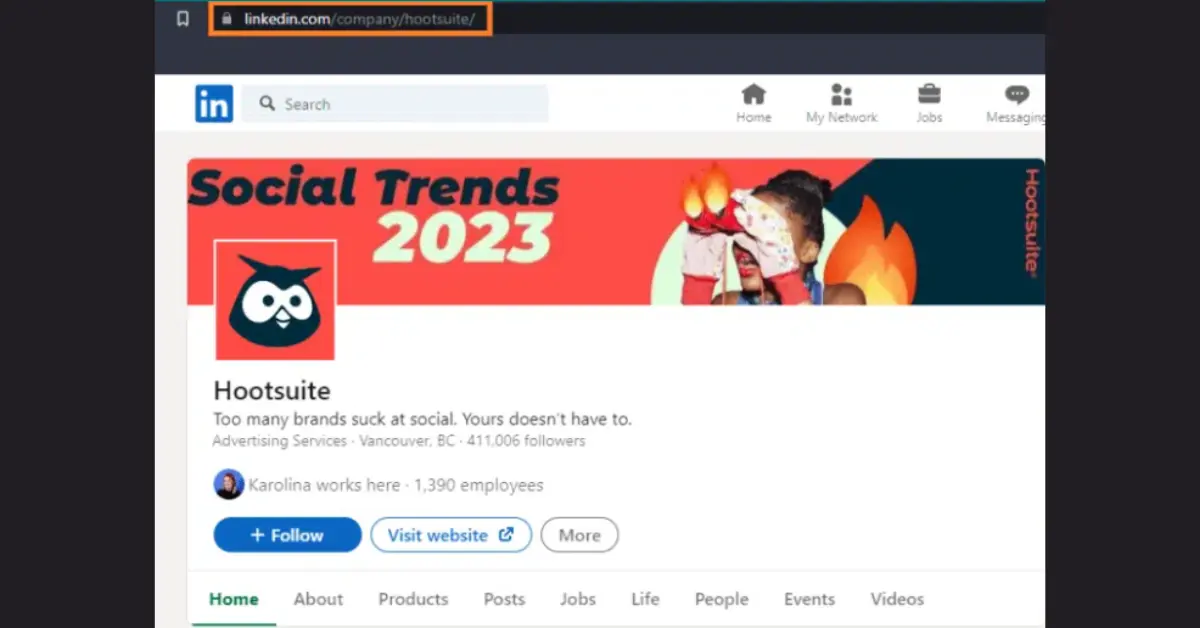 4. Create LinkedIn posts that are SEO-friendly
You've undoubtedly already done a lot of publishing and re-sharing on LinkedIn, but have you used the article feature? These longform postings effectively allow you to host your own blog on your company's LinkedIn page, allowing you to cover issues important to your business in greater depth than you might be able to in a post. These articles will also help you boost your SEO profile!
Assume your organization is involved in software integration. You may write articles on the tools that are in critical need of integration, making sure to include relevant keywords. This makes it easy to find these publications, and if you demonstrate your competence, your brand might become renowned as an authority on the subject.
To profit from early interaction, you'll also want to make sure you're publishing your content at the proper time (i.e. when your audience is most engaged on the site).
The optimum Time to Publish function in Hootsuite (located under Analytics) informs you the optimum times to post on LinkedIn (as well as Facebook, Instagram, Twitter, and TikTok). The recommendations are based on your previous performance and are suited to your specific audience and their social activity habits.
However, there is no "best" moment to publish for every situation. The Best Time to Publish tool goes above and beyond the competition by breaking down different suggested times for three important goals:
Build awareness
Increase engagement
Drive traffic
This allows you to match each piece of content to a specific business goals and optimize your posting schedule for maximum effectiveness.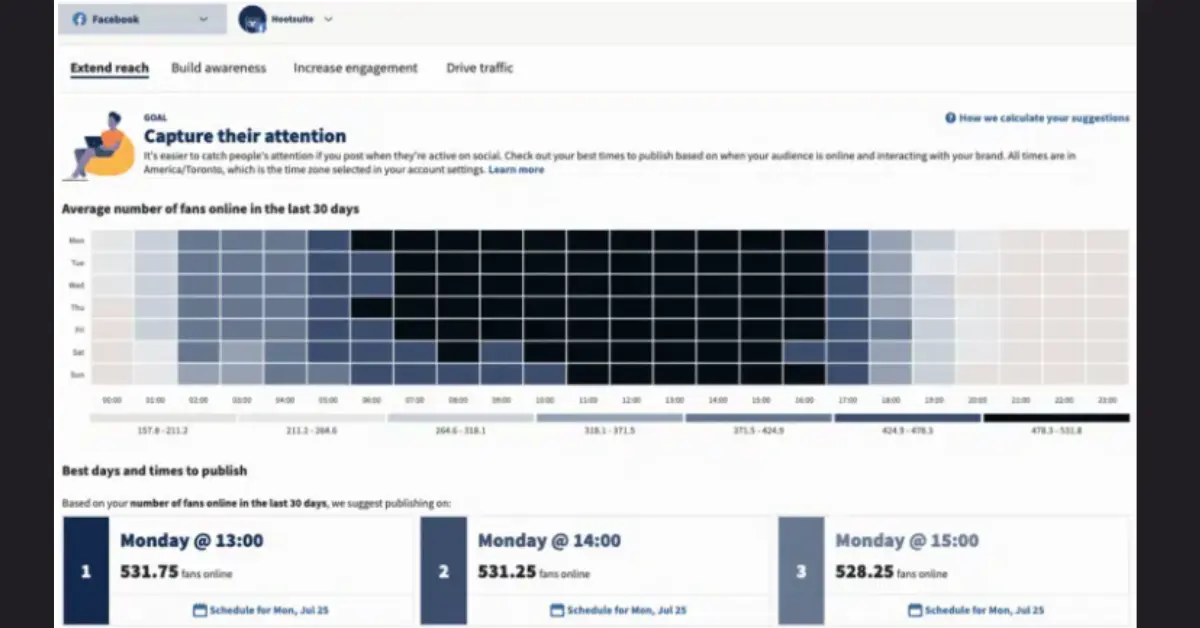 5. Maintain a thorough and up-to-date page
LinkedIn pages may be the most detailed of any social networking platforms, with a plethora of areas and options for information that other platforms cannot match. However, many LinkedIn organizations merely provide a brief paragraph and an image in the About area. That's a massive squandered chance!
Not only does the LinkedIn search engine prefer comprehensive pages, but each segment provides an opportunity to include keywords that will help your page rank better. Here are the fields on your page that you must fill out — and what you should put in them:
Your tagline: Remember that your tagline is effectively the elevator pitch for your page or profile. Keep it brief, but include one or two keywords that define what you do.
About: You have a lot of options here. You should perform some keyword research to discover precisely what you should include here, but it's a good idea to use this space as the LinkedIn SEO vehicle that it is. Describe what you do, how you do it, and what distinguishes you from your competitors.
Website: Include the URL of your company's website in this section. It may seem obvious, but it's easy to overlook a field or two.
Industry: Remember to include your industry here. It will make it easier for potential employees to find your company's page.
Specialties: This is a tremendous goldmine of SEO opportunity! You can insert a plethora of keywords here that immediately link your company page to high-value keywords that consumers search for.
Location: When you enter your postal code, LinkedIn will suggest the best possibilities for you, but you should think about it. For example, if your company is based in the Greater Toronto Area, you can select either the actual city (e.g. Burlington) or the area (e.g. Greater Toronto Area). Depending on your industry, one strategy may be a better SEO choice than the other.
Products: The Products tab is an excellent place to work some SEO magic no matter what kind of product or service you sell. When you add a product, you get a whole paragraph to explain what it does and how it works. Even better, LinkedIn users will be prompted to add your product as a talent to their own profile, which will increase your reach significantly.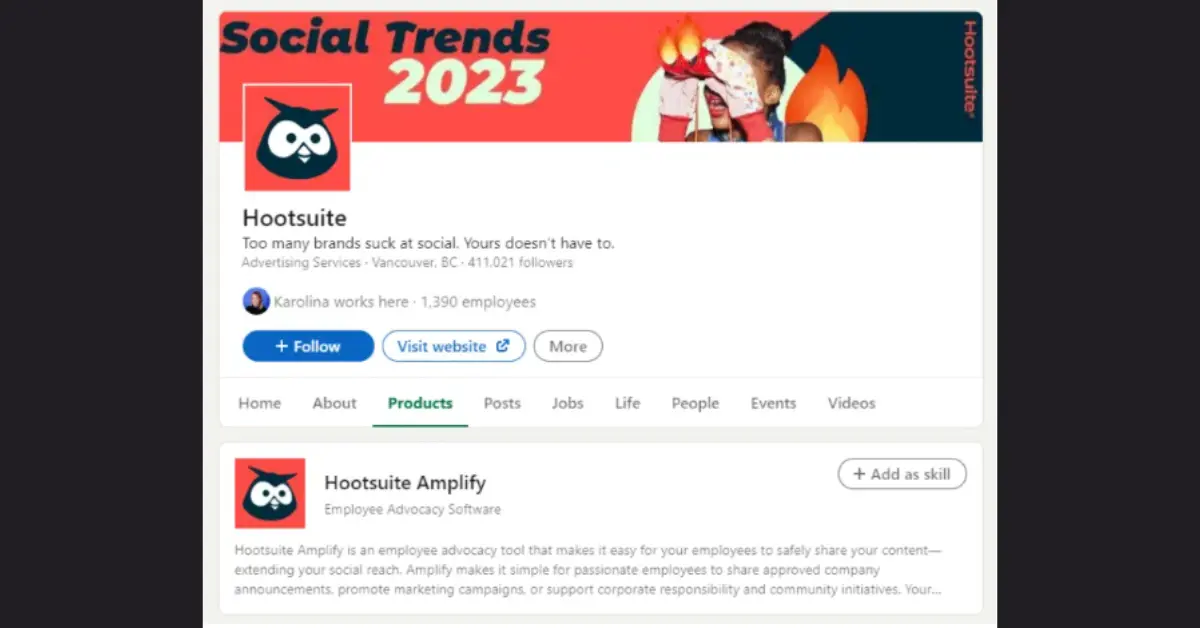 With these methods, your LinkedIn page will appear at the top of search results, and you will receive so many messages from potential connections that it will become its own problem. You can read more about the significance of LinkedIn in search engine optimization (SEO) in the below section.
Why Is LinkedIn SEO So Important?
SEO is all about making material more accessible to search engines. You may increase the likelihood that individuals searching for those keywords will land on your page by selecting the proper keywords and optimizing your content to reflect them (for example, by using them in titles).
LinkedIn SEO is all about using keywords that effectively represent the subject matter of a profile, a corporate page, or your updates. If your company specializes in social media marketing, for example, you should use keywords like "social media consultant," "social media marketing services," and "social media management."
Because there are so many organizations on LinkedIn competing for the same client base's attention, LinkedIn SEO can make a significant difference. Either your competitors or you will appear first in search results.
We're always adding new content, so bookmark thetecheducation.com to stay up-to-date on the latest news and information.