There was a period when it was difficult to consider alternatives to BlackBerry in the smartphone market. At the beginning of the 2010s, there was no question about who held the dominant position in this field; however, that quickly changed.
As of now, BlackBerry is nearly wholly absent from the conversation over smartphones. Even after bringing its BlackBerry Messenger (BBM) platform to the App Store after the iPhone made up ground and then some, it was not possible to salvage any hope for the company.
BlackBerry as a corporation is still around, however, it does not produce mobile devices any longer. On the other hand, new BlackBerry phones are on the way. The stock of BlackBerry has also increased. Look at whether BlackBerry is still in business.
Is Blackberry Still In Business?

Phones Demise

Blackberry fans are seeing the end of an era. On January 4 2022, the company that made the famous black phone with the QWERTY keypad made it clear that its software could no longer be used. This means that classic Blackberry phones that use the company's operating system will no longer work. Blackberry phones still have no production; there may be future production.
"As of this date, devices running these legacy services and software through either carrier or Wi-Fi connections will no longer reliably function, including for data, phone calls, SMS, and 9-1-1 functionality," said the company in a statement dated December 22, 2021.
We will check BlackBerry's new business in the next paragraph.
What Are They Doing With BlackBerry These Days?
BlackBerry is typically connected to phones. And that's okay since BlackBerry, or RIM as it was formerly called, used to sell more than 50 million phones annually, making it the most prominent phone brand in the world. BlackBerry had the world's fastest growth rate in 2009, which shows how quickly things can change in the mobile industry.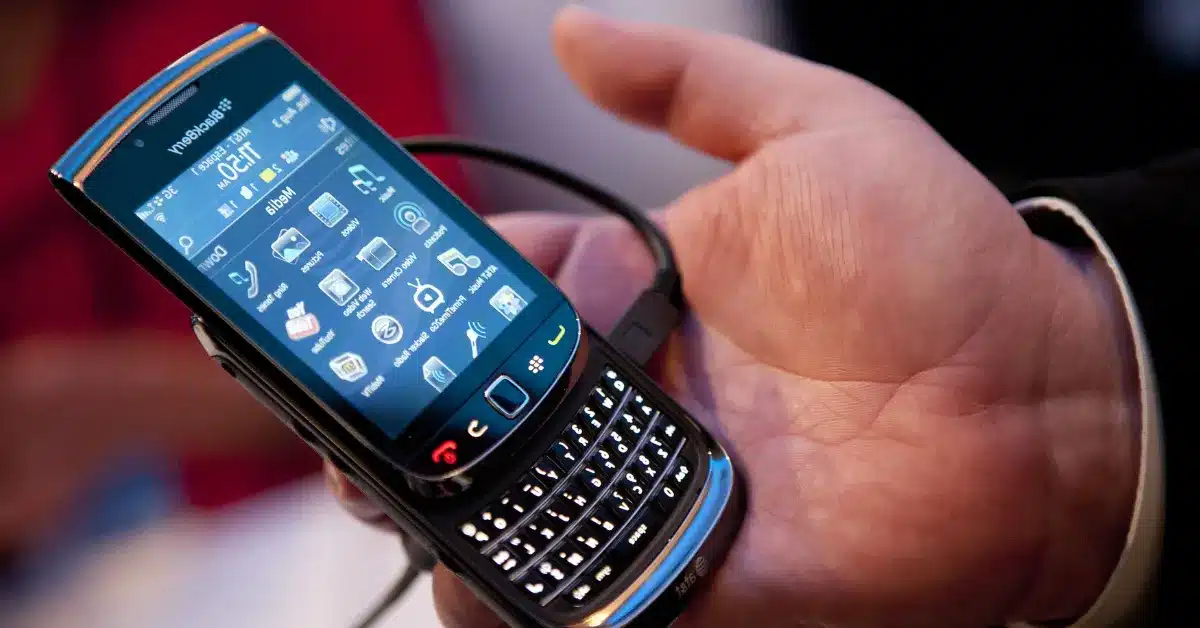 BlackBerry now works in the security industry. Although the company's roots have always been in security and privacy, it currently devotes all of its attention to creating software and SAAS products for major corporations. BlackBerry also purchased the AI business Cylance in 2019, giving them a stake in the AI market. Next, see what kind of products BlackBerry is working on.
QNX Lives On- Just Inside Automobiles, Aircraft, and Heavy Equipment
BlackBerry formerly introduced BlackBerry 10, an operating system run by QNX that was created to compete with iOS and Android. Technically, BB10 was a great platform, but tragically, because of its lack of developer support, it could not take off in the market.
The absence of essential programs like Facebook and Instagram, which we all take for granted, significantly hampered the uptake of the new platform and the phones that ran it. However, this is to be expected. Even if you built a medium superior to Android and iOS, it would still fall short because they are the dominant players in the mobile market.
To succeed, you need a robust platform (which BB10 was), a large community of devoted developers, a wide variety of apps, and all the bells and whistles that contemporary phone consumers take for granted. BlackBerry only possessed one of these components with BB10—a fantastic mobile operating system.
After BB10 was abandoned, BlackBerry shifted its focus, and the QNX platform started a new chapter as a commercial operating system for various industries, including aerospace and defense, automotive, commercial vehicles, heavy machinery, industrial controls, medical, rail, and robotics.
Embedded developers across a range of industries rely on our foundation products including our deterministic microkernel real-time operating system (RTOS), software development platform, and hypervisor. Our safety-certified products can accelerate certification efforts. And our security solutions including our over-the-air solution for secure software updates and a unique binary code analysis solution can help you build more secure systems. We also offer middleware solutions like sensor frameworks and acoustic management to boost your development efforts – BlackBerry
More recently, as recently as this week, BlackBerry secured a partnership with Amazon's AWS, causing BlackBerry's share price to rise for the first time in a long time.
We can't imagine life without mobile and technology. We have some important information about the phones are given below:
BlackBerry IVY
The agreement with Amazon is to develop IVY, BlackBerry's new intelligent vehicle data platform. BlackBerry's stock increased by 65% when the deal was announced.
BlackBerry will improve IVY's capabilities and performance by leveraging AWS's Internet of Things and machine-learning platforms. The entire package will then be marketed to car manufacturers for use inside their commercial vehicles, paving the way for the next generation of intelligent smart cars.
An IVY-powered system installed in a car will assess driver patterns and behaviour, access routes and weather in real-time, provide information and alternative routes based on traffic and weather, and even share electric car battery data with third parties.
The latter feature is particularly intriguing because it will allow electric car drivers always to know how much power they have and where the nearest charging spot is. While the system has not yet been deployed, it has enormous potential for the consumer car industry and numerous defence and military uses.
So, while BlackBerry no longer manufactures phones, it has been highly active recently. Maybe it's time to change the way people think about BlackBerry. Investors are optimistic about the company's possibilities, and I'm excited to watch what happens with its IVY platform. We'll read on when the bad days of the Blackberry began.
How Far Has BlackBerry Fallen?
Because of BlackBerry's strong position in this market, its decline was more dramatic than LG's smartphone failures. BlackBerry had a 33.2% share of the smartphone market in the United Kingdom in December 2011. Within two years, however, that had dropped by nearly half to 17.44%.
BlackBerry has fallen even more into obscurity in the United Kingdom since the end of 2013. According to the same survey, BlackBerry handsets now account for only 0.01% of the UK smartphone market as of May 2021.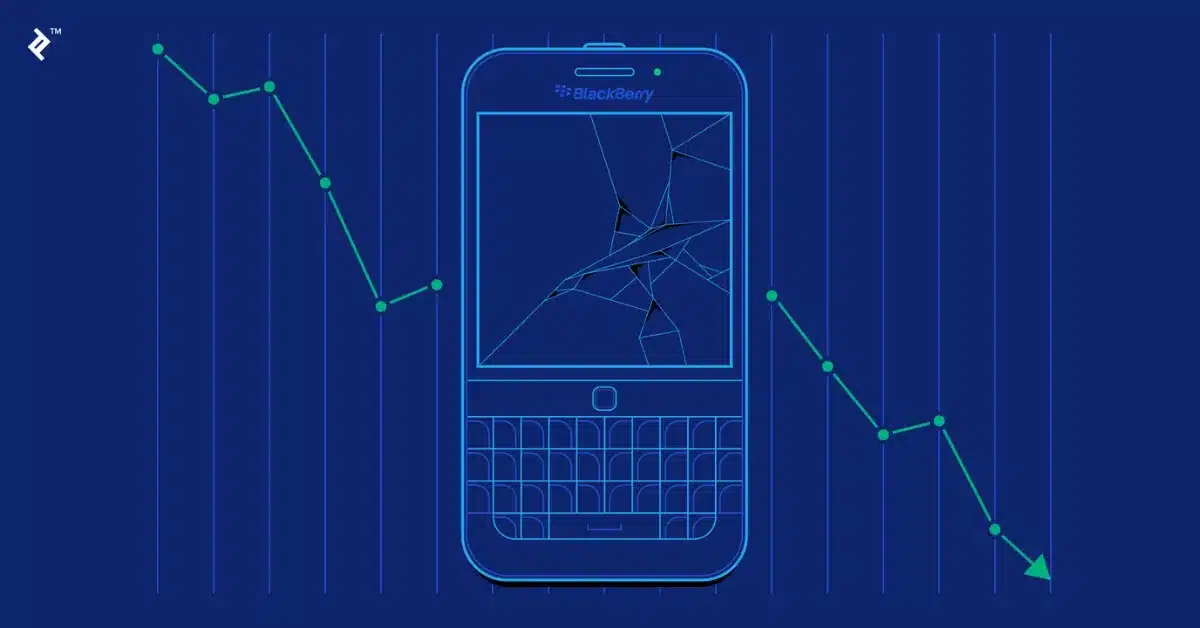 BlackBerry's global collapse has been equally stunning. Only 210,000 devices running its operating system were sold in the fourth quarter of 2016. That was far worse than the previous quarter, with fewer than 907,000 devices shipped and a 0.2% market share. Further, you will check the reasons for Blackberry's downfall.
The 3 Reasons Why BlackBerry Declined So Badly
BlackBerry's decline has been stunning; this magnitude does not occur overnight. In most cases, failures of this kind are the culmination of poor choices made over several years.
So, where exactly did BlackBerry make all of its mistakes? In the following, you will find three possible contributors.
1. Inability to Adapt
BlackBerry's inventiveness kept us all on our toes during its heyday. BBM revolutionized instant messaging, and its devices also aided in accelerating smartphones into what are now basically portable mini-computers. But, in the end, BlackBerry succumbed to its stubbornness.
One of the most prominent examples is the company's lack of innovation with the touch screen. Many users were content to continue with existing keyboards in the early 2010s, contributing to the BlackBerry Storm's failure.
The Storm's failure may have influenced BlackBerry's future phone decisions. Unfortunately for them, by the time Apple and Samsung's gadgets became more widely available, consumers were ready to embrace touchscreen technology.
BlackBerry's collapse could also be attributed to its failure to adapt in other areas, such as its camera. And, as we can see now, many smartphones have cameras that can compete with DSLRs and mirrorless cameras.
2. Ignoring its Competitors and Losing its Core Market
Another reason BlackBerry's fall from favour was so precipitous was that it paid insufficient attention to BlackBerry-created phones for enterprises. As a result, it did not consider the iPhone to be a direct rival.
BlackBerry's intention to cater to business users was apparent in the design of its devices. You could respond to emails, send instant messages, answer calls, and browse the web, but you couldn't do nearly as much as even the first iPhones allowed.
On the other hand, the other smartphone behemoths looked to the everyday customer for the smartphone's future. Their devices were about convenience and accessibility, two things that, ironically, people working for large corporations also want from their devices.
Consumer-oriented phones became more common in professional situations as time passed. They could also accomplish everything that BlackBerry handsets could, plus some. As a result, the only way out was down.
3. The BlackBerry Operating System
Despite obvious shortcomings, another major cause for BlackBerry's demise was its devotion to its operating system. One disadvantage of BlackBerry's early operating systems was the limited number of apps available for download compared to Apple and Android devices. With these technologies, you could and still can acquire almost whatever you need on your smartphone. And, while BlackBerry finally let more popular programs into its app store, the damage had already been done.
BlackBerry users disliked their app store for a variety of reasons. It was not user-friendly, and app layouts also hampered user experience. Customers also reported a variety of performance concerns, including lagging and freezing.
Keep up with further information and the latest developments in new technology by checking out thetecheducation.com.