Almost all smart devices connect to a WiFi network after you've logged in once. If you forget your WiFi passwords these days, it is very easy to do that. While iPhones don't have a built-in feature to easily show your WiFi network's password, there are workarounds. iPhone users can find their WiFi passwords in several ways. This is how to do it.
How to See WiFi Password in Router Settings
How to Obtain Access to an Unknown WiFi Password
Show Personal Hotspot Wi-Fi Password
Share WiFi Password on iOS 11 and Up
Find WiFi Password on Jailbroken iPhone
Access WiFi Password on iPhone Via Third-Party Apps
Read more:
To see the Wi-Fi password you are currently connected to, follow the steps below.
1. Navigate to the Settings > Wi-Fi
2. Click the i icon that is next to your network.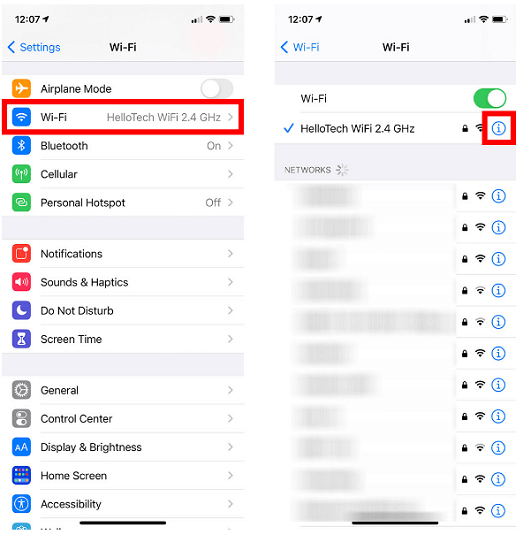 3. Press and hold the number next to the router for a long time. Then copy and paste it into a browser on your iPhone. If you get a warning that the connection isn't private, click Advanced > Proc to see how to make it private.
4. Type in your router's username and password to get in, then click "OK." In this case, the Wi-Fi password and username are not the same as your iPhone password and username. It might be written on the router.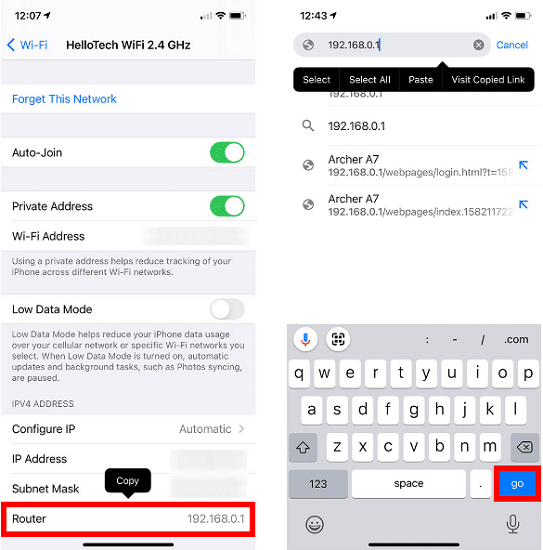 5. On the left side of your screen, click on Wireless. There could be a lot of different ways to do this depending on what kind of router you have.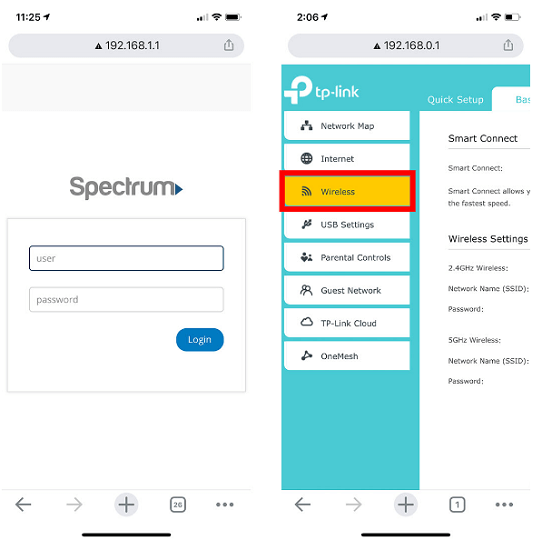 6. The password will be visible directly below the network name. You can modify or save it.
How to Obtain Access to an Unknown WiFi Password:
If your internet provider configured the Wi-Fi network, you can view the Wi-Fi password by following the steps below:
Look on the router for a label that may include the default network name and password. Conduct a search on the router's side or bottom.
Verify the configuration document provided by the internet provider, if applicable.
Contact your internet or cable provider for assistance in resetting or recovering your Wi-Fi password.
If someone helps you in configuring the router, you can seek assistance from that individual.
Additionally, you may determine the brand of your router by visiting its manufacturer's website and searching for the router's default password. To reset your router's password, contact your internet provider or consult their website for a user manual.
To connect to a public Wi-Fi network, follow these steps:
Look for information sheets that may include the Wi-Fi network's name and password.
Request assistance from any staff member in obtaining the Wi-Fi password required to get into the network.
Locate the Wi-Fi password for your personal hotspot?
This is another option for viewing your Wi-Fi password. Simply follow the steps below:
On your iPhone, navigate to Settings.
Select "Personal Hotspot" from the menu.
Click the next button to enable Personal Hotspot.
The password will be displayed in the Wi-Fi password menu.
On iOS 11 and Later, you can share your Wi-Fi password:
This technique enables you to share your Wi-Fi password with a friend. Ensure, however, that both devices are running iOS 11 or later versions, that your friend's Apple ID is saved in your Contacts app, and that both devices have Bluetooth enabled. The steps are as follows:
Bring the two iPhones in closer proximity to one another.
At the bottom of the popup that opens up on your iPhone, click "Share Password."
Your Wi-Fi password will be shared with the iPhone of your friend.
On your iPhone, tap "Done."
Using the shared password, your friend will be able to connect to the Wi-Fi.
How to Locate the Wi-Fi Password on a Jailbroken iPhone:
If your iPhone is jailbroken, you may view the Wi-Fi password using Cydia Tweak: NetworkList. Take the following steps:
Navigate to Cydia and install the tweak NetwokList.
Click the Springboard to restart your iPhone's home screen.
Navigate to Settings > Wi-Fi > Known Networks and display a list of all the networks you've signed into, along with their associated passwords.
Third-Party Apps to Assist You in Accessing Your iPhone's Wi-Fi Password:
Some third-party tools can help you see your Wi-Fi password on your iPhone; however, installing the apps may be impossible if your iPhone has not been jailbroken.
iSpeedTouchpad
From your iPhone screen, open Cydia.
Type "iSpeedTouchpad' on the search bar and select the application from the found results.
After the installation is complete, go back to Cydia and return to the home screen.
Run iSpeedTouchpad to search for the networks you had connected to. If you see the network that you want to know the password to, click on it.
Speedssid
This app can help access the password of a network you are not close to by following the following steps.
Search for Speedssid on Cydia and tap on it to install it.
Open the app and follow the displayed instructions to see your Wi-Fi password.
DIssid
This is another app that can help you find the Wi-Fi password, mainly if you use D-Link wireless routers.
The app tracks any Mac network address that you provide, helping you to find the password.
In conclusion, this article discussed the numerous techniques for viewing your iPhone's Wi-Fi password. You could seek assistance if someone else connected the router for you. If you own the router, you can look for labels indicating the default password and username, or you can contact the router's supplier for assistance. Additionally, you can use the listed software to view the Wi-Fi password on your iPhone.
Regular Visit thetecheducation.com for more information!