The Colorado Secretary of State filed a lawsuit against the U.S. Postal Service on Saturday, cracking down on Postmaster General Louis DeJoy and other USPS officials ahead of the election mailer.
Early election mailers, intended to inform Americans about voting by mail. They advised voters to request a vote-by-mail ballot at least 15 days before Election Day and to return the official vote at least seven days in advance. However, those guidelines are not in line with Colorado election policies.
"These false statements will confuse Colorado voters. Otherwise eligible voters will mistakenly believe that they will not be able to participate in the upcoming election. Voter repression attempts to violate the United States Constitution and federal laws. They stopped immediately," the complaint, filed by Colorado Secretary of State Jena Griswold and filed in Federal District Court states.
The lawsuit alleges that electioneers raised concerns about the election before November. They accused some officials of attempting to crack down on voters. Official resources intended to assist voters with absentee and mail-in voting system. Some mailers from third party groups are confusing voters. USPS is sending mass mailers with voting information. In states like Colorado that conduct their elections entirely by mail-in ballots, the boilerplate information rendered inaccurate.DeJoy also blamed the changes to USPS, which caused extensive mailing delays. Democrats have scrutinized President Donald Trump's leadership, accusing him of abusing his power to benefit political ends.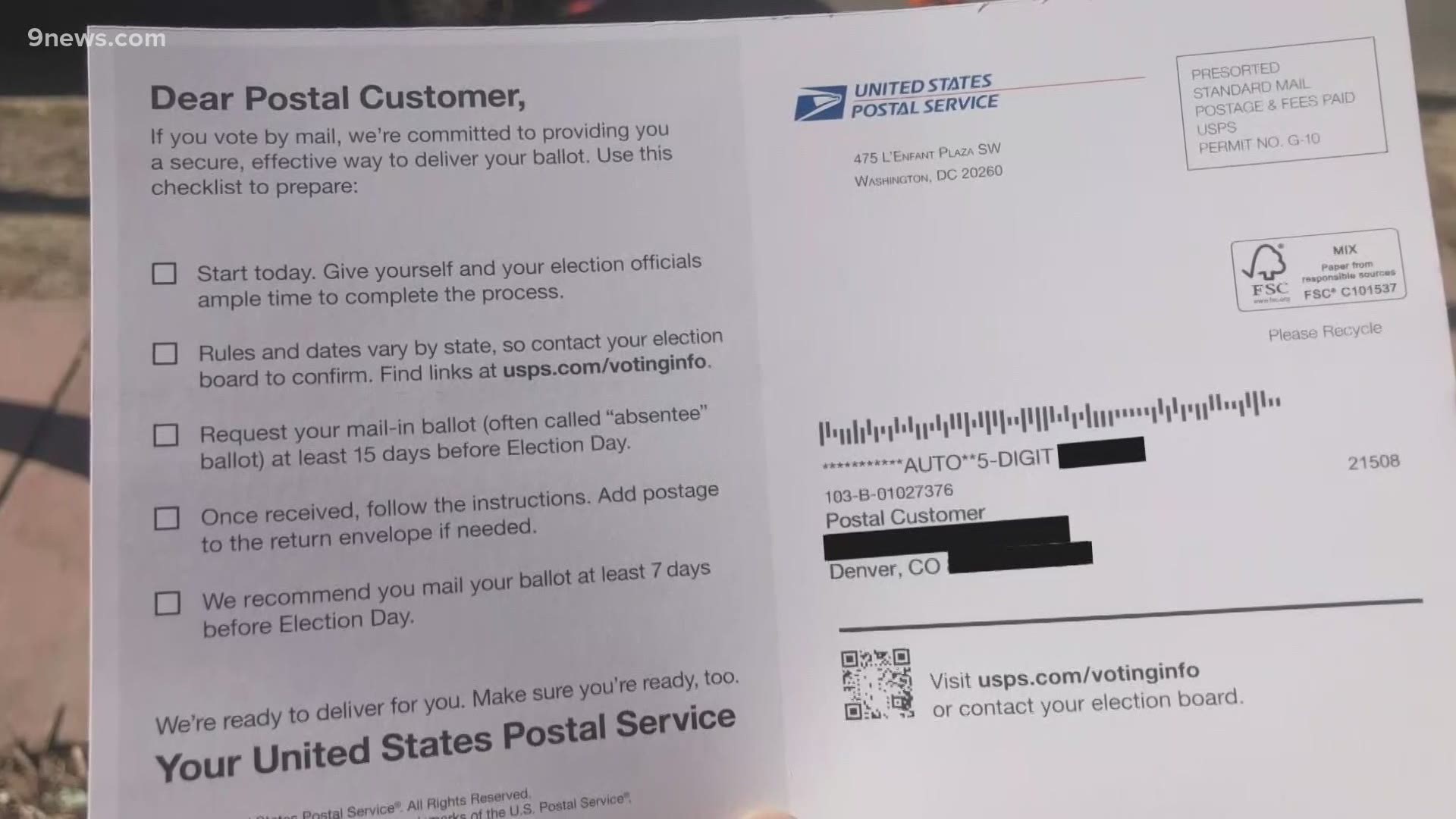 Colorado "means that some voters in a limited area of ​​Colorado have received this official notice or may receive it on Saturday, September 12th," the suite said.
Voters in the District of Columbia – eight states, including Colorado.  hold their general elections by mail and automatically send ballots to voters when they become available – have already begun accepting mailers.
Griswold has previously asked USPS not to send pre-election mailers to voters in his state that would not confuse. In a tweet on Friday, Griswold also asked Secretary of State for a mailing preview, but he refused.
"The foreign secretaries asked USPS Postmaster General DeJoy to review the draft before sending it to voters to verify the accuracy of the election information. But he refused. Now millions of postcards with misinformation are being printed and mailed to voters," Griswold said. In a statement on Saturday, Griswold noted previous attempts to stop USPS from sending mailers had not been successful. "My office asked USPS officials not to delay or send the mailer in Colorado. They refused to comply," she said, adding that the lawsuit was an attempt to stop the misinformation.