Christine McVie, who was in Fleetwood Mac and sang and played the keyboard, has died.
The following is what Christine's family said in a statement: "She died peacefully at the hospital this morning, November 30, 2022. She had been sick for a short time. She was spending time with her family. We ask that you give the family some privacy during this very sad time. We also want everyone to keep Christine in their hearts and remember the life of an amazing person and musician who was loved by everyone."
One of her bandmates Stevie Nicks talked about how sad she was about losing her "best friend in the whole world." She said she didn't know Christine was sick until this past weekend when she was told to wait.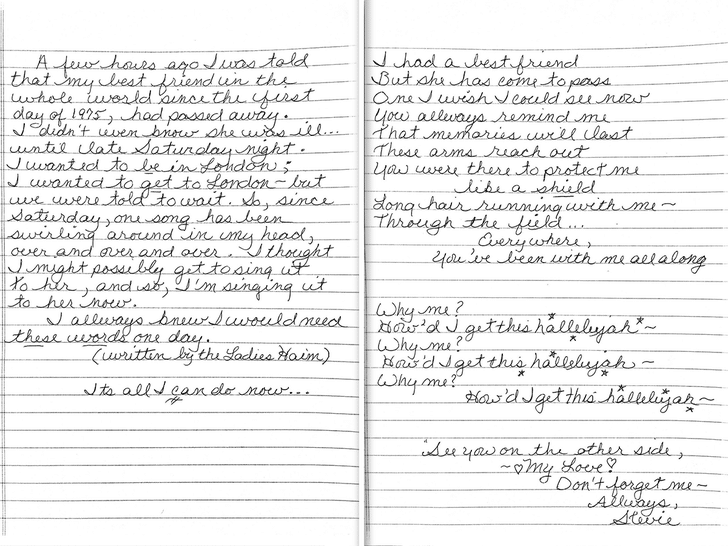 Stevie says that the HAIM song "Hallelujah" has been on her mind ever since she heard Christine was sick. "I always knew I would need these words someday," she says. She ends her letter with, "Love, I'll see you on the other side. Don't forget me."
Christine joined the band in 1970. They had been together since 1967. In 1998, Christine and the rest of Fleetwood Mac were inducted into the Rock and Roll Hall of Fame.
Christine also said she was leaving the band in 1998. She said her fear of flying and panic attacks were part of the reason. Before she put out a solo album, she had been "retired" for a few years.
Fans were glad that Christine came back to the band before 2014 On with the Show tour.
The group put out a statement soon after hearing that she had died "We are so sad about Christine McVie's death that we don't know what to say. She was truly one of a kind, unique, and incredibly talented.
She was the best musician anyone could have in their band and the best friend anyone could have. We were so lucky to have her as a part of our lives. We all loved Christine very much, and we are grateful for the wonderful memories we have of her. She will be missed so much."
We talked to Christine about the band's future and if they would ever get back together in 2019 in New York City.
Related Stories Recommended By Writer: