Bristol Palin is being honest about what she is doing and what she has done in the past.
On Wednesday, the 32-year-old mother of three posted a photo of herself wearing a compression bra and surgical drains after her breast reconstruction surgery on her Instagram Story. She said it was her ninth one to fix a "messed up" one she had when she was 19.
"Sharing wayyyyy [too much information] right now, but I had my 9th breast reconstruction surgery last night — yes, NINTH. All stemming from a botched breast reduction I had when I was 19 [years old],"  "Palin wrote on top of the photo.
"I've had previous surgeries trying to correct the initial damage of muscle tissue and terrible scaring," she added. "The whole situation has honestly made me very self-conscious my entire adult life."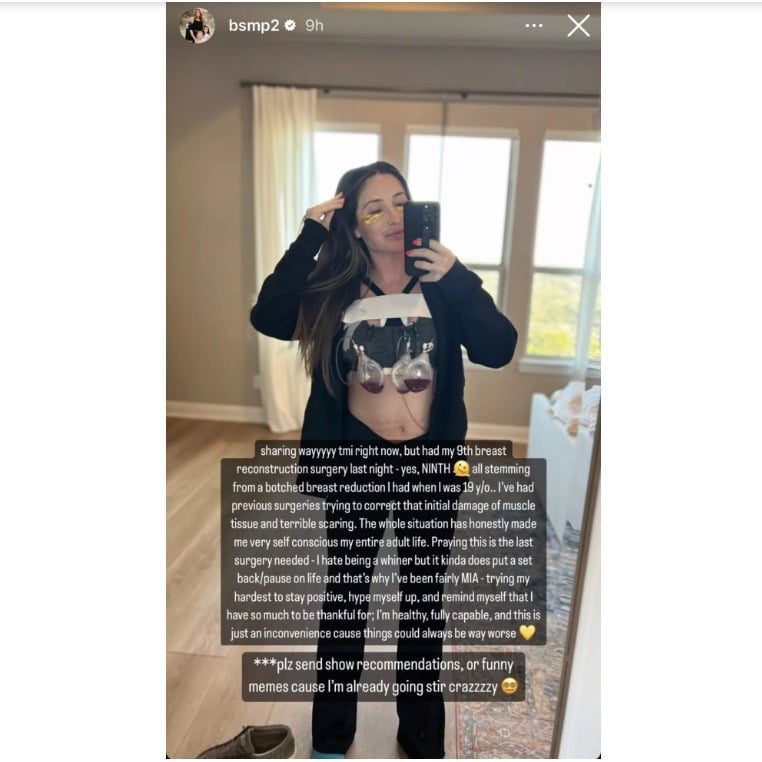 "Hoping this is the last surgery I need. I hate to be a whiner, but it kind of puts a pause/setback on life, which is why I've been pretty MIA," she told her followers when they asked why she hasn't been on social media much lately.
"Trying my best to stay positive, pump myself up and remind myself that I have so much to be thankful for," she said. "I'm healthy and able to do everything I need to do, and this is just a bother because things could always be worse."
Palin then asked her fans to send her suggestions for shows to watch and "funny memes because I'm already going stir crazy."
The former Teen Mom OG star has talked about how her surgeries have changed the way she looks on social media before. In March 2021, she posted a video showing the scars from a tummy tuck she said she had done years before.
"Let's get a reel for a sec. I post what I want y'all to see. From decent angles… and not from insecurities/scars," Palin wrote in the video reel.
"Here's something I don't talk about," she said, zooming in to show the scars on her lower stomach.
Palin wrote in the video: "Don't let this place make you compare your own worth and steal your joy." She captioned the post, "Way 222 easy to compare ourselves on here, just a reminder not to."
At the end of the clip, she gave her followers an encouraging Bible verse from Psalm 143:8.
At the time, Palin used her Instagram Story to answer some questions from fans about the surgery. During the IG chat, she said that Dr. Rose from Corpus Christi, Texas, did her tummy tuck. She called him "incredible," according to E! News.
According to the news outlet, Palin said, "It was done in early 2018." "I don't regret it. But getting better was undoubtedly the worst pain I've ever felt in my whole life."
Related Stories Recommended By Writer: