Blasphemous 2 is the straight successor to Blasphemous, a very intriguing title by The Game Kitchen, a small Andalusian development firm. The game's release date is approaching, and all fans of the first chapter will undoubtedly be eager to return to the series' dismal and dark environments.
Those who have also played the first chapter's expansions will know that the development team wanted to leave things very open and with many questions (we won't say anything else to avoid spoilers), but fortunately, this second chapter will be a direct sequel to the first chapter, so we will receive the answers we are looking for without any surprises.
As a result, we've chosen to write this post in which we share some information about Blasphemous 2 before it hits the market.
The Blasphemous 2 Release Date And Platforms
The Blasphemous 2 release date is one of the first things to know, and surely one of the most sought-after. For those who are unfamiliar, The Game Kitchen's game will be accessible on the global market on August 24, 2023.
Blasphemous 2 will be available to all PC, PlayStation 5, Xbox Series X|S, and Nintendo Switch gamers. Metroidvania also posted a Tweet about the Blasphemous 2 release date.
You can check out their Tweet below:
⚠Release date announcment⚠

Blasphemous 2 by @BlasphemousGame just announced a release date for their sequal!🥳

We will be able to take control over the penitent one once again on August 24th.⚔

The game will release for Steam, GoG, Playstation, Xbox and Nintendo Switch.🎮 pic.twitter.com/2HCPZSCqrE

— Metroidvania.gg (@Metroidvania_gg) June 8, 2023
Owners of the old consoles, PlayStation 4 and Xbox One, who have not yet upgraded to their respective next-generation consoles, will be unable to play the game.
Blasphemous 2 Storyline
The plot of Blasphemous 2 clearly follows the events of its predecessor and takes place after the Wounds of Eventide DLC, albeit the exact timing is unknown. The Penitent One has awoken yet again, but this time from what should have been his final resting place at the end of his voyage.
The Blasphemous 2 teaser teases where we're going: to a massive cathedral hoisted high above a big metropolis by three colossal sculptures, with a beating heart hanging in the sky above it. The reason for The Penitent One's resurrection is unknown, but it does hint at where we're going.
Within this heart is housed the Miracle Infant, a reputed sign of hope to bring the varied inhabitants of the region together shortly before birth. Given our previous encounters with The Miracle, we can't say we're convinced.
We expect The Penitent One to take up arms once more in order to halt this prophetic birth and, preferably, the cycle of suffering and punishment that has tormented The Miracle.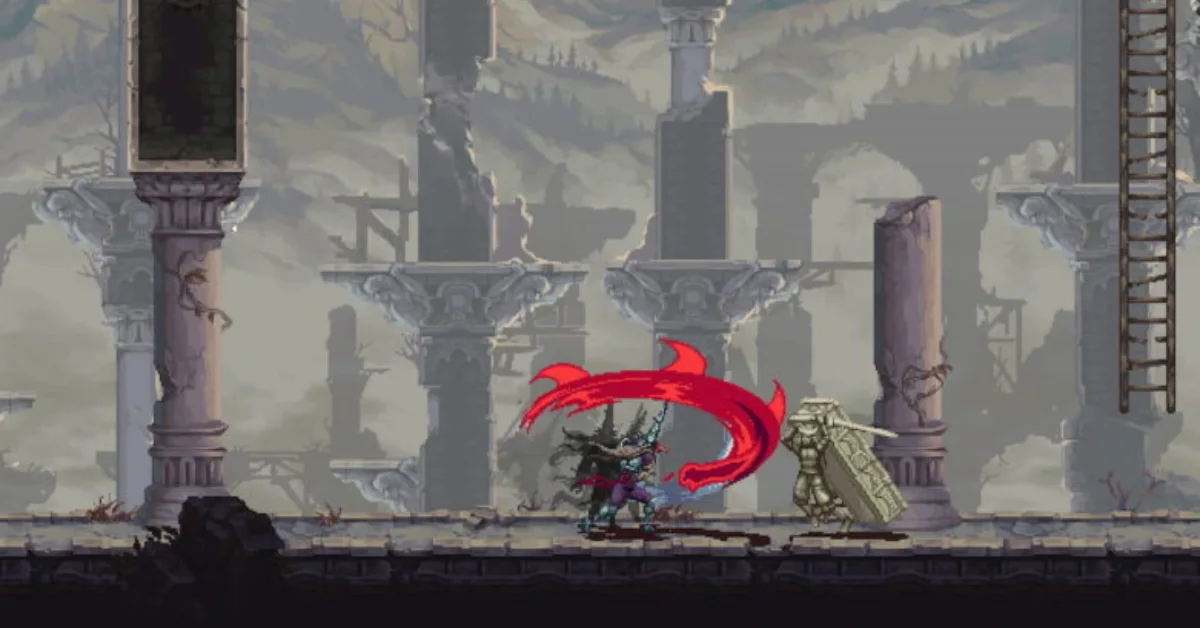 You might  also wanna read about these upcoming games:
Blasphemous 2 Gameplay
Blasphemous 2's gameplay is expected to be similar to that of its predecessor: punishing side-scrolling souls like packed with rich landscapes to explore and deformed adversaries to defeat. However, there have already been a number of confirmed changes that will be made in the sequel.
Blasphemous 2's gameplay will, in the words of producer David Erosa, "fall closer to the classic Metroidvania genre" than its predecessor, with a wider, non-linear region than we saw in Cvstodia.
We've seen a handful of the brand-new weapons in action in the Blasphemous 2 footage so far, which is another huge departure from the original game. The Penitent One can now use the Censer, Saber, Dagger, and Praying Blade in addition to the Mea Culpa, which is no longer his lone weapon in Blasphemous 2.
Although each of these weapons supports a particular playstyle, we believe that in order to complete our journey, we will be constantly switching between them.
The Penitent One himself is more customizable this time around, with the ability to widen your core skill set and obtain new talents to aid in both combat and exploration. We will undoubtedly seek any support we can get as we shred through The Miracle's twisted abominations and innocent victims.
Conclusion: Blasphemous 2, the direct sequel to the original by The Game Kitchen, continues the eerie saga. Releasing on August 24, 2023, for PC, PS5, Xbox Series X|S, and Switch, it follows the Penitent One awakening from his supposed final rest. Set in a non-linear world, it introduces new weapons and character customization. The story revolves around preventing a prophesied birth tied to the enigmatic Miracle. Expect the same punishing side-scrolling action amid haunting landscapes and twisted foes.
Thank you for being a part of our readers' community! Keep coming back to Thetecheducation.com for more engaging content.