Country music star Leann Rimes has been making hits for years. Her music career started when she was just a teenager, and over the years, she's seen a ton of success. On top of that, she's transitioned into acting and even met her husband on the set of a movie. But who is he? He's got a ton of credits to his name as well, but their relationship has a scandalous history. In this article, you will get all information regarding her first husband and current love life. So read the full article to know more!
Who Was LeAnn Rimes' First Husband?
From 2002 to 2010, LeAnn was married to chef Dean Sheremet. If you'll notice, there is an overlap between the time she was married to Dean and the time she met Eddie. Nothing is necessarily wrong with that, but news of LeAnn's relationship with Eddie broke when they were caught looking cute together at dinner in March 2009. Scandalous headlines followed, but the two brushed off any affair rumors.
Do You Know Who Eddie Cibrian Is?
He was born in the United States, but his family came from Cuba. Carl and Hortensia Cibrian, who were both from Cuba, brought their family to Burbank, California, where Cibrian was born. In 1959, when Castro took power, his father's family left Cuba and moved to the United States. Soon after, his mother's family left Cuba, and they met again when they were both living in California.
His big break came when he was cast in a daytime soap opera. In 1994, Cibrian started playing Matt Clark on The Young and the Restless. After leaving The Young and the Restless in 1996, Cibrian went on to play Cole Deschanel on the NBC soap opera Sunset Beach.
He has been in a number of movies and TV shows that were big hits. Cibrian is best known for his roles as Jimmy Doherty on Third Watch, Russell Varon in Invasion, Jesse Cardoza on CSI: Miami, and Eddie Valetik in Take Two. He has been in a number of Tyler Perry movies, such as Good Deeds and The Single Moms Club. Cibrian most recently worked with Katharine McPhee in Country Comfort, a Netflix sitcom that came out in 2021.
When Was Eddie Married To RHOBH Star Brandy Glanville?
Cibrian married model Brandi Glanville at the Ritz-Carlton in Laguna Niguel, California, in 2001. They met at a club in Los Angeles in the early 1990s. In 2003, they had their first son, Mason, and in 2007, they had their second son, Jake. He broke up with Brandy Glanville because he had an affair with Leann Rimes. In 2009, Us Weekly published photos of Cibrian and Rimes kissing and cuddling at a restaurant. This was the start of two messy divorces for both of them.
"It was devastating. I went straight home, passed out in my closet, cried and cried," Glanville wrote in an essay for The Sun. "He tried to convince me it wasn't real, but I knew it was over. They were sucking on each other's fingers in the footage, yet he was telling me nothing was happening. It was insane."
Rimes' husband, Dean Sheremet, was also blindsided by the affair. "Even though there was tension, we were still talking about the next chapter, about starting a family," he told Nat's Next Adventure. "I remember feeling earlier on like, 'I can't wait till 30. We'll have a kid. Slow down a bit.' Cut to it being a f–king disaster."
Related More:
Did Eddie Have A History Of Cheating Allegations?
Shortly after Cibrian was caught cheating with Rimes, Scheana Marie (who went on to become a cast member on Vanderpump Rules) came forward, claiming she, too, had been in a relationship with Cibrian. At the same time, he was still married to Glanville and also seeing Rimes, per Us Weekly. Marie sat down with Glanville in an emotional episode of The Real Housewives of Beverly Hills to get clarity around the details of the affair.
 When Did Eddie Cibrian Marry Leann Rimes?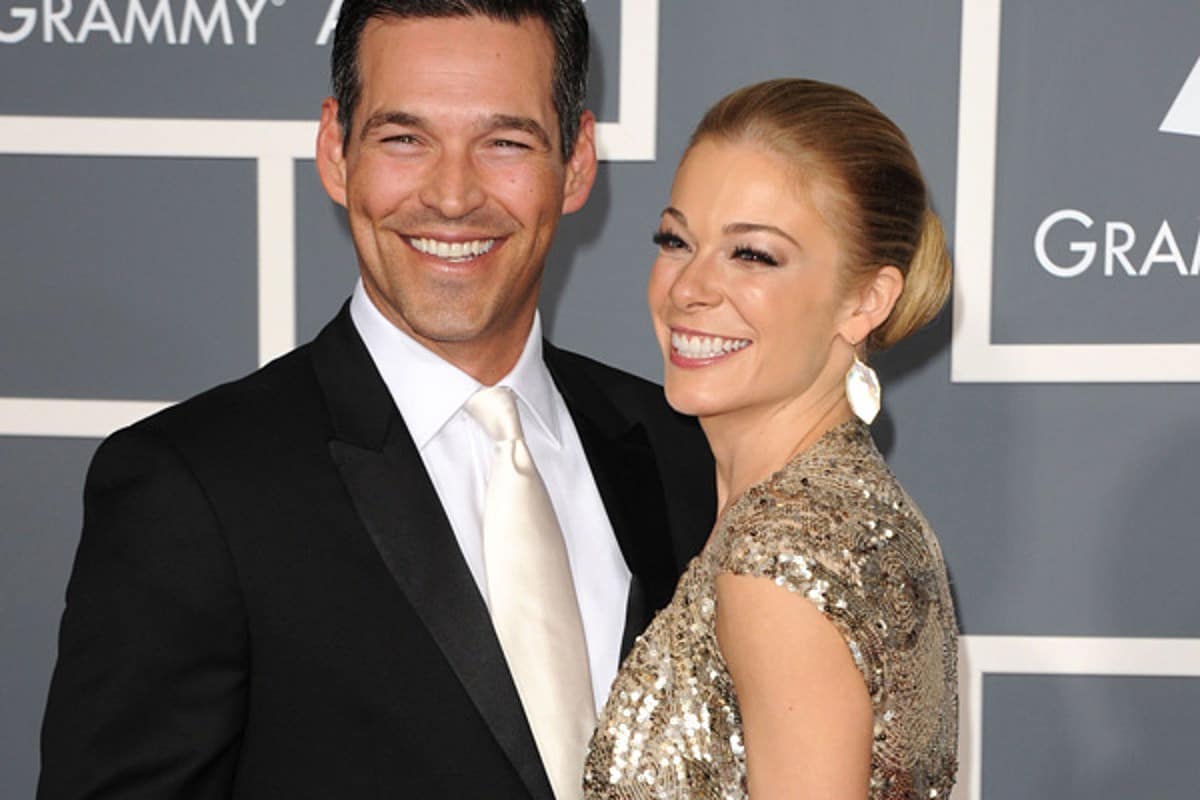 After the dust settled from their respective divorces, Eddie Cibrian proposed to LeAnn Rimes on Christmas Eve in 2010. A few months later, on April 22, 2011, the couple invited 40 of their closest friends and family, including Cibrian's two sons, to get together for an "engagement party," which turned out to be a surprise wedding.
Rimes opened up about her very public affair on Back Story: LeAnn Rimes, a 90-minute special that aired on Great American Country two days after the nuptials took place. "I know I didn't do it the right way…It got really messy, but I have learned a lot from that, and I'm not glad it happened, but I know why it did."
Now He's happy In His Modern Family!
After more than a decade of cheating allegations, divorces, and drama, Cibrian finally made peace with his ex-wife in 2018. "The three of us sat and talked for hours hashed everything out, and the feud with @leannrimes Eddie and I is over," Glanville tweeted.
At #dailypop the three of us sat and talked for hours hashed everything out and the fued with @leannrimes Eddie and I is over! They will not be getting rid of me on any holidays #modernfamily

— Brandi Glanville (@BrandiGlanville) April 17, 2018
Cibrian, Glanville, and Rimes are all on good terms and can be seen spending holidays and birthdays together, and most recently celebrated their son Mason's 18th birthday together.
"We're like sister wives," Glanville said in an episode of the "Hollywood Raw" podcast with Dax Holt and Adam Glyn. "Eddie's going to be in my life for the rest of my life. We bicker still like we're married when we're not…It's me and LeAnn and Eddie."