Six months into his relationship with Kim Kardashian, Pete Davidson, 28, is thinking about his future in a way he hasn't before, according to Us Weekly. According to a source, Kardashian has prompted the Saturday Night Live comedian to become more mature in his actions and decisions. "Kim has also forced Pete to mature and think about his future and business," the source said. "For the first time, he's investing, saving, and considering his long-term prospects." He seeks advice from Kris Jenner."
According to the source, Kardashian and Davidson are doing well as a couple, especially since they made their red carpet debut at the White House Correspondents' Dinner. "Kim and Pete are even happier now that they can attend events and be seen together," a source said. "They enjoy spending as much time as possible together."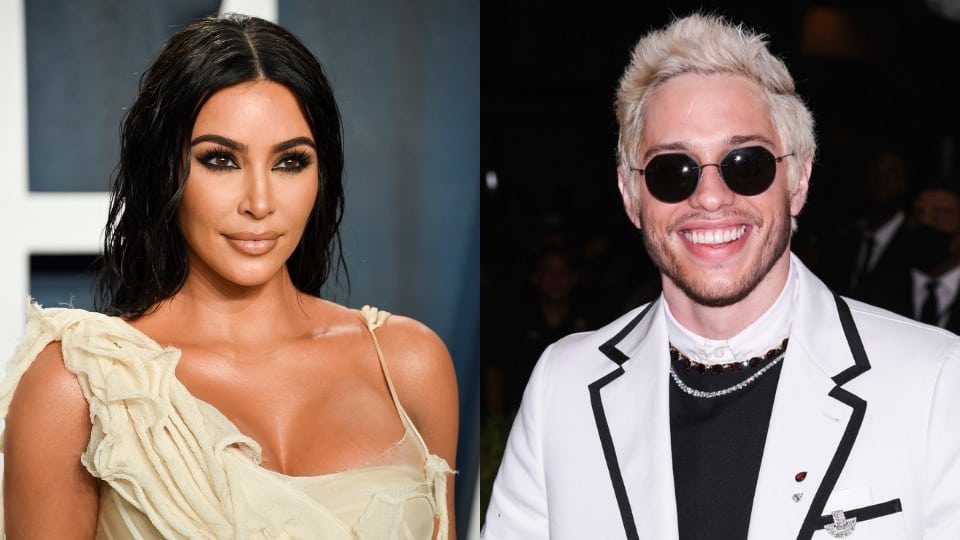 Due to professional obligations, the couple will be spending some time apart, so they are preparing for the increased distance. "Pete has some movies coming up that he'll be leaving to film," the source explained.
Davidson has yet to appear on The Kardashians, the family's new reality show, and will not do so during the first season. In a recent episode, Kardashian did share her first impressions of Davidson, as their romantic relationship began. "[He's] without a doubt the sweetest, nicest human being on the planet," she said to Scott Disick and Ellen DeGeneres at a party filmed by The Kardashians' crew.
Kim Kardashian and Pete Davidson Complete Timeline
October 2021 – Kardashian and Davidson kissed during an Aladdin-themed sketch on October 9, 2021, when she hosted Saturday Night Live.
Less than one month after the reality star's debut on the sketch comedy show, Kardashian was spotted at Knott's Scary Farm in California with Pete Davidson, Kourtney Kardashian, Travis Barker, and other friends. While sources stated at the time that their relationship was platonic, photographs of the pair holding hands on a roller coaster sparked romantic rumours.
November 2021 – Early in November, Kardashian and Davidson were seen dining at the restaurant Campania in Davidson's native Staten Island. The following day, they dined at Zero Bond in Manhattan with their friends.
When Kardashian assisted Davidson in celebrating his 28th birthday with her mother, Kris Jenner, and Flavor Flav, it was evident that things were heating up between the two.
"I felt so honoured to be in their presence the entire evening," the rapper told Entertainment Tonight about the gathering. Pete Davidson's love for Flavor Flav is one thing I can say with certainty. Everything he does is, 'Flavor Flav this, Flavor Flav that, Flavor Flav this, Flavor Flav that.' Therefore, Kim said, "Okay, well, for your birthday, you're getting Flavor Flav." She summoned me, which is how I ended up there. I was a birthday present."
More Articles: Bruce Sherman Net Worth 2023, Income, Salary, Bio-Wiki, Kids, Weight, Wife
December 2021 – Throughout the remainder of 2021, the couple made headlines for various East Coast and West Coast excursions, including a trip to the movies in Staten Island.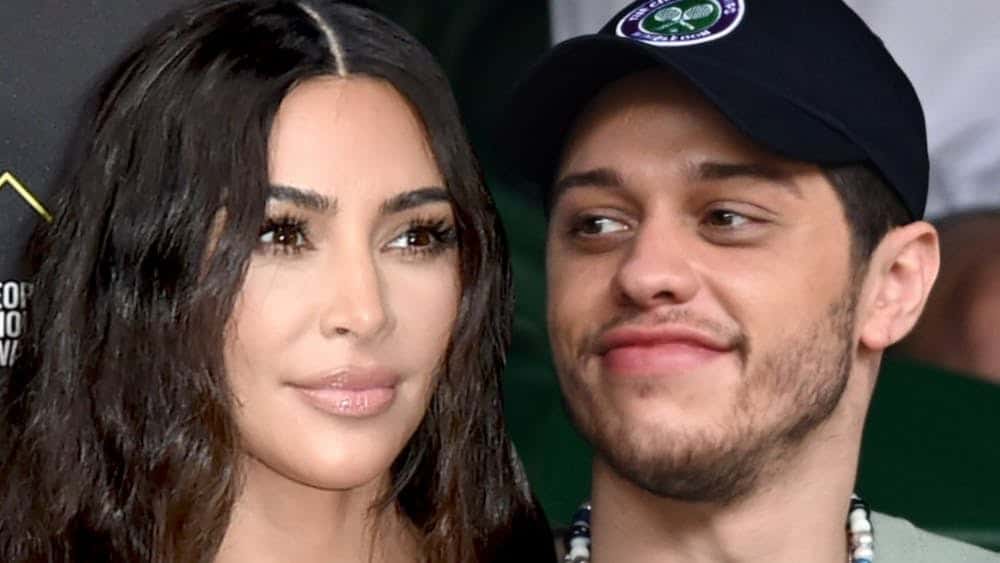 A source told Us at the time, "They're not hiding their romance at all." It appears that they want to be able to do normal couple activities and have fun together.
January 2022 – The couple began the new year with a quick trip to the Bahamas. The vacation occurred days after a source told Us that Kardashian and Davidson were "getting serious."
"Things have escalated quickly, but in a healthy and enjoyable manner," the source said. "For the time being, they are simply enjoying their time together and observing how things develop."
"Kim and Pete are currently in perfect harmony. They are in sync with one another, and their relationship is simple. They're getting closer and closer and make a great couple," a source told Us in January 2022, adding that the actor "has bonded with her whole family."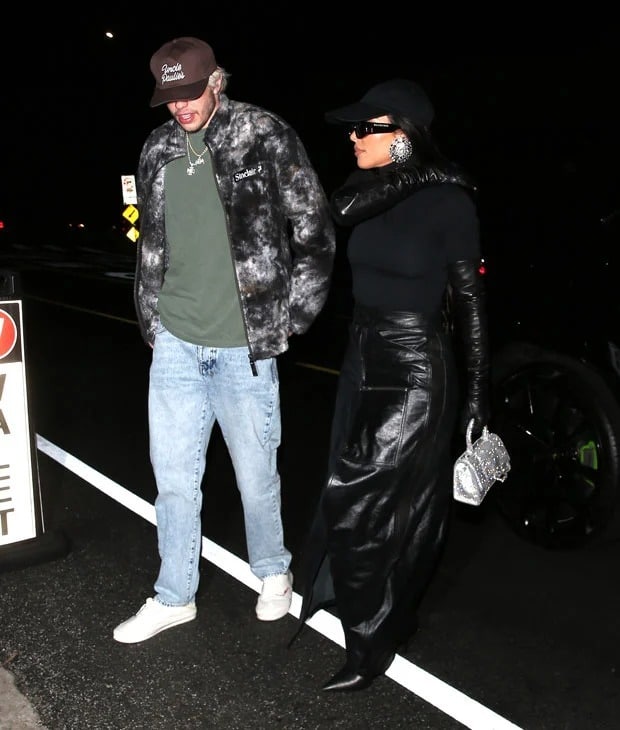 An insider told Us that after attending a dinner party at the home of Amazon founder Jeff Bezos, Davidson was considering investing in West Coast real estate. The source explained, "Pete has been spending more time in Los Angeles to be near Kim, and he's looking for a place there." They have become extremely serious.
March 2022 – The Selfish author said fans will see how her relationship with Davidson began on Hulu's The Kardashians. "I've never worked with Pete," she said. "Not opposed. Not like him. During an event, he wouldn't tell the cameras to leave. I may film something exciting, but not this season. I'm willing to talk and explain."
Kardashian first posted Davidson photos on Instagram. The throwback photos were taken one month before Valentine's Day. He posed for a selfie with his head in her lap and was all smiles.
In alleged text messages between Davidson and West, shared by The King of Staten Island co-producer Dave Sirus, Kardashian's new beau defended her parenting.
"Skete, Davidson allegedly told the Stem player cofounder to calm down. "It's 8am; this can't be. Kim is my favourite mom. You're f—king lucky she's your kids' mom. I'm done being quiet; I won't let you treat us like this anymore. Grow up!
Kim laughs off a comment about her new relationship in the first full-length trailer for Hulu's The Kardashians. Off-camera: "Who are you texting, Kim?" "Rhymes his name with Feet?" Kris Jenner says in the video, "Nobody saw this coming."
After picking up his girlfriend at the airport, the comedian was photographed PDAing.
Related Articles: Geoff Yang Net Worth 2023, Income, Biography, Age, Wife, Family, Wiki, And Unknown Facts
April 2022 – The reality star revealed her seriousness about Davidson in an ABC sit-down clip. "I'm a relationship kind of girl, and I wouldn't be with someone if I didn't plan to spend time with them," she said. "I'm happy and content, so I'll take my time. Peace is a wonderful feeling."
Her mom gushed, "Pete's great! He's cool."
Davidson and his girlfriend attended The Kardashians premiere hand-in-hand. The reality star told E! News, "I'm so happy he's here."
Kardashian gushed about Davidson on the "Make Space with Hoda Kotb" podcast. "It feels good to know we have this connection and our own little relationship bubble," she said. "I thanked him while we were driving yesterday. "What?" he asked. I said, "For running errands with me, it's so fun to go to the doctor or dentist and run errands. I'm so happy."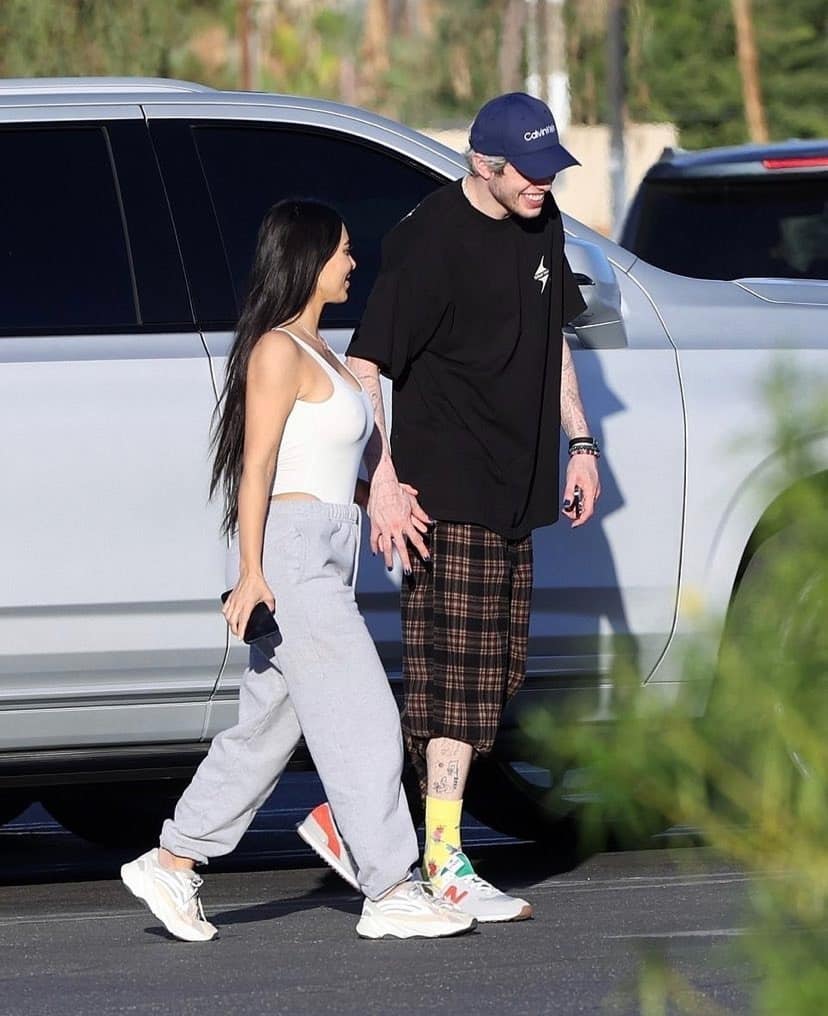 The California native shared dinner photos with the comedian hours after the podcast went live. Kardashian captioned the photos, which show the couple cuddling and smiling, "Late night snack."
The Kardashians star gushed on Live With Kelly and Ryan. "Staten Island, where he's from, was so much fun. I [wanted to]… Everyone takes ferries. Staten Island is always low-key. That's my favourite part. We can be low-key, ride around, and see all the fun local stuff. Staten Island has been low-key for us."
The couple debuted at the White House Correspondents Dinner in D.C.
May 2022 – "Everyone in Kim's family adores Pete and loves Pete for Kim. He fits in so well with her life and with her family," a source told Us. Kim has helped Pete mature and think about his future and business.
Kardashian shared a montage of Davidson's SNL memories via Instagram Story on May 21.
In the Suicide Squad actor's first public appearance since leaving SNL, the couple was seen leaving a Calabasas office with matching bleach blonde hair.
Kardashian and Davidson shared videos of themselves kissing, laughing, and cuddling on Kardashian's Instagram Story.
The couple ended their busy month with a date night in London, one week after Kourtney's Italy wedding, which Davidson missed. The couple arrived at the River Café holding hands.
June 2022 – "So that's how it went down between Pete and me. I did Saturday Night Live, and it was just a vibe when we kissed in a scene. 'Oh s—t,' I exclaimed. 'Perhaps I just need to try something new.' Pete, on the other hand, does not attend my afterparty, which was attended by everyone. He isn't interested in talking to me, "During episode 8 of Hulu's The Kardashians, Kardashian explained.
The TV personality then revealed that she was the one who initiated contact. "A few days later, I called the producer at SNL and said, 'Hey, do you have Pete's number?' and I texted him," she continued. "'I'm going to be in a relationship with him,' I wasn't even thinking. 'Heard about this BDE, I need to get out there,' I was just thinking. DTF (down to f—k) was how I felt."
Continue Reading: Julia Fox Dating History! Has Julia Fox Been Married Before?