Organizations increasingly understand the need to establish inclusive cultures and embrace diversity in today's quickly changing and varied society. Many businesses are turning to DEI training programs to help them achieve these objectives. DEI (Diversity, Equity, and Inclusion) is a holistic strategy that attempts to create workplaces where people of all backgrounds feel appreciated, respected, and empowered.
In this essay, we will dig into the complexities of DEI training, investigating its key ideas, aims, and the influence it may have on both individuals and businesses.
What Is DEI Training?
DEI training is a term for classes and workshops that teach people about the importance of diversity, equality, and inclusion in the workplace. It includes making people aware of biases, promoting cultural competence, and giving people the information and skills they need to create environments where everyone feels welcome.
Diversity, equality, and inclusion, or DEI, is often shortened to:
Diversity: Diversity covers race, gender, gender identity, sexu@l orientation, religion, culture, country, socioeconomic class, language, physical or mental ability, and age. Choices could also differ on the political, learning, attitude, and relationship levels.
Equality: Equity promotes justice, fairness, impartiality, and the same chances, growth, and inclusion for everyone. Structural differences can be fixed using acceptable methods, processes, practices, and ways to share resources.
Inclusion: Inclusion creates a place where everyone, even people from groups usually overlooked or left out, feels valuable, accepted, and like they belong.
DEI strategies are becoming more and more critical for businesses. There is a lot of DEI training. Below we are given a Tweet from Xi Van Fleet, which explains What DEI Training is.
You can see Xi Van Fleet's Tweet below:
What is workplace DEI training about?
It's Mao's Thought Reform!

Thought Reform aimed at enforcing the "right" ideas to ppl through political studies, criticism & self-criticism sessions for everyone. Eventually some would be singled out for struggling sessions bc they failed to… pic.twitter.com/xn6Q3up5k0

— Xi Van Fleet (@XVanFleet) March 24, 2023
What Is The Aim Of DEI Training?
The Goals of DEI Training: DEI training has several important goals. First, it wants to make people more aware of their unconscious biases so that they can notice and question these biases in their thoughts, actions, and decisions. Second, it wants to create a welcoming and fair work environment where everyone feels respected, heard, and able to share their ideas.
DEI training also supports equity by removing systemic hurdles and giving people the tools to fight for fairness and equal chances within the company.
What Are Some Of The Key Component Of DEI Training?
Key Parts of DEI Training: Because diversity, equality, and inclusion are so complicated, DEI training classes often have more than one part. These can be things like interactive talks, case studies, role-playing games, self-reflection tasks, and examples from the real world. Facilitators of DEI training create a safe space for people to share their experiences, learn from each other, and come up with ways to deal with problems related to diversity and inclusion.
Benefits Of DEI Training
Advantages of Participating in DEI Training There are several advantages to participating in DEI training for both people and companies. It helps establish a more inclusive and inviting workplace atmosphere, fostering cooperation, creativity, and innovation. This is accomplished through raising awareness and encouraging knowledge of the issue. Training in DEI increases employee engagement and satisfaction, leading to higher staff retention rates and increased productivity.
Additionally, businesses prioritizing DEI training have a greater propensity to recruit a varied talent pool, gain a competitive advantage, and improve their ability to service a consumer base that is becoming increasingly diverse.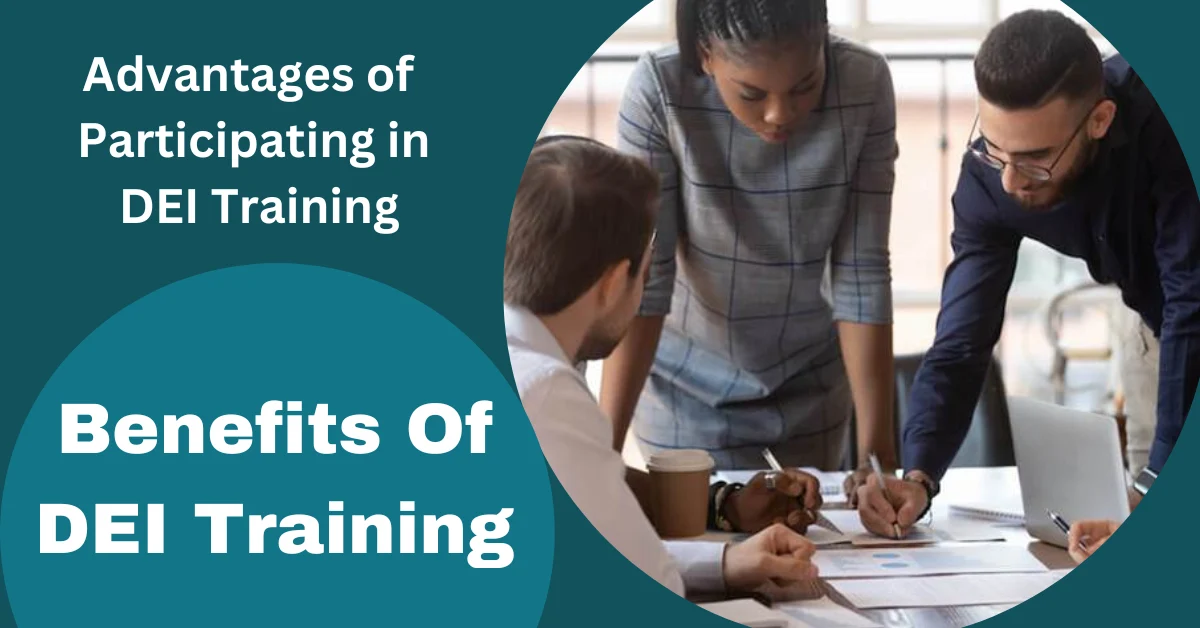 Have you ever wondered What is Scrum Master? Discover the Enigmatic World of Scrum Masters and Unleash Your Career Potential! Learn How to Become a Scrum Master and Lead Teams to Extraordinary Achievements.
Proper Way To Implement DEI Training
Effectively Implementing Diversity, Equity, and Inclusion Training For diversity, equity, and inclusion (DEI) training to be effective, companies must commit to long-term and holistic methods. To accomplish this goal, it is necessary to provide continual training opportunities, incorporate DEI concepts into policies and procedures, and encourage buy-in from leadership.
Additional procedures, such as the formation of employee resource groups, the performance of diversity audits, and the establishment of accountability systems, can contribute to the effective execution of DEI training projects.
Conclusion: DEI training makes workplaces inclusive, egalitarian, and diverse. DEI training raises awareness, challenges prejudices, and promotes empathy, helping firms maximize employee potential and foster a culture of respect and understanding. Diversity, equality, and inclusion training programs assist individuals and businesses in an increasingly linked world.
We love hearing from our readers! If you have any questions or comments, please feel free to contact us at "thetecheducation.com."