Our storage drives carry a treasure trove of valuable data, from precious memories to critical work files. However, data loss can strike unexpectedly, leaving us in a panic. But fret not! This comprehensive guide is here to help you easily navigate the USB data recovery process.
Data recovery software plays a vital role in this journey, offering a lifeline for retrieving lost or deleted files. Whether it's a cherished family photo or an important presentation, having the right tools and knowledge can make all the difference.
So, if you find yourself in the unfortunate situation of missing data, keep reading to discover how to reclaim your files confidently. Now, let's dive into USB data recovery and empower you to retrieve your valuable files effortlessly.
If you're looking to recover video lost from your storage drives, get started right away!
Understanding Video Recovery
Losing precious videos can be distressing, but knowing the common causes can help us better prepare.
Some major reasons for video loss include:
Accidental Deletion: Mistakenly erasing videos while organizing files can happen to anyone.
Formatting Errors: Accidentally formatting the USB drive wipes all data, including videos.
Virus Attacks: Malware or viruses can corrupt video files, rendering them inaccessible.
File System Corruption: Issues with the file system can lead to video loss.
Hardware Malfunction: Physical damage or malfunction of the USB drive can cause data loss.
When video loss strikes, data recovery software comes to the rescue. This specialized software employs sophisticated algorithms to scan the USB drive for traces of deleted or lost videos. It reconstructs the files, allowing you to retrieve them safely.
A crucial point to remember after video loss is to halt using the USB drive immediately. Continued use may lead to data overwriting, making recovery more challenging. Taking prompt action and using appropriate recovery software enhances the likelihood of successful video recovery.
Using Wondershare Recoverit for Video Recovery
Looking to retrieve your lost or deleted videos with the utmost ease? Enter Wondershare Recoverit – your ultimate solution for seamless video recovery. This cutting-edge software boasts a user-friendly interface that caters to everyone, from tech-savvy to novices.
With its robust video recovery feature, Wondershare Recoverit performs a deep and thorough scan of your USB drive, leaving no trace of lost videos unnoticed. The software's wide file format support ensures that you can count on a successful recovery no matter the video's extension.
The convenience doesn't stop there! Before initiating the recovery process, you can preview the recoverable videos, enabling you to select precisely what you need if you find yourself interrupted during the scanning. Fear not, as Wondershare Recoverit allows you to pause and resume the process per your schedule.
Click here to download the Wondershare data recovery software.
Here's how to recover videos through Wondershare Recoverit if you've lost them on your USB:
Step 1: Download and launch the Wondershare Recoverit on your desktop.
Step 2: Please choose a hard drive from the "Hard Disk Drives" tab or the Desktop from the "Quick Access" tab. Click "Start" to commence examining the specified area.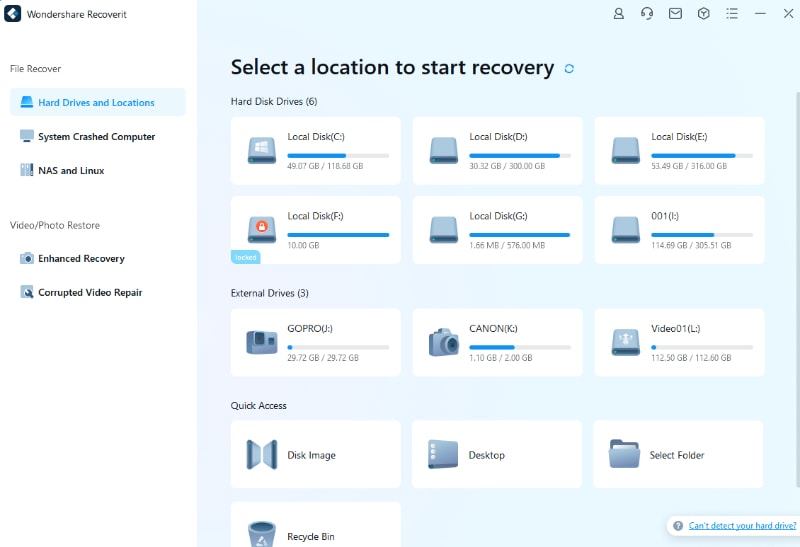 Step 3: If you are searching for missing or deleted videos, select "Advanced Video Recovery" in the lower-left corner of the interface. Click on it to comprehensively search videos with large file sizes.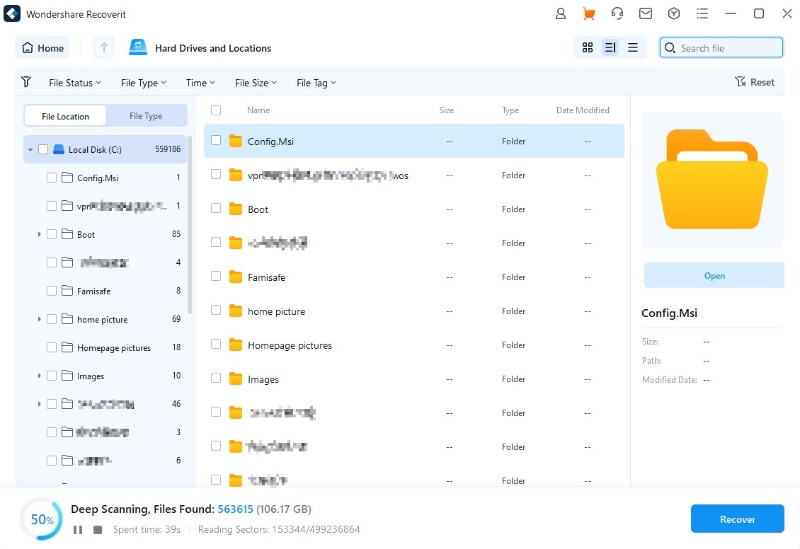 Note: During the scanning process, you can alternate between various methods to filter, select, and zero in on the recoverable files. The methods are "File Type", "Time", "File Size", and "All Files."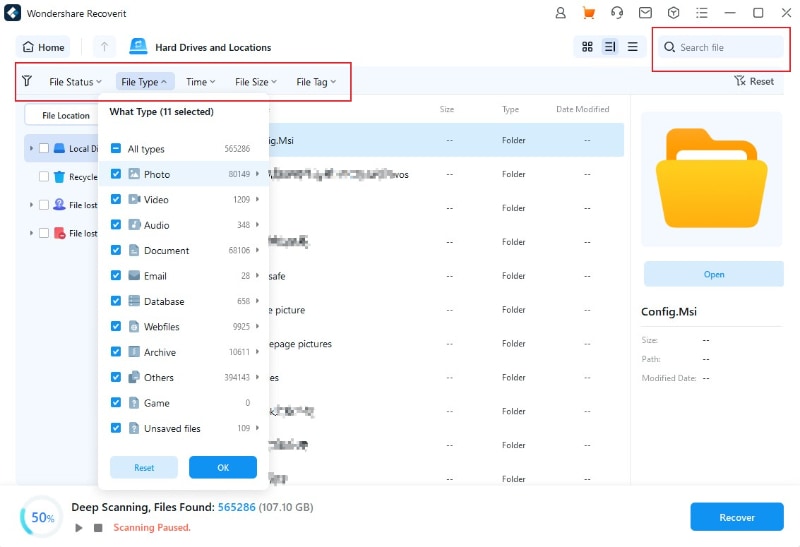 Step 4: A preview window will appear when you double-click a file or select the "Preview" icon. To retrieve your missing data, click the "Recover" option and select a location to save the recovered files.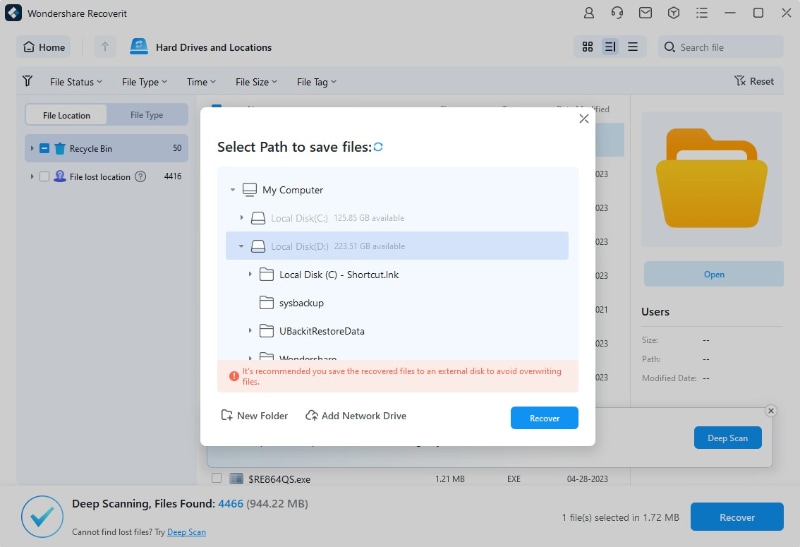 Key Features of Wondershare Recoverit
The software performs a thorough scan to locate all traces of lost videos.
Recoverit can restore videos in various formats, ensuring compatibility.
You can preview the recoverable videos before restoring them.
The intuitive design makes video recovery a breeze for everyone.
Easily filter and find specific videos for quicker recovery.
Tips for Successful Video Recovery
Losing videos can be distressing, but taking the right steps can significantly improve your chances of successful video recovery. Here are some practical tips to guide you through the process:
Stop Using the Device – After video loss, refrain from using the USB drive to prevent data overwriting, which can hinder recovery.
Choose Reliable Software – Opt for reputable data recovery software like Wondershare Recoverit, known for its efficiency in retrieving lost videos.
Perform Immediate Scan – Don't delay the recovery process; scan the USB drive promptly to maximize the chances of finding the lost videos.
Preview Before Recovery – Use the preview option to verify the recoverable videos and ensure you're restoring the right ones.
Back-Up Regularly – To prevent future data loss, regularly back up your videos to a secure location.
Avoid DIY Methods – Refrain from attempting manual recovery methods as they might lead to irreparable damage.
Closing Words
Videos hold profound significance, cherished by individuals for preserving precious memories and treasured by businesses for safeguarding vital data. The significance of video recovery cannot be overstated, offering a ray of hope to retrieve what appears lost forever. Prioritizing this critical task is essential.
Trust in reliable tools like Wondershare Recoverit for seamless and efficient recovery. With its user-friendly interface and powerful features, this software empowers you to reclaim your lost videos easily and confidently.
At Wondershare, we stand beside you, providing unwavering support and abundant resources for hassle-free video recovery. Embrace the peace of mind of knowing your cherished videos are within reach, awaiting restoration.