The Seven Deadly Sins series is returning with a fourth season after 3 years. So fans are excited to hear any news on the topic.
The show is base on the manga series written by Nakaba Suzuki. The series was first aired on 5th October 2014 on MBS.
Following that Netflix acquired the rights to the in 2015. The was then released with English subtitles. An English dubbed version was also released. The show deals with the topic of seven deadly sins mentioned in the bible. These are gluttony, greed, pride, lust, envy, wrath and sloth.
The show consists of 24 episodes each season. There are however  1 or 2 OVA s attached in some of the seasons.
The Plot
The story is set in the British Isles. However, this is fictional with no ties to historical Britain.
At this time, Britain is ruled by the kingdom of lines. But most importantly the kingdom and its citizens are protected by a special order of soldiers called the 'Holy Knights'.
The story begins 10 years after the Holy Knights were wrongly accused of conspiring against the crown.
There is turmoil in the Kingdom with the guardians long gone, no one is there to maintain order. So to bring peace to the land Princess Elizabeth releases the seven deadly sins.
She believes the seven negative powers will bring some positive effects to the kingdom.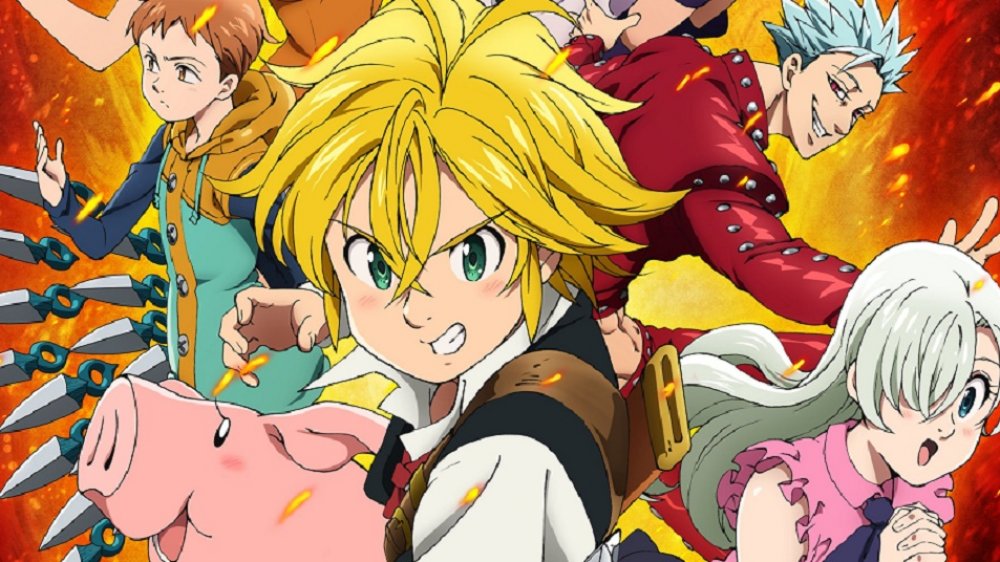 Highlights Of Season 3
The Seven Deadly Sins managed to defeat Hendrickson. Hendrickson then freed the trapped members of the demon clan called " The Ten Commandments". The members of the Commandments attacks the kingdoms of Camelot and Liones.
At the end of the season, Meliodas returns and kills Fraudrin the commander of " The Ten Commandments". Fraudrin suffers a gruesome death at the hands of Meliodas.
It was revealed the Meliodas is suffering from a curse of immortality. He is also the son of the Demon King. The Demon King is using Meliodas as a vassal to return to the world of the mortals.
Read the complete story here – The Seven Deadly Sins: Season 3 Recap

Updates On Seven Deadly Sins Season 4
The fourth season of The Seven Deadly Sins is expected to release in November 2020 on Netflix. The season will launch earlier in Japan around July or August 2020.
Although there is no complete news about the season 4 plot, the following can be expected :
The fall of Camelot against Zeldris and the commandments
A twist in the tale of the relationship between Meliodas and Elizabeth.
Read the complete story here – What to expect from season 4 of The Seven Deadly Sins