American rapper Tay-K is known for his song "The Race," which became popular in 2017. However, he got into serious trouble and was found guilty of murder. The song talks about his wrongdoings and became more famous when the police caught him in New Jersey after a big search. He was caught on the same day the song came out.
He ran away from the police for three months before getting caught. Even after his arrest, many people on social media were still supporting him. While in jail in Texas, he released his first mixtape called "Santa World," which people really liked.
People are now waiting to see when Tay-K will be released from jail, although there are worries about his past actions. This piece is trying to find out when Tay-K will be let out of jail.
What is Tay K Expected Release Date?
Tay-K, whose actual name is Taymor Travon McIntyre, was sentenced to 55 years in prison for murder, 30 years for one count of aggravated robbery, and two 13-year sentences for the remaining two counts of aggravated robbery. These sentences will be served concurrently, which means they will be carried out simultaneously.
Due to the concurrent nature of McIntyre's prison terms, his eligibility for parole will hinge on the particular laws and regulations of the jurisdiction in which he is serving his sentence. The eligibility for parole varies depending on factors such as the nature of the offense, the state's laws, and the inmate's conduct while incarcerated.
McIntyre will be eligible for parole after serving 27.5 years of his sentence, according to the information provided. Given that his sentence began on the date of his arrest, 30 June 2017, his parole eligibility date would be approximately January 23, 2045.
It is essential to note, however, that parole decisions are made by parole boards or relevant authorities, who consider a variety of factors, including the inmate's behavior, rehabilitation efforts, and risk to society.
If granted parole, the exact date of Tay-K's release from prison cannot be determined with certainty at this time. Closer to his parole eligibility date, it will hinge on the decisions made by the parole board or other authorities involved in his case.
Who is Tay K?
Taymor Travon McIntyre, known as Tay-K, was born on June 16, 2000, and is a rapper from America. He became famous for his song "The Race" in 2017, which became really popular and even reached a high spot on music charts. This song talked about his criminal actions and got more attention when he was on the run from the police.
They caught him on June 30, 2017, the same day the song came out after he had been hiding for three months. He got a lot of support online even though he was in jail. While in jail, his team released his first mixtape called Santana World on July 29, 2017, which people liked.
In 2019, Tay-K was found guilty of being part of a robbery in 2016 where someone was killed and got a 55-year prison sentence. Later in 2019, he was also charged with another murder and is waiting for that trial.
According to Tay-K's Twitter, he would not have gotten a 55-year sentence if he was a "little white kid." In a tweet, he said:
I bet if I was a lil white kid they wouldn't have gave me no 55 years for a crime I was alleged to play the most insignificant role in when I was 16….they woulda rightfully argued that my mind wasn't fully developed and gave me rehabilitation and a 2nd (1st) chance at adulthood

— RUGR@ (@tayk) January 5, 2023
He said in another tweet that one of his co-defendants, a white 16-year-old girl, got 10 years of probation and that he and his friend Pimpyz got 30 years in jail.
one of my codefendants was a white girl who was 16 jus like me…they didn't certify her as an adult but they certified me n pimp as adults, pimp got 30, I got 55, she ended up getting 10 years of probation without no deal…that girl @ home rn

— RUGR@ (@tayk) January 5, 2023
How was Tay K Early Life?
Kevin Beverly, McIntyre's father, was in jail when he was young. When McIntyre was eight years old, his mother moved him and his sister to Las Vegas, Nevada. When McIntyre's dad got out of jail, he moved the family to Arlington, Texas, to find a better place to live.
McIntyre went to Martin High School but quit when he was a student. Chief Keef, XXXTentacion, Eazy-E, Young Pappy, and his favorite rapper, Soulja Boy, all came up with ideas for him.
Tay K Criminal History
2016 New Year's Day: Bystander to Fatal Shooting
On January 1, 2016, after a New Year's Eve event in Denton, Texas, McIntyre got into a dangerous situation. He and his friend, a U.S. Marine named Eric "Santana Sage" Johnson, were part of a group called Daytona Boyz.
After the event, they were in a car when Johnson shot a student named Sara Mutschlechner in the head, killing her, during a heated argument with people in another car from the same party. Witnesses said that Johnson and McIntyre's group made inappropriate comments towards Mutschlechner.
At the same time, Johnson claimed that he was responding to racial and homophobic insults and only wanted to scare the other group due to threats they made. However, Johnson was found guilty of murder and got 44 years in prison, while McIntyre wasn't charged for this incident.
Mansfield Burglary and Capital Murder, July 2016–2019
In July 2016, McIntyre and six others got into serious legal trouble after a failed robbery attempt during a home invasion in Mansfield, Texas, which resulted in the death of Ethan Walker. McIntyre, along with Megan Holt and Ariana Bharrat, planned to rob a guy named Zachary Beloate. They tricked their way into his house to steal drugs and money, but things went south, and Ethan Walker got killed in the chaos that ensued.
McIntyre was arrested and sent to an adult jail in 2017. During court hearings, it was decided that he tried as an adult. The trial faced delays due to a lack of evidence, but eventually, the court got underway. Some of McIntyre's accomplices got caught, too, and faced various sentences, with some agreeing to testify against others for lesser jail time.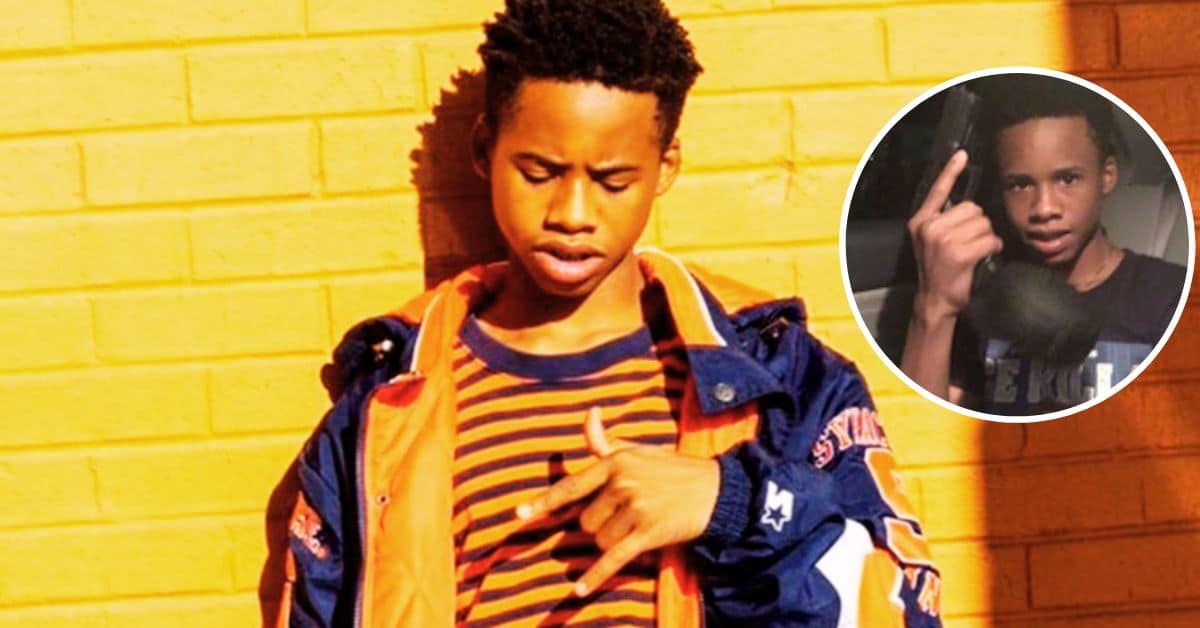 During this time, McIntyre's lawyers fought for his right to bail, but the judge denied it because of the violent nature of the crimes. In 2018, it was made clear that McIntyre wouldn't face a death sentence or life without parole if found guilty, but he could still get a lengthy prison term. On the first day of his trial in July 2019, McIntyre admitted to part of the charges related to the robbery.
A few days later, a jury found him guilty of murder and robbery, and he faced a long time in prison. His song "The Race," which he made while evading arrest, was used against him in court. On July 23, 2019, he was sentenced to many years in prison for murder and robbery, but he can try for parole after serving twenty-eight years. Besides, he was also fined $21,000.
Jan–jun 2017: House Arrest, Manhunt, "the Race"
McIntyre was put on house arrest in January 2017 before some legal meetings. Right before these meetings, on March 27, 2017, he and another person removed their tracking devices and ran away to San Antonio, Texas. Before running, McIntyre shared his frustration on Twitter about house arrest.
He then went to Elizabeth, New Jersey, and recorded a song called "The Race" about escaping the police and his legal problems. The person he ran away with got caught in May 2017. On June 30, 2017, the U.S. Marshals caught McIntyre in New Jersey.
To avoid jail, he faked a medical emergency, but when doctors found nothing wrong, he pretended to hear voices. He was checked into a mental health facility for a short time before being taken to jail.
You might also like to read about the release dates from prison of other famous people:
April–May 2017: San Antonio shooting, Arlington mugging
On April 23, 2017, while running from the law after removing his tracking device, McIntyre is said to have killed 23-year-old Mark Anthony Saldivar during a robbery at a Chick-fil-A in San Antonio, Texas. The story goes McIntyre, and two others tricked Saldivar into a black SUV to steal his camera gear. Saldivar got out and yelled for help.
McIntyre tried to hit him with the SUV, but Saldivar jumped on the hood and kicked the windshield. McIntyre reportedly got out, shot him once, and drove off. About a month later, on May 25, McIntyre is accused of attacking and robbing 65-year-old Owney "Skip" Pepe in a park in Arlington, Texas, knocking him out with a gun. A jogger found Pepe later, and he identified McIntyre from pictures.
On October 3, 2017, McIntyre faced more serious charges for the San Antonio incident. Cops say he was in the SUV during the shooting, and they have video of it. Initially, he was held on a $500,000 bail, but it was taken away in February 2018.
In August 2019, after being sentenced for another crime, McIntyre was moved to a jail in Bexar County to wait for his trial regarding Saldivar's murder. In November 2019, he was officially charged with a very serious murder charge by a grand jury in Bexar County.