It will be soon until Redfall. This new co-op shooter is one of the games we're most looking forward to in 2023. The creator, Arkane, uses what he's learned from Dishonoured 2, Prey, and Deathloop to make an experience that combines Dungeons & Dragons and Far Cry 2.
In Redfall, you can work with your friends or go alone to eliminate the vampires in Redfall, Massachusetts. In what is sure to be one of the most anticipated Xbox Series X games coming out this year, you'll build an arsenal of crazy weapons to hunt vampires, gain control over some incredible supernatural powers, and then try to shoot and stab your way through a world full of vampires and cultists.
So keep reading to learn everything you need about Redfall, including news about how the day one Game Pass release won't start with a 60fps performance mode on Xbox Series X.
Redfall: Release Date Details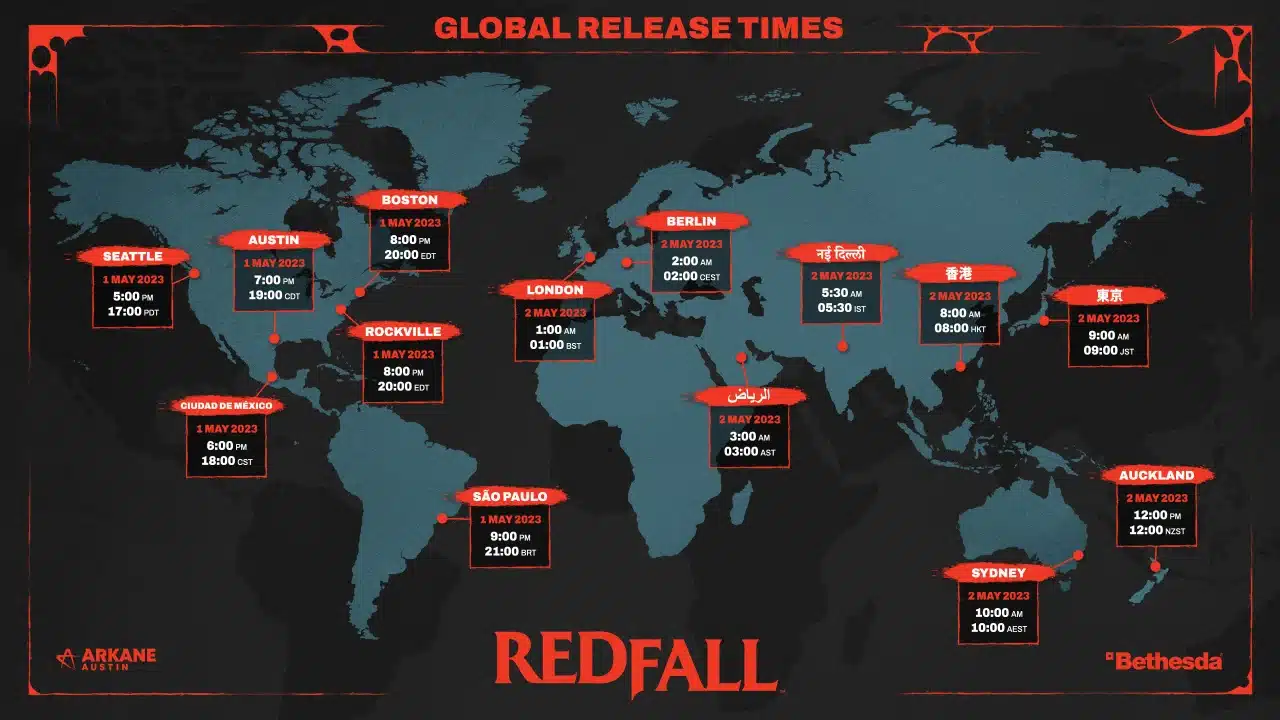 The release date for Redfall is May 2, 2023. The game will be available on Xbox Series X|S, Xbox One, and PC. The release date was announced during Microsoft Gaming's first Xbox Direct. The game was initially supposed to release in Summer 2022 but was delayed. The game is a first-person shooter developed by Arkane Studios Austin and published by Bethesda Softworks. The release time for Redfall is 8:00 PM EDT and 5:00 PM PDT on May 1, 2023.
Redfall Download Size
The Xbox Series X version of Redfall is about 77GB, while the Xbox Series S version is about 40 GB. To pre-install Redfall on a PC, you'll need about 103GB of space.
If Bethesda decides to push out pre-launch patches, these download sizes could change before the game comes out.
Redfall Platforms
Redfall will be available on Xbox One X and Windows PC through Steam and the Epic Games Store. It will also be added to the Game Pass list on day one. Even though Xbox One isn't mentioned as an official platform, Redfall will also be playable through Xbox Cloud Gaming. This means that owners of last-gen systems can play the game through the Azure Cloud streaming network if their internet is fast enough.
Will Redfall Be On PS5?
Redfall won't be offered on PS5 or PS4. Arkane Studios and Bethesda both joined Xbox Game Studios in March 2021. This means that it's unlikely that any of their future games will be available on PlayStation systems. Arkane made Deathloop a PS5 exclusive for a limited time in 2021. That deal was made before Microsoft Gaming bought the company and its IP.
Redfall Unlock Times
All Redfall unlock times have been made public, which should help you and your friends plan when to play the game starting May 2. Check the picture above to see when Redfall will arrive in your area.
May 1, 8 pm EDT
May 1, 5 pm PDT
May 2, 1 am BST
May 2, 2 am CEST
Redfall Gameplay Impressions
We played 90 minutes of Redfall and were impressed by how Arkane tried to combine its realistic design style with an open world like Far Cry. Please read our full hands-on preview of Redfall to learn more about gunplay, the open world, and how it feels as a single-player game.
Related Stories Recommended By Writer:
Redfall Interview
GamesRadar+ talked to Harvey Smith, the studio director at Arkane, and Ricardo Bare, the creative director, to learn more about this highly anticipated Xbox Series X game. In our exclusive Big in 2023: Redfall interview, we learned more about the world and fighting, as well as how games like Far Cry, Stalker, and Borderlands helped shape the co-op shooter.
Redfall Gameplay Details
Redfall is a first-person shooter that takes place on an island called Redfall. It's the newest game from Arkane Austin, the company that made Prey (2017) and which also made Dishonoured (2012) and Dishonoured 2 (2016). Arkane is trying to blend its love of story-driven storytelling and careful level design with an ambitious four-player co-op frame and many supernatural powers that work together in Redfall.
From what we've seen so far, Redfall looks like a mix of Deathloop's action, Dishonored's powers, and Prey's world design, all set in a small town off the coast of Massachusetts that's been overrun by vampires. It looks like a lot of fun, mainly because the heroes' weapons and powers can be used against each other. Harvey Smith, who was a co-creative director, said this about how the different parts of Redfall work together:
"In the game Redfall, you can use stealth to get the drop on an enemy, get a good view, or avoid a fight altogether. It's not just a spy game but lets you sneak around. We love that because having AI with simulated sound and vision always makes for interesting, dynamic game moments. Redfall's tactically expressive gameplay is all about sneaking up on enemies, not getting caught, using the right weapons and types of damage, choosing when to use your crazy powers, and knowing when to stop fighting and stake a vampire that has been frozen by UV light.
Redfall Crossplay Confirmed
Arkane has stated that all platforms will be able to play Redfall together. You can enjoy the co-op game on your own, but if you want to play with your friends, you won't be limited in any way. Cross-play in Redfall will work whether you and your friends play on Xbox, PC, or Epic Game Store.
Redfall Performance Mode
Arkane has stated that Redfall will not run at 60 frames per second on Xbox Series X when it comes out. The studio says, "Redfall is launching on Xbox consoles with Quality mode only." This means that Xbox Series X players can run the game at 4K, 30fps, and Xbox Series S players can run the game at 1440p, 30fps. Arkane says, "60 FPS Performance mode will be added via a game update later."
The Redfall Setting Takes Us To Massachusetts
Arkane's new game takes place on the made-up island of Redfall, a small, pretty town off the coast of Massachusetts. Even though Redfall is not the first open-world game that Arkane has made, it is said to be the biggest. "The Talos I station in Prey was probably the size of five football fields, and Redfall is like, 'Hold my beer,'" joked art director Karen Segars. "Making something this big was a real challenge for the whole team."
Studio head Harvey Smith has tried to ease concerns that Redfall won't have the environmental storytelling that made games like Dishonoured and Deathloop feel real. You learn a lot about the people who live (or used to live) there. Our lore is essential because it helps us get under the person's skin. Using a torch to look through an empty house, finding out what happened there, looking for supplies, and avoiding sleeping vampires are all essential parts of the experience.
As for the benefits of an open world, co-creative director Ricardo Bare says that whether you're playing Redfall alone or with up to three friends in co-op, this more open-ended structure will let you set the pace of the adventure and make your own stories along with the main plot. "The great thing about open-world games is that players can explore at their own pace and look at different things. If a fight with a vampire seems too hard, you can always take on a nest, help one of your fellow Redfall survivors level up, or get some new gear. Then you can go back to that tough fight with a vampire.
Redfall Co-op And Single-player Structure
If you've watched the gameplay trailers, you might be thinking if Redfall can be played alone or if it's only fun with other people. Arkane has confirmed that Redfall can be played with up to four people in co-op, but you can also play the game alone, explore the whole world, and go through the story if you want. The studio is known for making narrative-driven games with great detail, which Arkane wished to keep in Redfall, even as it expands its scope. "Redfall is an open-world game, but any heroes can play it independently," says co-creative director Harvey Smith. "The pace picks up, and you can use recon and stealth to learn more about encounters and avoid or sneak up on enemies."
If you want to go it alone, Redfall won't add AI partners; you'll run independently. Art director Karen Segars says that co-op is where Arkane's love of systemic gameplay will show. "Being able to mix and match your powers and tools in interesting ways and then adding other players with different powers and tools makes the world of Redfall even more fun and full of surprises."
Redfall Characters Explained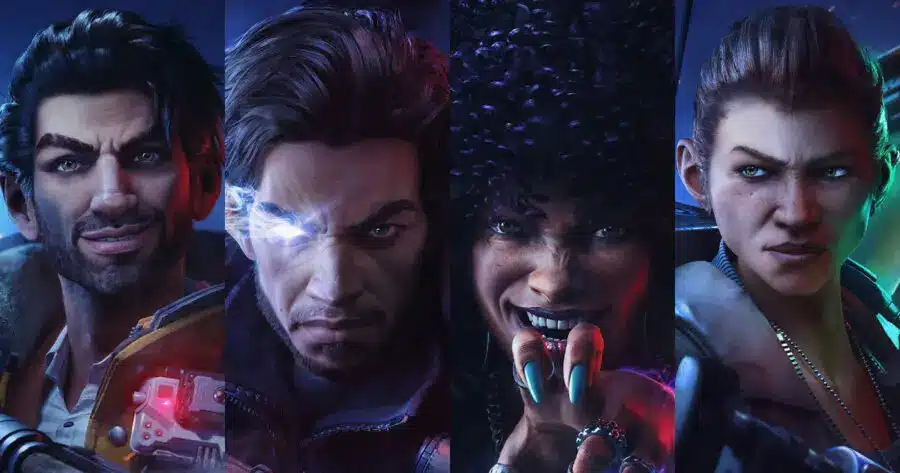 You can play as a college student, a cryptozoologist, a battle engineer, or a mercenary in Redfall. That might sound like the start of a bad joke, but it will set Redfall apart from other future co-op games like Dead Island 2 and Suicide Squad: Kill the Justice League. Each hero has special skills that are unique to them, which you can use alone or with other people as you start to clean up a town full of monsters.
In Redfall, you can play as a college student, a cryptozoologist, a battle engineer, or a mercenary. That might sound like the start of a bad joke, but it's the basis of what will set Redfall apart from other future co-op games like Dead Island 2 and Suicide Squad: Kill the Justice League. Each hero has special skills that are unique to them, which you can use alone or with other players as you start to clean up a town full of vampires.
Devinder Crousley – "The verified cryptid hunter"
Dev is on a book tour when he gets stuck in Redfall. He is a cryptozoologist, would-be inventor, and internet personality. His experience as a cryptid hunter lets him make intuitive anti-vampire weapons that give others in co-op new attacking options and valuable tools.
Layla Ellison – "The telekinetic threat in student debt"
Layla Ellison is a student at Redfall Technical University, where she is studying biological engineering. Ellison volunteered for a medical trial at Aevum Therapeutics when he had trouble paying off his college loans. After the prosecution goes terribly wrong, Ellison gets a set of superpowers to use for offense and defense and to help her new friends try out verticality.
Jacob Boyer – "The deadeye with an undead eye"
Before joining a PMC called Bellwether, Jacob Boyer was part of a secret US military unit called Special Forces. Boyer was given an odd job on Redfall Island that required him to use his skills as a marksman. But once he got there, he got a vampire's eye and could now control a mental, ghostly raven.
Remi De La Rosa – "The Ingenious Ingeniera" 
Remi De La Rosa is a member of the Coast Guard and a robotics engineer. To help her on the front lines of disaster reaction, she built a robot named Bribón that can act as a decoy, cover, and attack drone. De La Rosa was sent to Redfall to teach the local Coast Guard members how to do search-and-rescue work, but she ended up fighting vampires with Bribón instead.
Redfall Vampires And Cultists
Redfall's main enemies are vampires, but they aren't the kind of flashy monsters you usually see in movies. Harvey Smith is the head of Arkane Studios. He says the Redfall vampires are "not some aspirational fantasy" but "predatory monsters who feed on the weak to get stronger." You'll have to deal with this power scale the whole time you're in Redfall. The vampiric food chain creates a range of enemies, from simple ones to ones with powerful skills.
When you're on The Island, vampires aren't the only thing you have to worry about. Arkane says that the vampires in Redfall were made by science as part of a failed attempt to live longer. Because of this, vampires have a unique view of life and a knowledge of how people work. They used this to their advantage by tricking many of Redfall's people into becoming submissive cultists who roam parts of the island and hunt down survivors who haven't yet joined the "block out the sun" program.
Most of the weapons we've seen in the Redfall trailers so far are made specifically for one of the four heroes or look like the people of a small island town cobbled them together. However, we have seen a couple more military guns, which could mean we'll have to fight the army at some point. Keep reading to find out more about that.
Trailer For Redfall:
If you want to check out more game-related articles, join us on our Twitter account.